Cebu is a popular travel destination option for people who love a balance of both worlds– the busy city streets and the serenity of nature. In this post, we will show some of nature's "less travelled" gems in Cebu!
There are millions of reasons why we want you to explore this part of the province because after all, these springs also make up to what Cebu is about, right?
Kabukalan Spring
13 Likes, 1 Comments – Maria Frances ♏ (@mariafrances.barca) on Instagram: "Kabukalan Spring, located at the topmost level of Kawasan Falls. An hour trek is needed before…"
Kabukalan Spring is an enchanted natural wonder located at Kawasan Level 3, Kawasan Falls. The spring is conveniently situated among many other natural resources like the Matulinao River and Osmena Peak. If you are looking for a somewhat relaxing adventure, then taking this trip is a must! The photo above was snapped by Instagram user @mariafrances.barca.
Going to the cold spring isn't as easy as going to the beach because you will have to take a little hike to the entrance, and more walking up to the 3rd level. The overall adventure is not tough, though, kids and older people can go and enjoy nature without a sweat.
How to get there
To get to the area via bus from the city, hail a Bato/Barili bus from Cebu South Bus Terminal. This route will take you to the entry point to Kawasan, but you will have to take a little hike to reach the place.
Prepare around 150 pesos as fare for the air-conditioned bus, and 40 pesos as the entrance fee to the falls.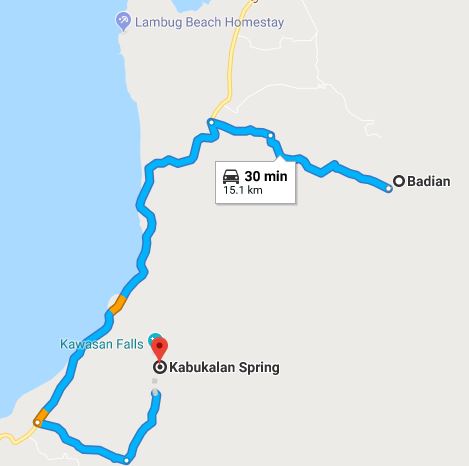 The thing we love about this destination is it is surrounded by nature all over. The Kawasan Falls is a tourist destination alone, what more is its source? The Kabukalan Spring is the source of water that streams down the falls. Isn't that interesting? Make sure to get a guide when you go there!
Binaliw Spring
14 Likes, 0 Comments – Ian Lee (@ian_lee1031) on Instagram: "Paraiso. Happy Sunday! #binaliwspring"
Another gem that is located in the northern part of Cebu is Binaliw Spring. If you have body pains, joint pains, heartaches and other sorts of pain you need healing for, then why not try taking a plunge in this "holy" water? It is popular among the locals as the "healer" as it is believed to have healing properties. Well, most springs are believed to have healing properties somehow but this particular spring is known for it.
Binaliw Spring is also considered as a holy spring because of a grotto of Our Lady of Lourdes at the entrance that welcomes the visitors. This encourages sick people to come and pray, and hope for a miracle.
How to get there
To get to Sogod, where the cold spring is found, head on to the North Bus Terminal in Cebu City, take a bus (fare is more or less 85 pesos) or a V-Hire van to Sogod. We recommend that you ask the driver if he can drop you off at the public market so you can hire a motorbike to take you to the falls.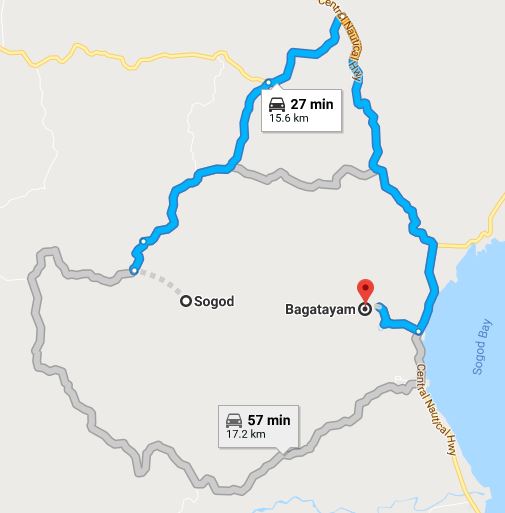 If not, you can ask the driver to drop you off at the Bagatayam Bridge and walk your way to the cold spring if you want to spend a little more time with nature.
The best thing about this trip aside from a cold dip to the Binaliw Spring is that the entrance is free! Yep, you can enjoy the entire adventure without worrying about a single dime.
Mainit Hot Spring
35 Likes, 1 Comments – memory of the trip by m (@memoryofthetrip) on Instagram: "#cebu #Philippine #travelcebu #vacation #beach #ig_philippines #photolover #xperia #sea #beach…"
What can you get for only 20 pesos? Well, not much, just an incredible spring experience at the Mainit Spring! No, don't buy that 20 peso ice cream, keep your money to pay the entrance fee to this magical place in Cebu.
They have multiple pools in there, each varies in temperature. Don't worry, they are all labeled accordingly so you don't get burnt. One more nice thing about coming to this spring is that it is not crowded at all. You will definitely find peace in nature.
How to get there
Mainit Hot Spring is located in Malabuyoc, but there is no direct trip to the spring. From the city, take a bus to the South, which is approximately 4-5 hours away.
Hail a bus to Malabuyoc (Bato/Barili) from the South Bus Terminal and tell the driver take you off the town. Hire a motorcycle that will take you down to the magical, hidden springs, but if you have more time to spare, we recommend that you just walk your way down to the location. You will find many interesting sites on your way to the spring–like nipa huts, farms and random children playing around. It's a typical provincial life that's as raw as the Mainit Spring.
Mainit-Mabugnao Hot Spring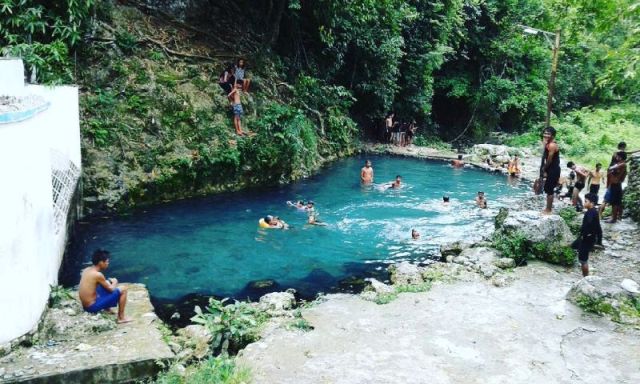 If you are from Cebu City, traveling to Carcar will feel energy draining because the travel can take too long because of Cebu's heavy traffic. But nevertheless, the trip is worth it.
In this park is found a hidden paradise which consists of a huge cave, and of course, a clean spring. The hot spring serves as a source of clean water for the rest of Carcar City. Its calm vibe will soothe your body and soul and will definitely give your body the rest it needs.
How to get there
To go to the underground hot spring, take a bus to Barili from the South Bus Terminal. Inform the driver that you want to be dropped off at Guadalupe Mabugnao Mainit Spring and from there, you may walk or take a motorbike to reach the destination.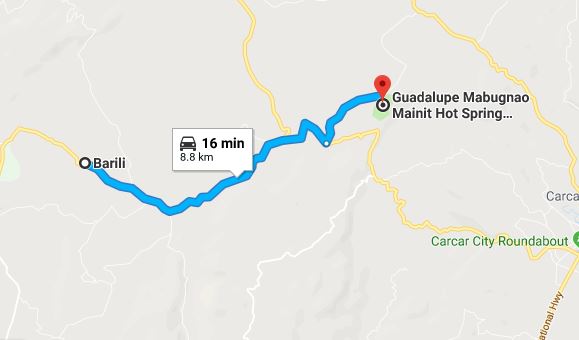 The entrance fee varies; 5 pesos for kids, 10 pesos for adults and 100 pesos for every foreigner. Yes, foreigners will have to pay more but that's okay, you won't find anything like it in other parts of the world for 2 dollars!
Molobolo Spring
2 Likes, 0 Comments – A.M.D.C. (@king.ann_taurean02) on Instagram: "Molobolo Spring #funjourney #fun #molobolospring #christmasparty #christmasbreak"
Tuburan, which comes from the term "tubod" means spring, is indeed blessed with plenty of beautiful springs. Foreigners are magnetized to this piece of nature because of its clear waters and massive pool. You can bring an entire barangay in Molobolo Spring and you won't rub elbows because the place is really big, there's room for everyone.
The Molobolo spring is where freshwater and saltwater meets. The waters are rapidly flowing so rest assured that the water is always clean and ready for use. The place is covered with huge trees which helps cool down the temperature as well. The serenity of the place is appealing to the public so you better hurry before an entire barangay comes!
How to get there
The trip to Tuburan by bus will take you about 3 hours or more so we suggest traveling early in the morning so that you can take all the time you need in Molobolo Spring.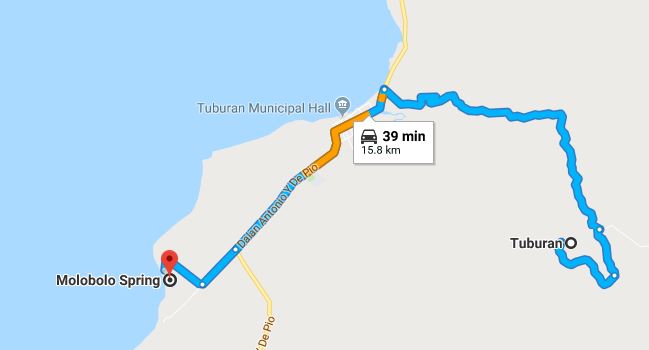 Surprisingly, there are numerous routes that head to the place. You can hail a bus or a van from the North Bus Terminal going to Tuburan, or get a V-hire from Ayala Center, Cebu and pay just around 140 pesos.
Obong Spring
https://www.instagram.com/p/BfE3PrsFEl-/?tagged=obongspring
Here is another option if you want a bigger pool of cold water: the Obong Spring. Obong Spring is slightly similar to Molobolo, consisting of fresh and salt water. The pool is also very spacious and allows larger groups of people to enjoy the spring. In between dips in the pool, you are free to take a swim in the sea, which is open for everybody. The entire place is a paradise. It is also surrounded by large, old trees.
How to get there
Obong is located in Dalaguete. It is far from Cebu City but it only takes about 2 to 3 hours to get there. Hail a bus from the South Bus Terminal going to Dalaguete.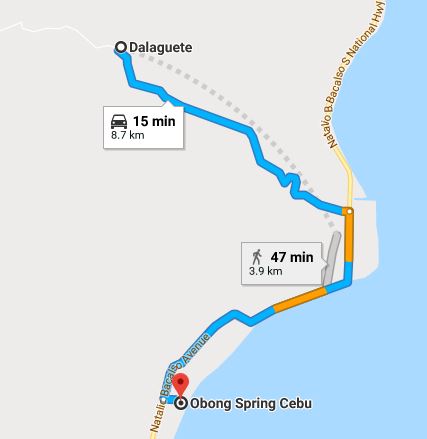 It should be easy to find because Cebu terminals are organized somehow. Once you are set, inform the driver that you are off to Obong spring so he can drop you off there.
Mantawihan Cold Spring
There are so many reasons to go to Tuburan and one of them is the Mantawihan Spring. Aside from Molobolo, Mantawihan is another tourist attraction that many people are attracted to. It offers a different kind of peace and calmness that may not be present in other places.
Mantawihan is not commercialized. It is raw, the trees around the spring are untouched, and everything seems to be very relaxing because if the green scenery. Its being underdeveloped is one of the best things about this spring!
How to get there
For a convenient travel, we suggest that you take a V-hire from the Ayala Center Cebu terminal that will take you straight to Tuburan for only 140 pesos. The travel will take about 3 hours and a couple more minutes to reach Mantawihan by motorcycle. Another option is to go to the North Bus Terminal and look for a bus that will pass by Tuburan.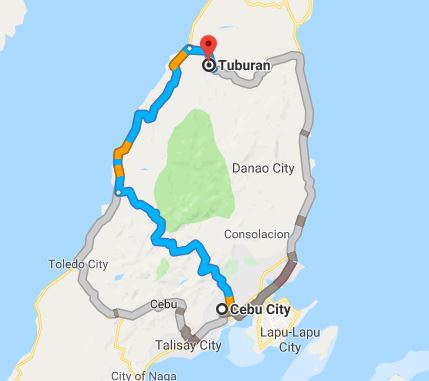 There you go! We hope that you would take these into consideration and let us know if you have!