Emilia Hotel and ResortStill feeling the heat? Although it is officially rainy season, the entire Philippines is still suffering feeling summer from the sunny rainy days. Since classes have not started (in some schools) yet, you can still take a long road trip around Cebu and take your entire family with you.
Where to? To the north! The northern Cebu is an effortless answer to all our summer woes. It is hot here in the metro, so heading to where summer reflects the excitement and water splashes off we go.
Emilia Hotel and Resort
The colors blue and yellow are set for summer. Summer breaks, to be exact. If you are still on a break, you better spend the remaining free days on a real vacation. Where to start with the planning? Start by learning more about Medellin's not-so-hidden gem, Emilia Hotel and Resort.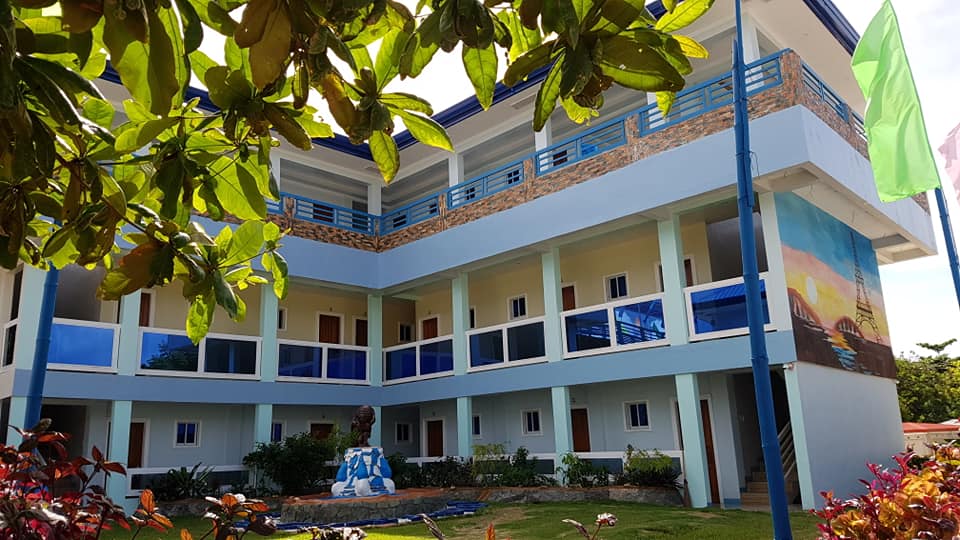 Emilia Hotel and Resort is a humble abode for you and your family if you are seeking for a place to rest in. Don't get intimidated by the name because the hotel and resort is not expensive at all. Its pride is its swimming pool where the young and old can enjoy splashing water at each other, so if you are planning for an outing, Medellin is the way to go.
Planned events are also welcome here. They have function rooms to accommodate your party needs and catering services.
Rates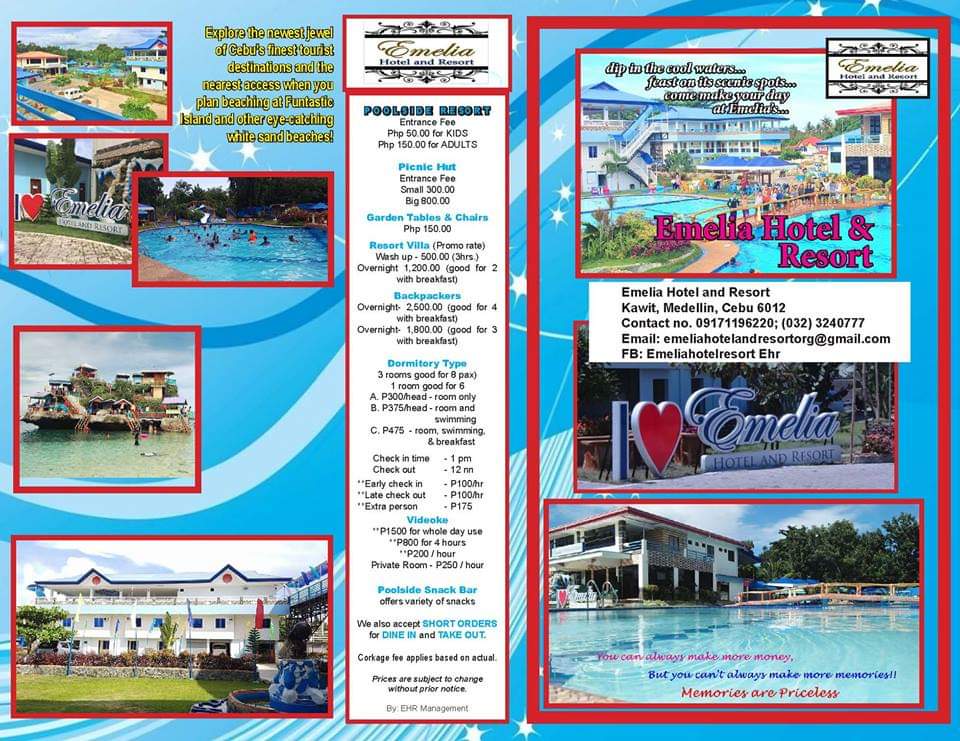 Entrance fees:
Picnic Hut
Entrance fees:
300 small
600 big
150 Garden tables and chairs
Those who want to stay in a villa, you can book one for 1,200 pesos, good for 2. This comes with free breakfast for 2 as well.
Backpackers are welcome and those who are on a road trip and need somewhere to sleep. An overnight stay good for 4 is only 2,500 (free breakfast) and 1,200 good for 3 (free breakfast).
If you are tight on the budget, you can still get a spot by booking the Dormitory Type room. Share a room with others for 300-475 per head.
For non-swimmers or for additional activity, you can rent a videoke machine for only 1,500 (whole day use), 800 (4-hour use), or 200 per hour only.
Please don't bring outside food if you don't pay extra, but feel free to do so if you can afford the corkage fee.
For events, you can rent a big function room for all you visitors and pay 350 (minimum) per head (minimum of 200 persons). It's perfect for debuts and wedding receptions. For smaller events, the minimum number of persons is 50-150.
Your 350 per head will get you 3 main courses, soup and appetizer, dessert and 1 round of drinks. For a better package, the price is 450 per head inclusive of 4 main courses, soup, appetizer, dessert and 1 round of drinks.
Another package is 450 per head with 5 main courses, soup, appetizer, dessert and 1 round of drinks.
All packages come with rice, tables and chairs, and 4 hours use of the venue.
Those who love their food but are too far from the venue, you may request for outside catering service. It's 200 per head for 3 main courses, dessert and drinks, and 250 for 4 main courses, dessert, and drinks. There is an additional transportation price, though. They deliver in these places plus service charge:
Daanbantayan- 500
Lamintak- 500
Bogo- 500
San Remigio- 700
Poblacion Medellin- 300
Location
Find local businesses, view maps and get driving directions in Google Maps.
Emilia Hotel and Resort is located at Kawit, Medellin. To get there from Cebu City, take a bus from the North Bus Terminal going to Medellin/Daanbantayan. The bus will take the route that will pass by the resort so just tell the driver where you want to get off.
For reservations, please contact 0917 119 6220.