Caving is often associated with going into the depths of darkness. But what if there are actually caves that do not require technical climbing, rappelling, and crawling? The northern part of Cebu offers a rather different version of the caves that we know.
Here are some of the beautiful caves you may try exploring in the Northern part of Cebu:
Guadalupe Cave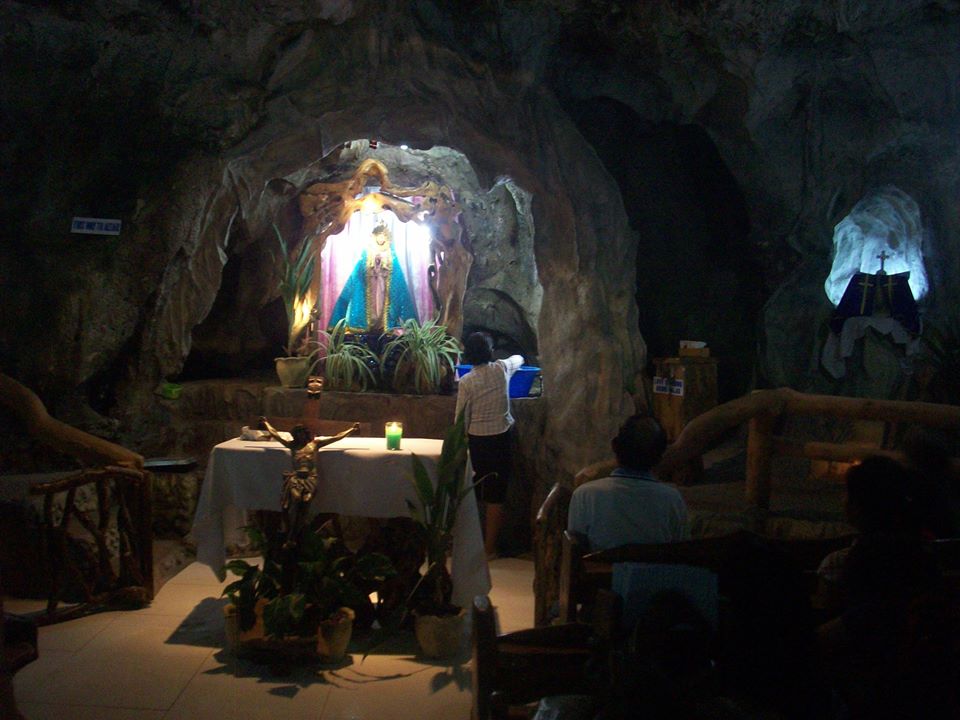 Guadalupe Cave located in the heart of Cebu City is labeled as the "Miraculous Langub Cave" because it is a place of devotion for the religious devotees of Our Lady of Guadalupe. According to legends, the image of the Virgin Mary was well-kept inside the cave by locals in fear of being taken back by Spaniards or destroyed by non-believers. Years passed before the image was rediscovered. This then led to the reawakening of faith and devotion of the locals. Many believe that visiting the cave will bring healing and answers to those who are in great need of help.
Location: Barangay Kalunasan, Guadalupe Cebu City.
A trip to Camotes Island won't be complete without visiting this grand cave. Named after a local who discovered the cave, Bukilat Cave became a hiding place for locals during the Japanese invasion. At present, it has been developed to accommodate guests. Concrete steps directly leading to the cave pool was made to make it even more accessible for children and elderlies.
Location: McArthur, Todela, Poro Island, Camotes
Same as Bukilat Cave, Timubo Cave is located in the heart of Camotes and offers a refreshing pool cave that is very much suitable for swimming. Extreme care is encouraged upon going down the stairs as it might get slippery because of the water dripping from the ceiling of the cave. Nonetheless, iron-handrails are provided to help guests arrive safely to the cave pool.
Location: Barangay Sonog, Camotes Island
In case the beach is too hot, feel free to freshen up at Ogtong Cave in Bantayan Island. The cave is open for swimming and cooling down. Aside from this cave pool, guests of Ogtong Cave Resort can also enjoy other amenities of the resort like the pool, beach, villa, and top-rated rooms.
Location: Santa Fe, Bantayan Island
No need to travel far. Here's Pawod Cave or Pawod Underwater Cave System to provide an exciting adventure for you! This cave is said to be a dissolution cave which has been believed to be formed for over thousands of years ago. Locals enjoy jumping and swimming in the cool waters of the cave pool while professional divers take pleasure by exploring the underneath of the cave pool.
Location: Barangay Agus, Mactan Island
Casili Underwater Cave System
Just recently, an underwater cave system was discovered in the municipality of Balamban. It was first explored by Filipino Cave Divers in 2011 and found out that it was 40-meters deep! The alluring blue waters of the cave system makes it an exciting place to discover among beginning and professional cave lovers.
Location: Barangay Arpili, Balamban, Cebu
If you want something extreme, then you might as well try exploring this cave located in the highlands of Cebu. Morga Cave or Binuthan Cave in Bonbon requires technical assaults up to the top of cascading waterfalls and gigantic rock formations. To be able to get inside the cave, one must swim through the cave's opening and climb up to its platform. Expect to get wet and wild while going around the cave. Make sure as well to keep your things waterproofed and bring headlamps with you. Take extra precaution and make sure to hire a guide for safety.
Location: Morga, Bonbon, Cebu City
If the hike to Mt. Kapayas is not enough to keep the rush of adrenaline, then push for a caving activity to Lumanoy Cave. Located just near the basecamp, Lumanoy Cave offers technical experience through its assaults and slippery trails. The stalactite and stalagmite formations inside the cave are astounding but always be careful not to touch or hit your head upon going around.
Location: Sitio Lumanoy, Catmon, Cebu
Have you been to these caves? How was it? Share you experience with us!