I grew up going to the grocery store every Sunday with my family to buy pork meat, fish, chicken, fruits and vegetables that my mom used to cook for our daily meals. Up until today, these grocery stores inside air-conditioned malls are our go-to when it comes to convenient shopping. But as I grew older, I realized that these stores price their items too high in exchange for convenience and efficiency, something that mothers who can't have an alone-time from their kids to go shopping, would always prefer.
Public markets, on the other hand, have been around since the beginning of time. Since the Philippines is rich in natural soil that is able to grow healthy crops, seas that house abundant seafood and farms that continue to breed animals that are a good source of meat; and Cebu being a hub for trading in the Philippines, we have become a huge marketplace for commoners who wish to purchase cheaper items for their daily use.
If you want to buy very cheap ingredients for your vegetable salad, or meat for your steak, do not rush to the supermarkets. Instead, go to any of these public markets for fresh finds and really affordable options. It will not only help in your family's finances, but most especially the small business owners in the marketplace.
Carbon Public Market
Carbon is known as the oldest and biggest public market in Cebu. This is where many fresh fruits and vegetables from the mountains land because people, for sure, come to buy for their own businesses. They have so many products such as lemon, carrots, banana, coconut, oil, dried fish (buwad), meat and even packaging needs such as plastic bags, plates and so much more! They even have ukay-ukay during night time.
Around the market, you can find great suppliers of fancy accessories, perfumes, housewares, and raw materials for your soap business.
The place is really huge. If you ever get lost, you just have to ask random strangers where to find stuff and they will be more than happy to guide you.
Location
Carbon Market is located in M.C. Briones St., Cebu City. It right across the University of San Jose-Recoletos. You can ride 03A, 03L, 04B and 62B, among the many others that pass by the marketplace. Cabs also pass by the area and they have an allotted parking space for customers with vehicles.
Pasil Fish Market
Pasil is the master of fish ports. If you need to find the freshest fish (or dried fish, perhap), or any seafood you have in mind, Pasil should be on top of your list since vendors there sell almost all kinds of fish that can be caught in Philippine sea. They also sell seaweeds, mussels, dried fish–all in very cheap prices.
Pasil is also very near Carbon Market so you can visit two markets in one day!
Location
Pasil can be found in Belgium St., Cebu City. You can take 06G and 11A jeepneys to take you to the area.
Taboan Public Market
Taboan is like a mini-Carbon which hosts a lot of Philippine goods including fruits and vegetables, spices, and popular pasalubong items such as dried fish (danggit), dried mangoes, otap, chicharon, dried shrimp, chorizo and the like.
The options are endless and the discounts you can get is huge. Taboan is a must visit as well!
Location
Taboan is a small market in Tres de Abril near San Nicolas Proper Barangay Hall. Take 17D to go to Taboan.
Carcar City Public Market
Carcar is home for this special delicacy in Cebu called chicharon. Chicharon is deep fried pork rinds. They are popular across the country. But aside from that, Carcar is also known for the source of one of the best lechons in Cebu– found inside this wet public market.
The market is big and it consists of the crops section and the meat section. Explore inside and when you find the meat section, you will undoubtedly spot a minimum of 10 lechon stalls calling you and giving away free lechon skin samples. It is an absolute lechon heaven for lechon lovers!
Carcar Market also sells other items such as ampao, chorizo, fruits and vegetables, puso (hanging rice), and dried fish among others.
Location
Carcar is a little far from Cebu City but going there (especially for the lechon and chicharon) is 100% worth it. Take a bus going to Carcar from the South Bus Terminal.
Ramos Public Market
Ramos public market is a small market situated in Ramos, popular for its vibrant strip of fruit stands that stand out during the night. Their produce can be a little pricey because it is in a very convenient location after all, but like any public markets, you can always haggle and ask for discounts.
They sell a variety of meat products, fruits and vegetables among others.
Location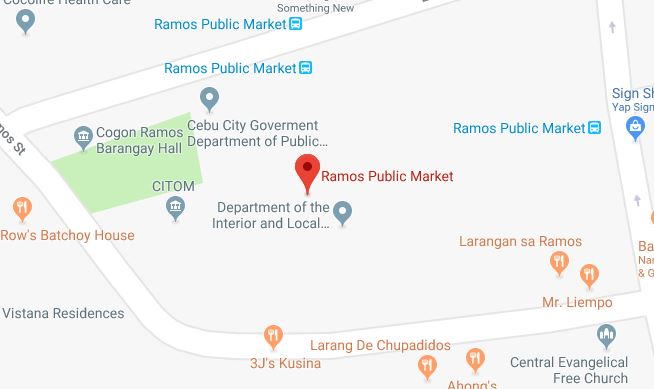 Jeepneys that pass by Ramos Public Market are 13B, 17C and 62B.
Labangon Public Market
Labangon is popularly known for its lively streets at night because of the numerous food stalls located in almost every corner. Good thing, Labangon has a nice public market where many vendors can conveniently purchase most of their ingredients for a cheaper price. Residents are also lucky enough to be near a market because not only does it provide fresh produce from fish, red meat to crops, the market also sells so many cooked food along the road that many people come for.
Transportation is not a problem because it is along the road.
Location
There are so many public vehicles that pass by Labangon everyday, some are 12D, 12G, 12I and 12L. The market is found in Katipunan.