The concrete jungle of Cebu City can get a bit draining. One of the best ways to relax and recharge yourself is to get in touch with nature.  Luckily, Cebu still has a number of spots where you can share a peaceful moment with mother nature, and the best part is you don't even have to travel far. We have an abundance of waterfalls, mountains, and forest trails where you can get lost in awe of the natural world.
Whether you're looking for a short trek or plan to camp out for a few days, here are a few nature-lover spots in Cebu that you should check out.
photo from byjohnmatt.wordpress
Binaliw Spring, Sogod
Travel up north to Sogod and take a dip in the cool water of the Binaliw Cold Spring. This popular spring has become a local attraction over the years thanks to the lush, wonderful surrounding of trees and plants, as well as its extraordinary 'healing powers'. The spring attracts people who want to get healed from some illness, or those looking for a place to cool down and relax from the heat and stress of life. Binaliw Spring is very easy to get to. Ride a bus from the North Bus Terminal or a V-hire that will pass by Sugod. Get off at the Sogod Public Market and take a motorbike (habal-habal) to the spring. Or you can ask the bus/van driver to drop you off at the Bagatayam Bridge and walk to the spring, which is just a few minutes away.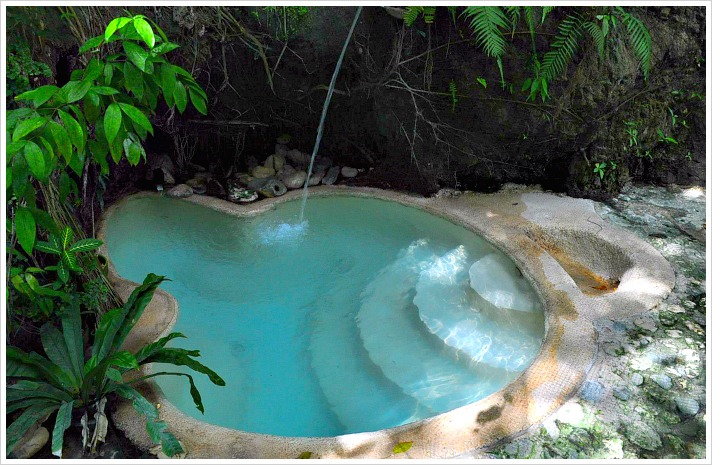 photo from cebu-bluewaters
Esoy Hot Spring, Catmon
Bathing in hot springs is said to have a number of health benefits, especially when it comes to de-stressing and loosening tension in the body. Luckily, we have a very accessible hot spring here on our lovely island. Esoy Hot Spring in Catmon is this quaint spot where you can sit and relax in the many hot spring pools and melt your stress away. The water is 40-60 degrees centigrade and is said to come from Catmon's highest mountain, Mount Tabayag. Other than the hot spring, you can also enjoy going on a river trek, rock climbing,fish feeding,and caving. Esoy has a no booking, no entry policy. You'll need to call them in advance to schedule your visit since the area is quite small and can accommodate a few guests at a time. Take a bus from the North Bus Terminal to Catmon. Ask the driver to drop you off at the corner of Duyan in Catmon. From there, you can take a motorcycle to Esoy.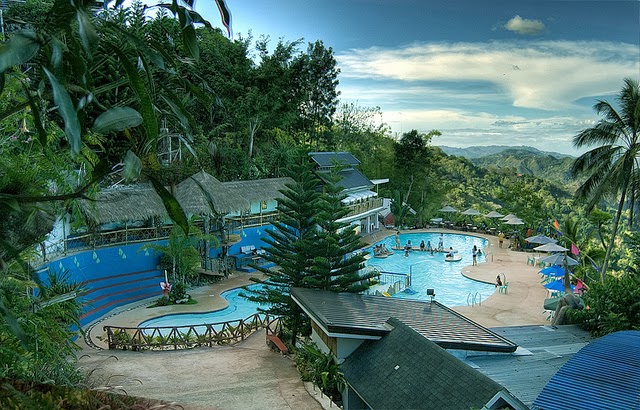 photo from zeelifestylecebu
Mountain View, Busay, Cebu City  
If you're looking for a place where you can just relax and enjoy the trees and flowers in the mountains of Cebu, then look no further. Mountain View in Brgy. Busay is just the place. It's just minutes away from the city and it's pretty accessible via the Transcentral Highway. They have a big parking area so you can bring your car there. Habal-habals are also available going to and from Mountain View 24/7. The resorts has a number of amenities, including a pool and even a ropes course. rooms  are available for overnight stays and cottages for day use. The resort also offers function halls for bigger parties and groups. To get there, take the Transcentral highway to Brgy. Busay. If you don't have your own transportation, the best way to get there is via a habal-habal.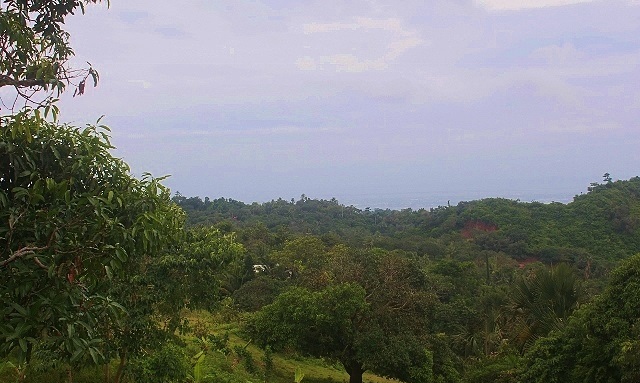 photo from flyfledermaus.blogspot
Sirao Peak, Brgy.Malubog, Cebu City
Also locally known as Kan-Irag or Pedro Calungsod Peak, this is one of the many go-to trails and campsites locals visit. It's close to the city, making it a perfect weekend getaway, and the trail is not that difficult so newbee trekkers won't have a hard time accessing it. There are many ways to access the peak. Some just simply drive or taking a habal-habal to the base of the hill. However, the more adventurous one would trek to the peak via the many trails that also lets them pass by a small river, a waterfall, the many flower farms leading to the area, and even a mini-lake. If you're planning to trek to Sirao Peak, it's best to find a guide to help you through the trail or join a hike group. The kick-off point for the trail usually starts in Sitio Baugo in Baranggay Budlaan. You can take a habal-habal from Sunny Hills in Talamban.
photo from wander-soul
West36, Balamban
Another resort where you can just relax and get lost in nature, West36 is a bit farther from the city, but the drive going to the area is a definite treat. You'll pass by the mountain barangays of Cebu city and enjoy the scenic view of fields, hills, and small patches of forests. Although it doesn't have a pool, West36 does have a couple of other interesting amenities such as a trail that lets you walk through the woods, a zipline, a cafe that serves a number of international and local dishes, and rooms that have a jacuzzi. It's located in Brgy. Gaas in Balamban just along the Transcentral Highway. To get there, you can ride a V-hire form the Ayala terminal going to Balamban and ask the driver to drop you off at the gate. You can also take a habal-habal there if you're feeling adventurous.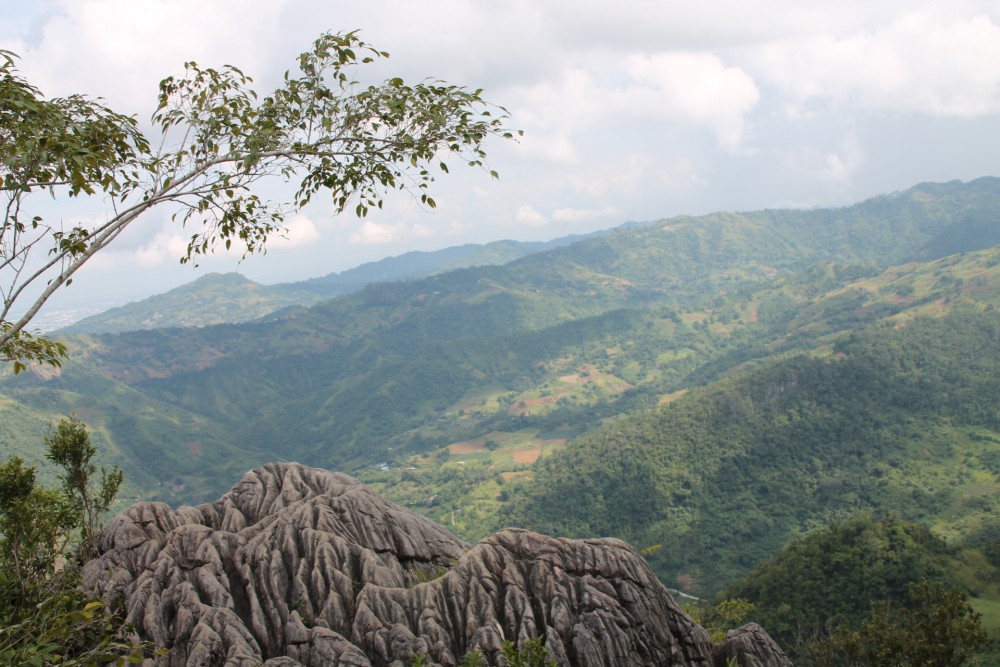 Mt. Mauyog and Mt. Manunggal, Balamban
These two peaks are a popular destination for those who love do trek and they can be finished within a day. Mt. Mauyog features an interesting rock formation on its peak, as well as a stunning view of the mountains of Cebu. Mt. Manunggal or Mt. Magsaysay is actually the site of the plane crash that killed President Ramon Magsaysay. There's a camping ground there so you can start the trail from the base of Mauyog, climb to the peak, and then traverse to Manunggal to camp. It's best to have a guide to help you through the trail. Take a V-hire and ask the driver to drop you off at Cantipla, Tabunan. Then ride a habal-habal to Sitio Awayan, the usual jump-off point of the Sunog Trail, which is the usual trail taken by those who plan to climb Mauyog. You can then ether travers to Manunggal to camp out or go back down the peak to take a habal-habal back to the city.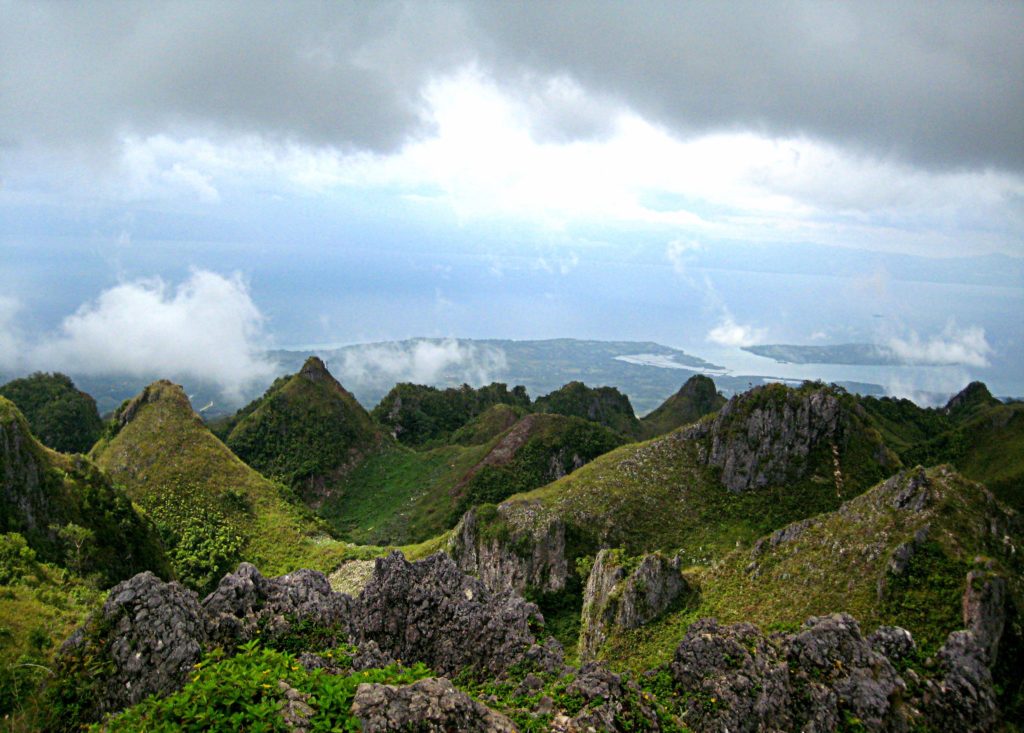 photo from thetravelvisionary.wordpress
Osmena Peak, Dalaguete
Probably one of the easiest peaks to climb, osmena peak is a great trail to practice on if you're still new at trekking. The trail is very simple and easy to follow and find that you won't need a guide to get you to the top. The peak features a view of green jagged hills and the farms that surround the peak. There's also a great camping ground below the peak by a cliff, with a stunning view of Tanion Strait and Negros. Ride a mini-bus to Mantalungon Market. The mini-bus can be found at the Caltex gas station in Magallanes st. in Carbon. Once at Mantalungon Market, take a habal-habal to the base of the mountain. Or you can take a bus from the South Bus Terminal and ask the driver to drop you off at the Mantalungon-Dalaguete junction. From there you can take a habal-habal to the base of the peak.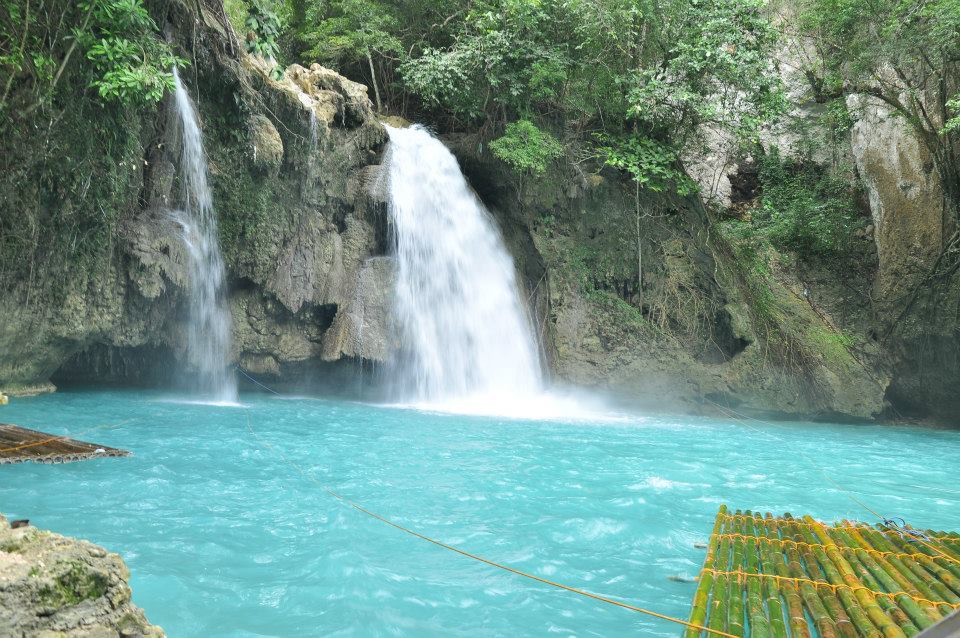 Kawasan Falls, Badian
Surround yourself with lush forest and dive into the cool waters from the famous Kawasan waterfalls. The waterfall has three levels, all of which can be accessed. In fact, a number of those who climb Osmena Peak would traverse to Kawasan Falls and exit at the top most level from the trail. There are cottages available in the bottom and second level of the falls, and there are rooms available for those who wish to stay overnight. Getting to Kawasa is easy. A bus from the South Bus Terminal passes by the Matutinao Badian Church, which is where the short trek to the waterfall starts. Once you arrive at the church, simply follow the trail to the waterfall. It should lead you to the lowest level and the biggest waterfall in Kawasan.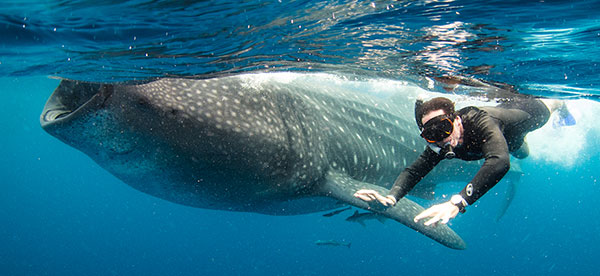 photo from escapingabroad
Swimming with Whale Sharks, Oslob
What could be more majestic than swimming with these gentle giants? Whale sharks can be seen in the small barangay of Tan-awan, some 10 km away from the center town of Oslob. It's one heck of an adventure, just make sure you actually listen to the briefing and follow the do's and don'ts when swimming with them to prevent hurting yourself, and the whale shark. Keep in mind that you have to pay a fee to swim with them, and viewing/swimming time is only from 6:00 am to 12:00 nn, so you have to be in Oslob early to see and swim with them. To get to Tan-awan, ride a bus from the South Bus Terminal and tell the driver to drop you off at Brgy. Tan-awan. The whale watching spot is actually just along the highway so you won't miss it.
Got any more spots for nature-lovers to share? Leave us a comment or suggestion. Don't forget to share this article.