Tabogon is a small, sleepy town. I can just imagine thousands of people in the bus terminals going home to Tabogon during the holidays because it seems like a great place to rest and be one with nature. I believe that this part of the province is not very inviting for people who seek lots of adventures because it is, after all, a sleepy town. You go there to sleep!
However, there are many activities that are doable in Tabogon such as diving, fishing, tree planting and of course, exploring the marine life. Can you imagine swimming on the beach while watching a tiny turtle swim towards you? Life underwater is very fascinating. I may be scared of the deep, by my curiosity wants me to explore the beauty of the waters and also the trees and animals that we come across everyday.
How to get there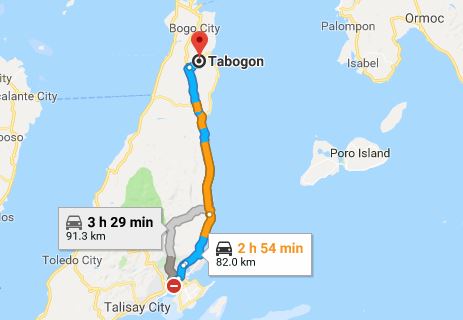 The town is 3 hours away from Cebu City and is very accessible. Take a bus to Tabogon-Bogo in the North Bus Terminal and simply inform the driver where you wish to go. They will keep that in mind and will notify you once you are near.
To help you a little bit, here are some of the places I find interesting and must-visit when you come to Tabogon.
Salag Mangrove Park
A Mangrove is a tree that has dense roots that are semi-submerged in water, the rest is exposed up in the air. You probably have seen this type during a field trip or a tree planting activity in school, right? Mangroves may not look very Instagram worthy but hey, they help the earth big time. They live in swamps and lagoons and can only survive in the tropics. They can live in waters with high salinity levels, too. They can choose to either secrete the salts through their leaves or keep the salt to themselves, aren't they interesting?
Mangroves have many uses to humans and the best use of it is as a stopper for strong waves. Helpful in places prone to tsunamis.
Now that you know a little about Mangroves, you can appreciate the significance of the Salag Mangrove Park in Tabogon.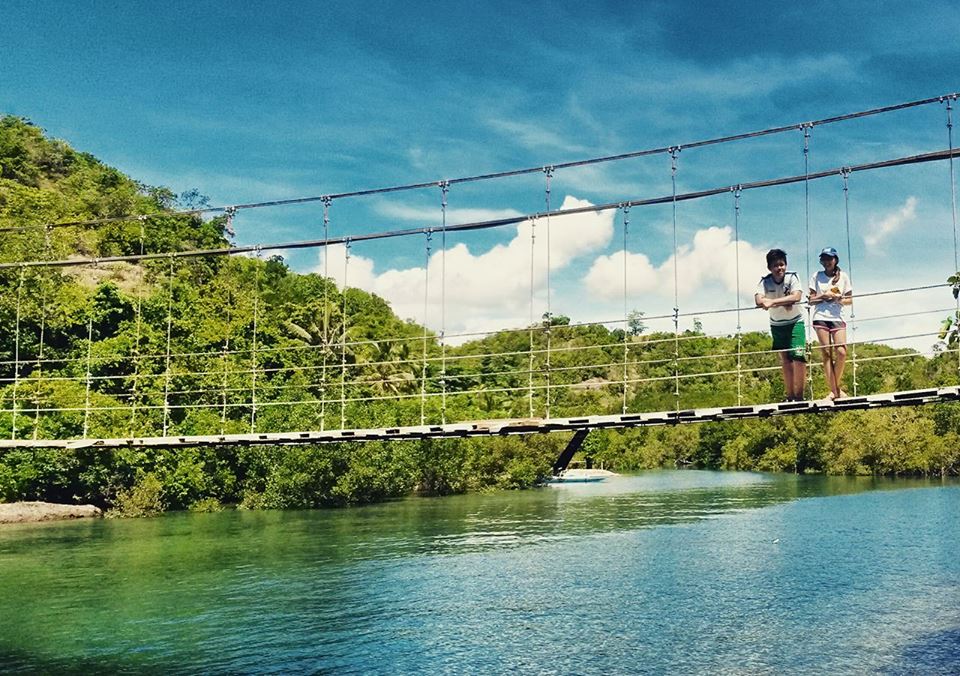 The water there is very nice and clean but the famous spot in the park is the hanging bridge. Bridges are not a very fun place for kids nor for people like me who easily get motion sickness but walking towards the center will bring you to a major appreciation of the other side of nature.
The ends of the bridge are covered by a mysterious forest. If you are a Twilight fan, you will love exploring the greeneries.
Coming here will give you a relaxing time to recognize the worth of water and plants to our ecosystem. The experience will remind you to not waste our natural resources.
How to get there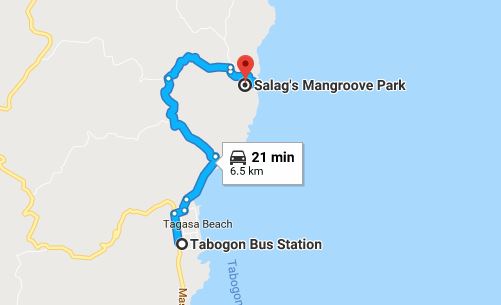 From the bus terminal or from wherever you are, hail a motorcycle to take you to the park. The ride won't be smooth but you have so much fun!
Guiwanon Cold Spring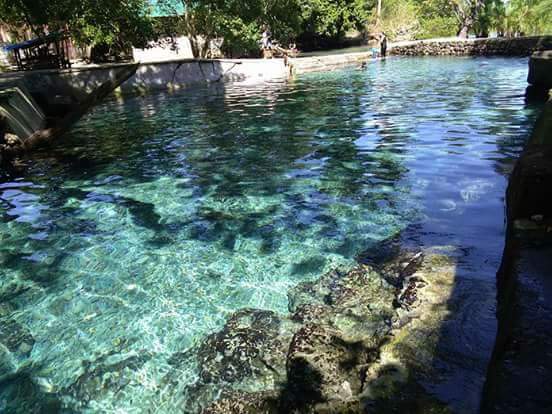 The Philippines is a tropical country and whether you take a shower three times a day, or not a single one, you will sweat insanely. The climate on this side of the world is just crazy but we like it here, don't we? We get to enjoy the beaches and some natural cold springs that we have– all year round.
Guiwanon Cold Spring, as its name suggests, is a cold spring, located in the northern part of Cebu. It is a medium-sized pool of cold, clean and very clear water that families can enjoy. It is surrounded by tall trees that are sure to give you shade while in the water.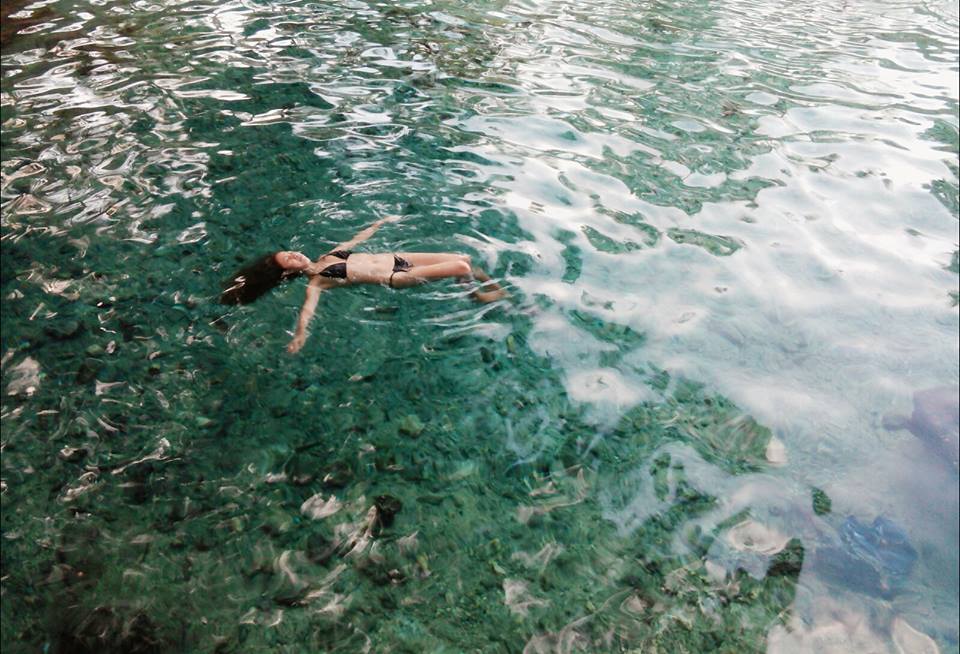 There is nothing extravagant about this place as it is a very natural, unspoiled perk enjoyed by many. Unfortunately, the management will require visitors a minimal fee of 25 pesos per head. Still not bad for someone who can't wait to beat heatstroke, right?
The locals have provided cottages that visitors can use should they want to do so, for only 100 pesos. You can also bring food and eat there and no corkage fee will be collected.
How to get there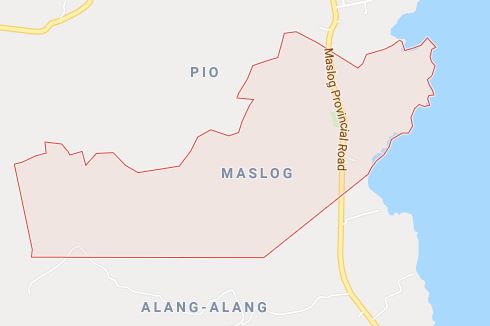 The cold spring is 3 hours away from Cebu City but the spring is along the main road so you won't really have a hard time finding it. Just remember to tell the bus driver that you need to get off at Guiwanon Cold Spring so he can drop you off there. It is in Brgy. Maslog, only a few blocks away from the Tabogon bus station. You will have to walk a little though.
El Paradisio Resort
El Paradisio does not look like a resort from the outside at all, because it was designed to look like an old, abandoned castle. It actually looks creepy!
Booking in this resort won't make you regret a single thing though because the interior design is very nice! It has a mix of modern and native feel to it because they use wooden furniture, bamboo bed frames and 'banig' or handwoven mats inspired decors. The rooms are spacious, very airy and relaxing since the resort is beachfront and is surrounded by green trees all around.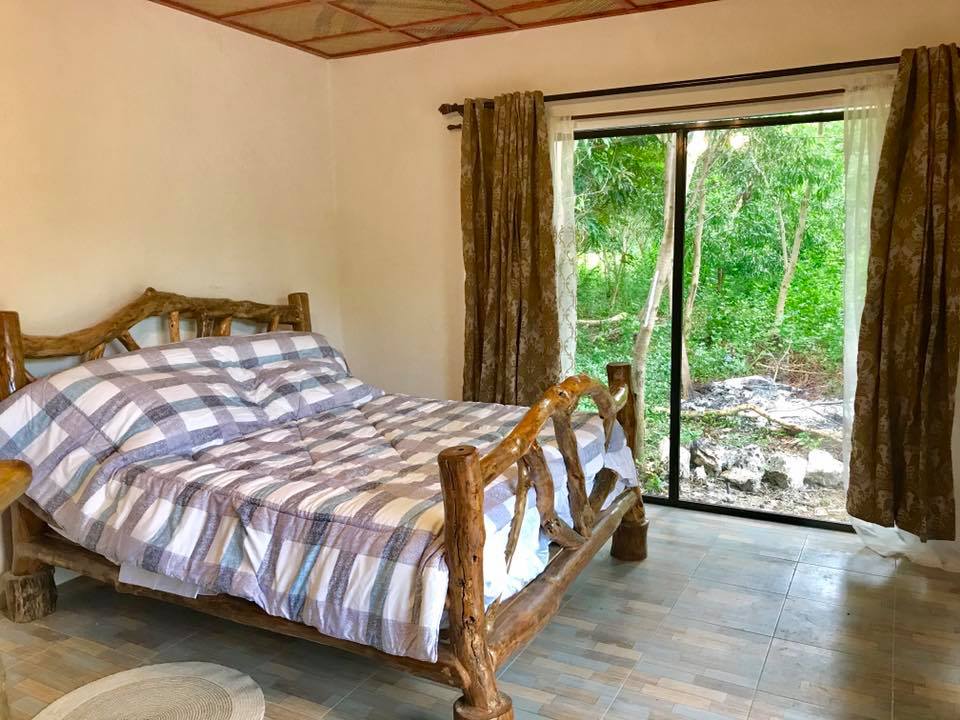 The beaches in this area are not the best in the world since they have no sandy shorelines. I guess only divers and real swimmers can truly appreciate the beaches here. Anyway, they look like this.
No sand, no shoreline, rocky and high. The water is very clean and crystal clear though and you will see turtles and other marine life forms swimming near you.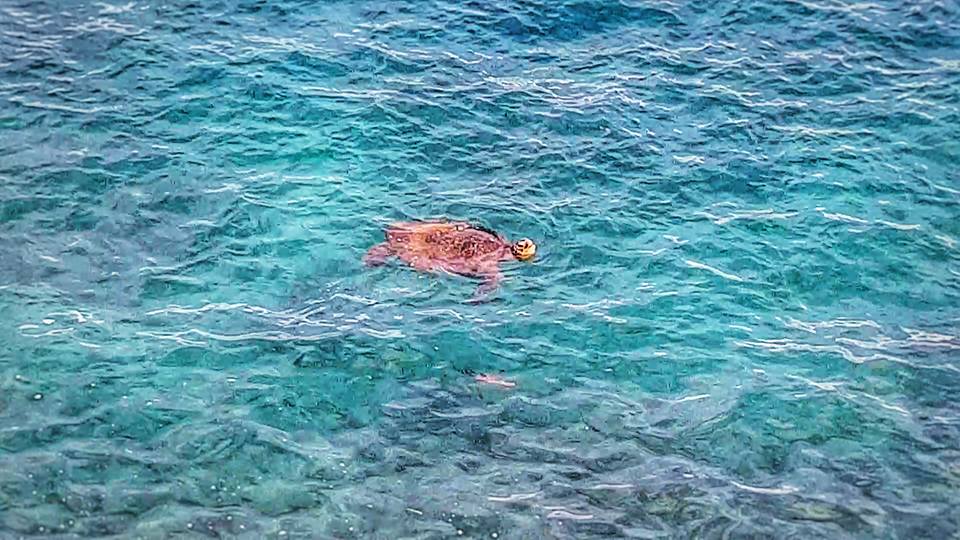 Young and old can still enjoy this view though because they have swimming pools in the resort. They also have like a patio where you face the sea. You can have your breakfast there while waiting for the sun to rise.
How to get there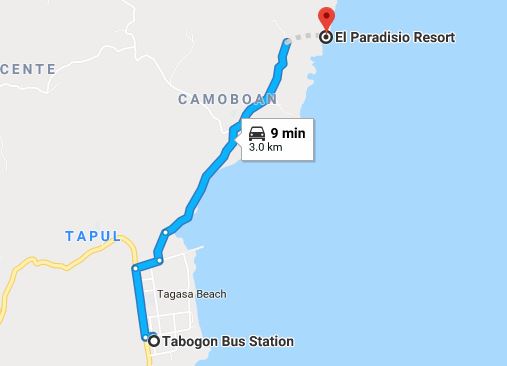 The resort is in the northern part of Tabogon, after the bus station. It is along the main road. Tell the driver that you need to get off at El Paradisio Resort and they will drop you off the nearest drop off point. Should you want to make a booking, you can contact them at 09176220655 or message them on their Facebook account.
Bitoon Gamay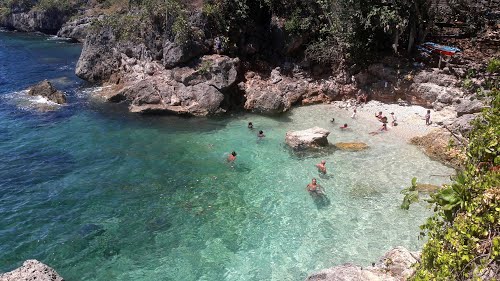 Bitoon Gamay literally means "star small". This small spot is not kid-friendly because there is no sandy shoreline where kids can enjoy the sand building castles and stuff, and also, it is really rocky there. If you wish to take your kids to the water, I recommend providing them with the proper swimming footwear because the rocks can hurt their feet. Floaters are a must too and of course, your guidance.
The water is very clean though and the area is surrounded by big rocks. A few steps form Bitoon Gamay is Bitoon Dako, which I can say is a similar view only bigger (because 'dako' means 'big').
The beach is very near a beachfront resort called Bunzie's Cove which unexpectedly luxurious rooms and services.
How to get there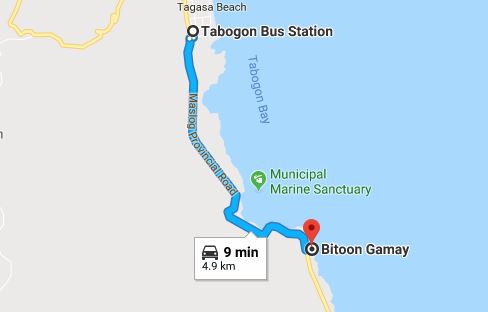 Your bus driver knows this place for sure! Tell him where you want to be dropped off and you'll be there in no time. It is along the main road as well so you won't have a hard time finding the place. It is found right after Nipa Beach, around 10 minutes away from the bus stop.
Bunzie's Cove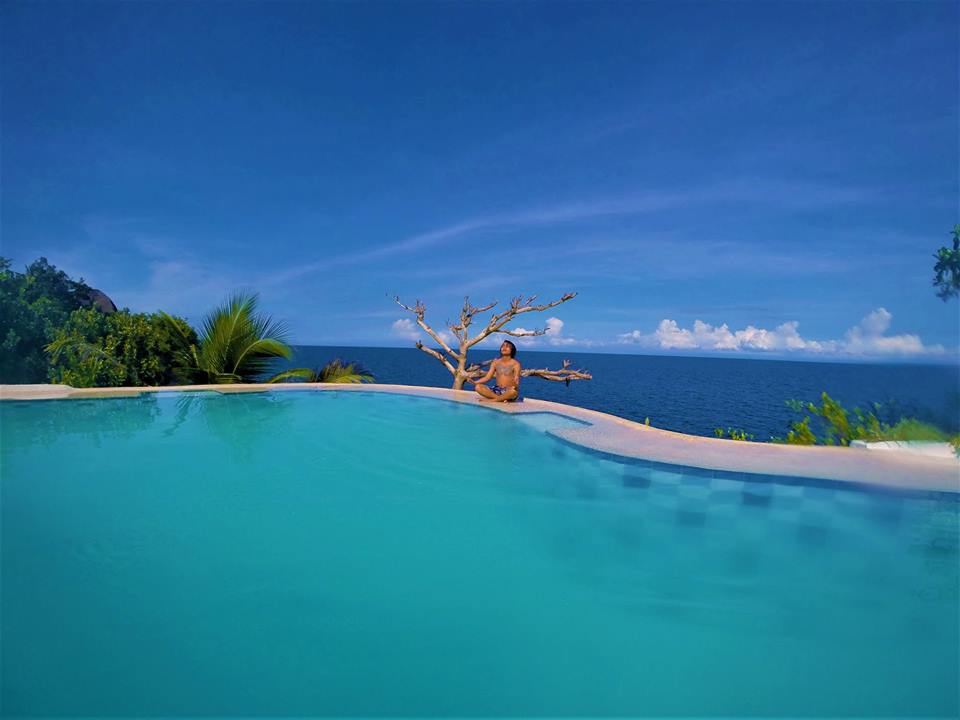 Bunzie's Cove will shock you! They look very simple from the outside but when you come in, you will see a whole new world! Their accommodations are excellent. They have an apartment, a lookout, a villa and a bar. It is great for vacationers in big groups. Families would enjoy this place, no doubt.
They have swimming pools fronting the beach and of course, a very warm view to watch the beautiful sunset. As mentioned, the beaches in this part of the north are not the best but you can still enjoy the view while swimming in the man-made pool if you like having man options.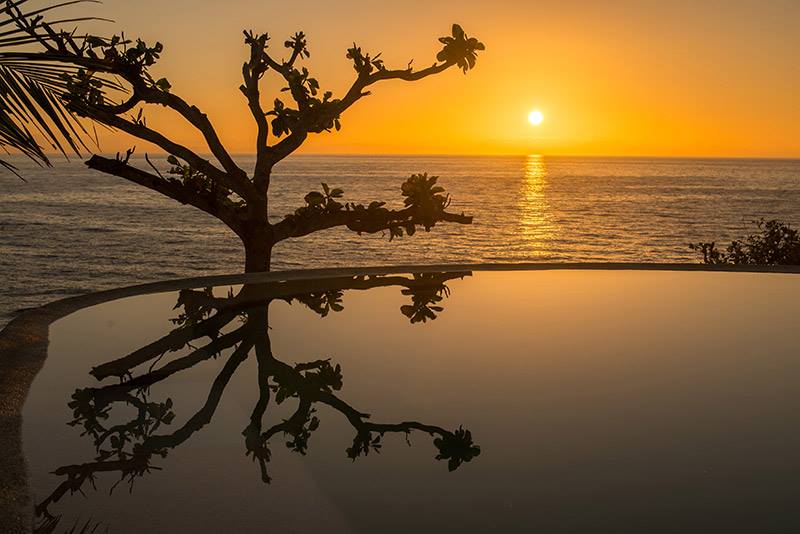 I'm not done yet! I mentioned that their accommodations are excellent, right? It is because their rooms are very nice! Wait, nice is an understatement.
Their white walls and white curtains will give you a Greece-inspired vibe in the apartment. Their bathroom is really big and spacious, and very clean as well. It has huge windows that will give you a beautiful view of the garden. Before you take a shower, make sure to put the curtains down!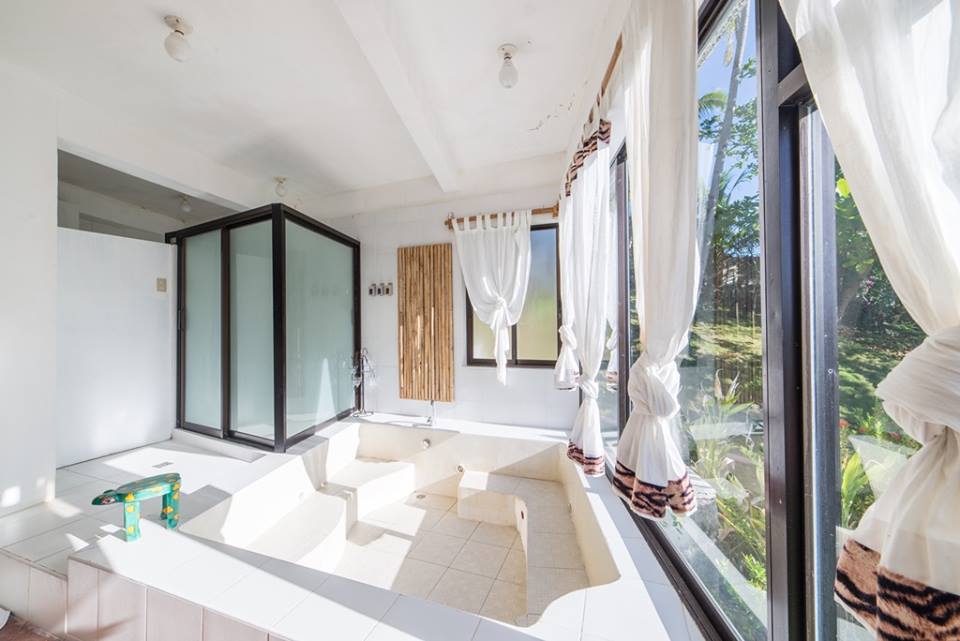 From the outside, The Lookout looks like an ordinary house in the countryside. Once you step in, you will see a very clean-looking room, big enough for 10 people to fit. Its theme is also white. The room is very spacious as well, the beds are huge and the floor is made of wood. It has a kitchen, a dining area and a great view of the sea. Bonus, it is near the pool.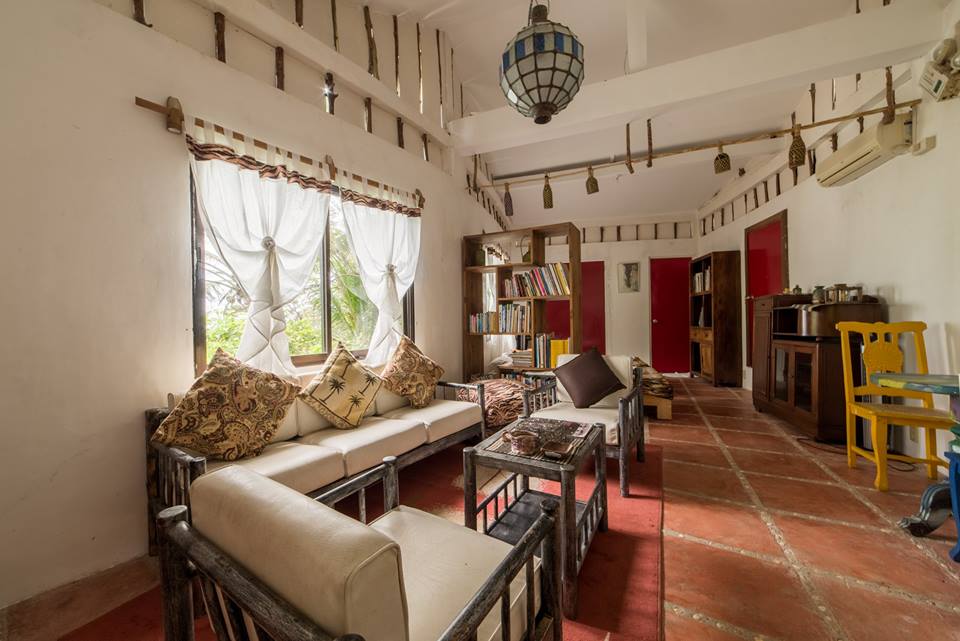 The Villa is grand. It looks and feels like an old house pumped up to turn into an earning resort. They have provided big bookshelves, with books, of course, a cozy living room, kitchen, dining area, very spacious rooms and bathrooms and decorated the entire villa with some antique pieces. They even put sungka in there for you to play.
How to get there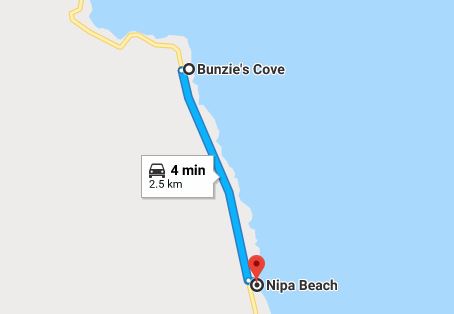 The Cove is located where Bitoon Gamay and Bitoon Dako are found. So from the bus, take off at Bunzie's Cove, after Nipa Beach. Take note that the resort is at the right side of the road. Should you want to book, call them at 3443039 or go to their Facebook page.
Nipa Beach
Nipa Beach is another alternative for those of you who are on a tight budget. There is no entrance fee to enjoy the beach although there still is no sand. The beach is rocky but the water is very clean and the sunrise is very nice. Although there are many boats parked in the spot, they add to the beach's personality and look really good on camera! I like Nipa Beach because it is very raw, and not commercialized. You can still enjoy a peaceful day at the beach without having to pay a million bucks for the same experience. Just find a basic inn nearby and you're good to go.
How to get there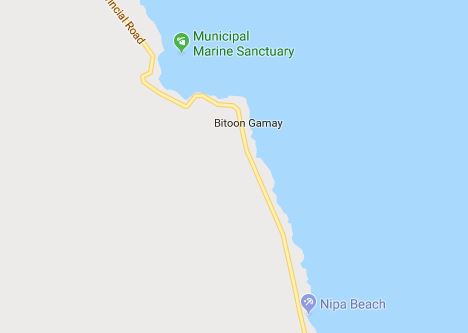 Again, Nipa Beach is along the main road and you will find it with the help of the bus driver. Don't forget to tell him where you are headed you so won't get lost. Just keep an eye on the right side of the road and for sure there's a sign that says Nipa Beach.
Sea Turtle Lagoon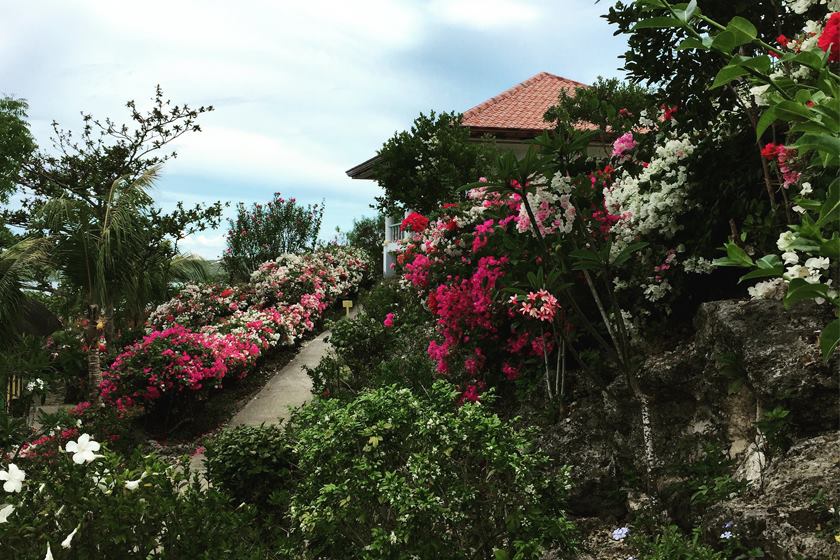 The Sea Turtle Lagoon is a very homey resort where customers can enjoy a garden full of colorful flowers. The resort doesn't have a swimming pool but who needs an artificial pool when you have a natural body of water right in front of you?
The water is very clean, no wonder why sea animals are very pleased. You will be pleased, too, for sure, because you can swim all day long and not worry about trash coming your way.
Like most beaches in Tabogon, Sea Turtle does not offer white sand nor a shoreline. What acts as a barrier between water and land are the large rock formations that will give you some Moana feels.
Their cottages feel so tropical-ly, if there is even a word. The Philippines is a tropical country, obviously, but most cottages in our beaches look very cheap and regular. Theirs look like it came straight out of a Hawaiian magazine.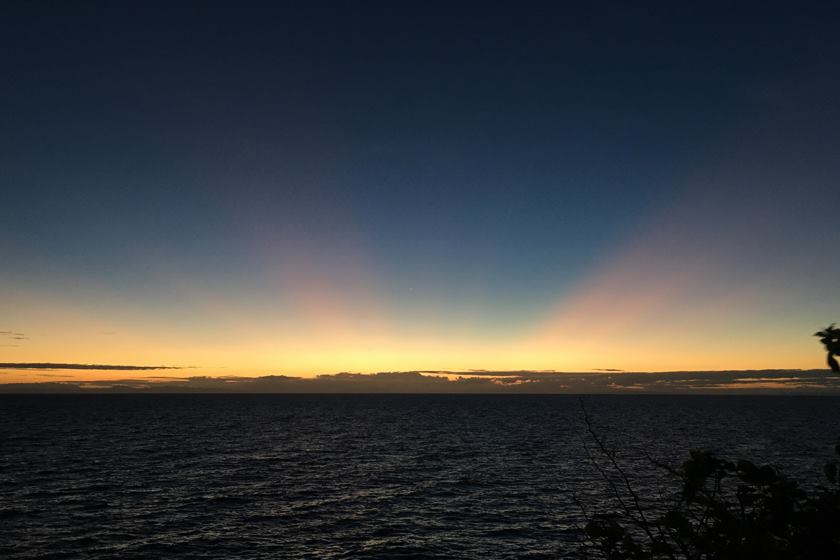 Their rooms are very cozy as well. Their pieces of furniture are made of wood, and their bed frame is made of bamboo. Many features of their rooms ensemble a Filipino native design. Their rates are pricey, but isn't it worth it?
How to get there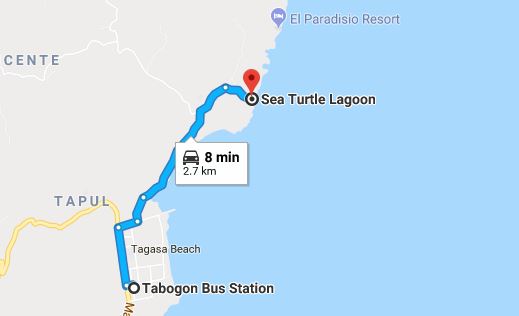 To get to Sea Turtle Lagoon, ask the bus driver to drop you off at the Tabogon proper and from there, take a trusty motorcycle to take you to the resort. The fare is about 20 pesos only. Their Facebook page, where I got some of their photos, is here.
There you go, our very own Tabogon in the northern part of Cebu. The town may look like there is nothing interesting to explore but this place has some nice spots to offer. Why wait for a holiday when you can pack your things and head there now?