When you search the word Medellin on Google, nothing about our own Medellin comes out on the first page. Rather, we see a page full of Colombian and Spanish information. The name Medellin stems out from our Spanish roots, which has a similar name to a village in Spain.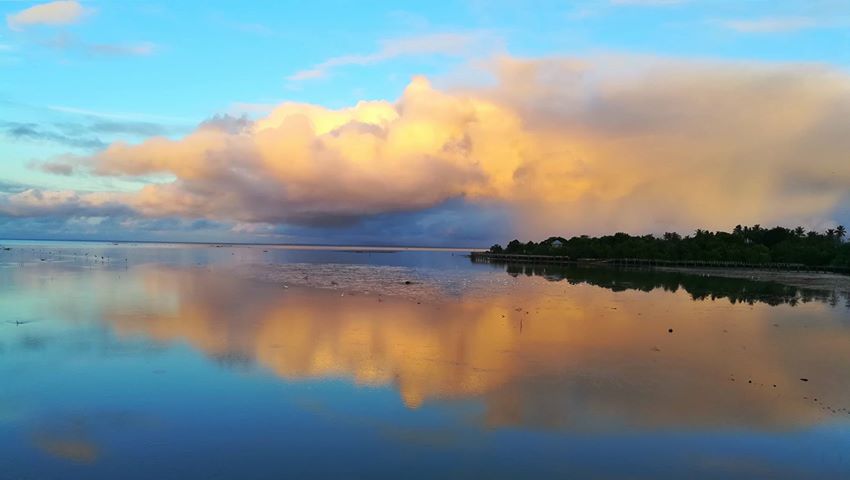 Are you thinking of ruins, Spanish-built churches, and Spain-like villages? Of course, Medellin has all of those, too. But apart from it being historical, Medellin is known for its waters. It is located between Bogo and Daanbantayan so you know what that means!
Here's a quick guide to the resorts, beaches, and landmarks that you should check out when you are in Medellin.
Mercedes Plantation Golf & Country Club
Do you love playing golf? There is a massive golf course in Medellin but it is exclusive for the members only. You can, however, try it if you know someone who is a member of the country club.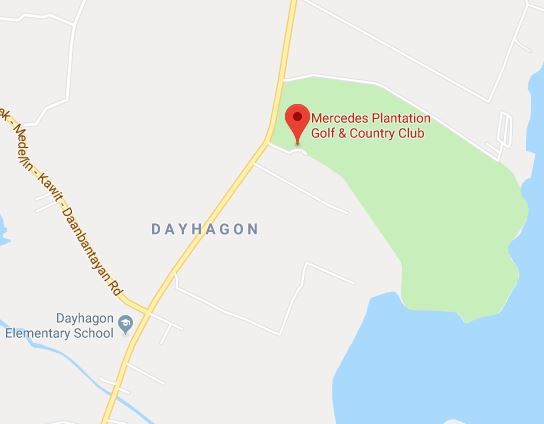 If you are interested, please contact them at (032) 846-6667 and be a member! The club is in Dagayhon, Medellin.
Woody's Beach Resort
The beach is one of the ultimate reasons why people want to go to Medellin. The sand is white, pure and very fine, and it makes every goer a happy, sunkissed beach bum. Also, the beaches are not too crowded unlike some popular beach destinations in Cebu.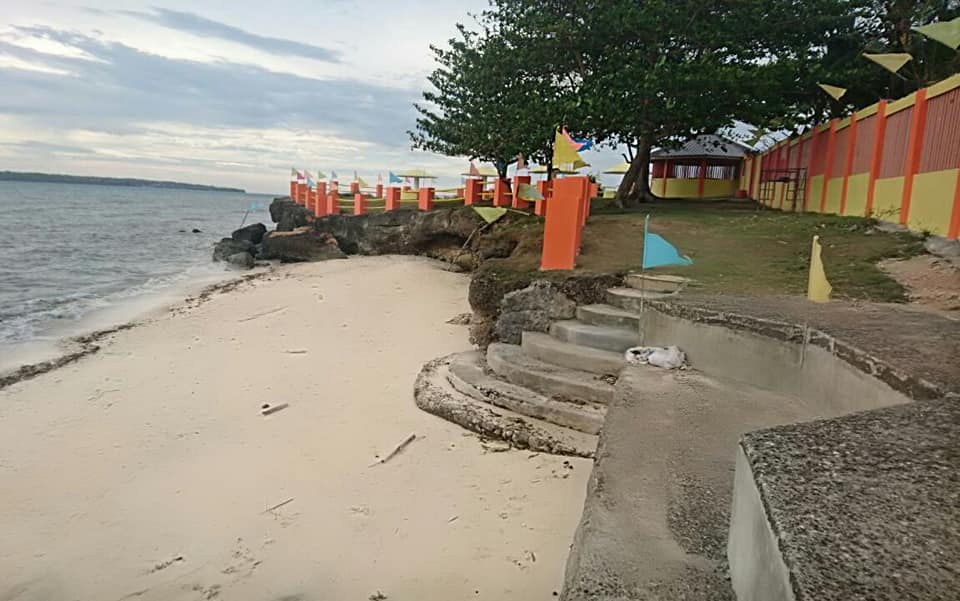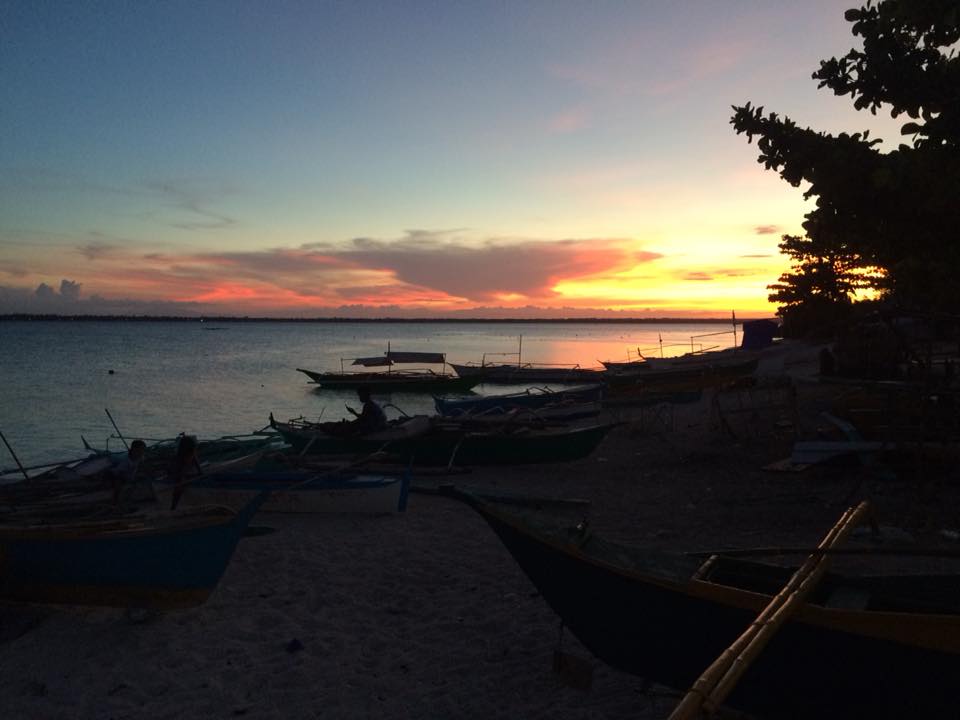 There are plenty of beach resorts in Medellin, but this one is an easy pick. Woody's Beach Resort is a resort that is walking distance from the amusing beach. Woody's is not a big, fancy resort, but rather a humble one, but with all the necessities you might need.
Rooms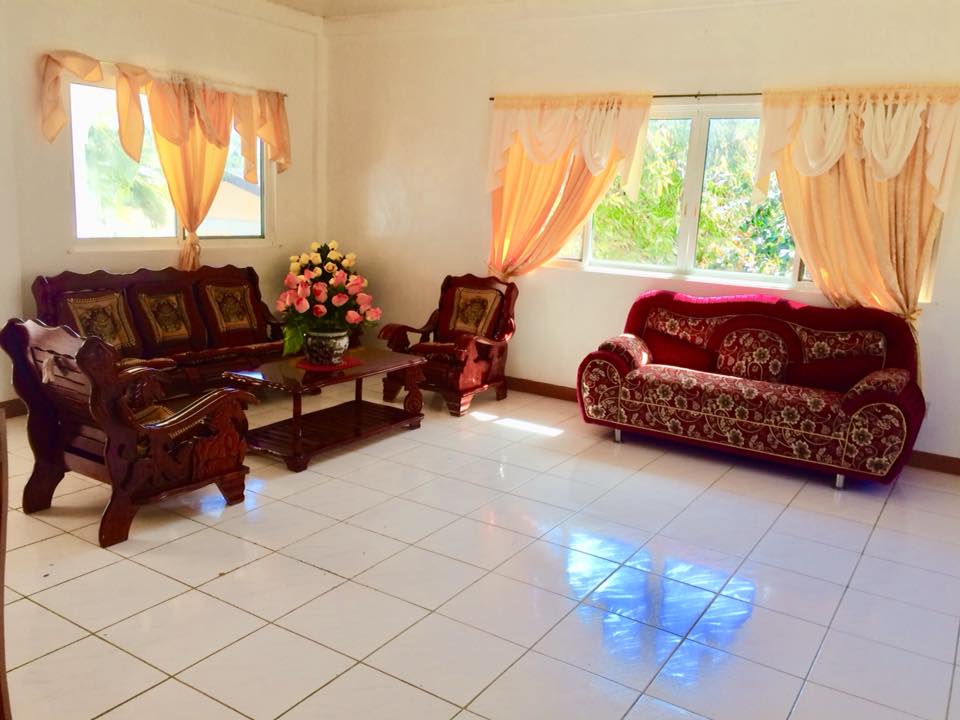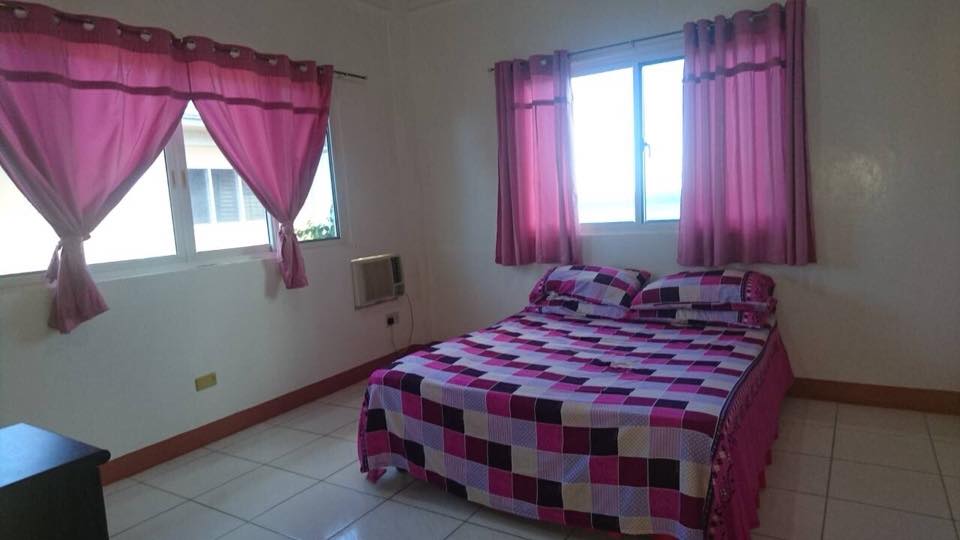 The rooms are fully furnished with aircon, beds, and other furniture. Not the best out there, but definitely liveable– clean, spacious and near the beach. The rates are pretty reasonable, too. There really is no reason not to pay a visit to Woody's.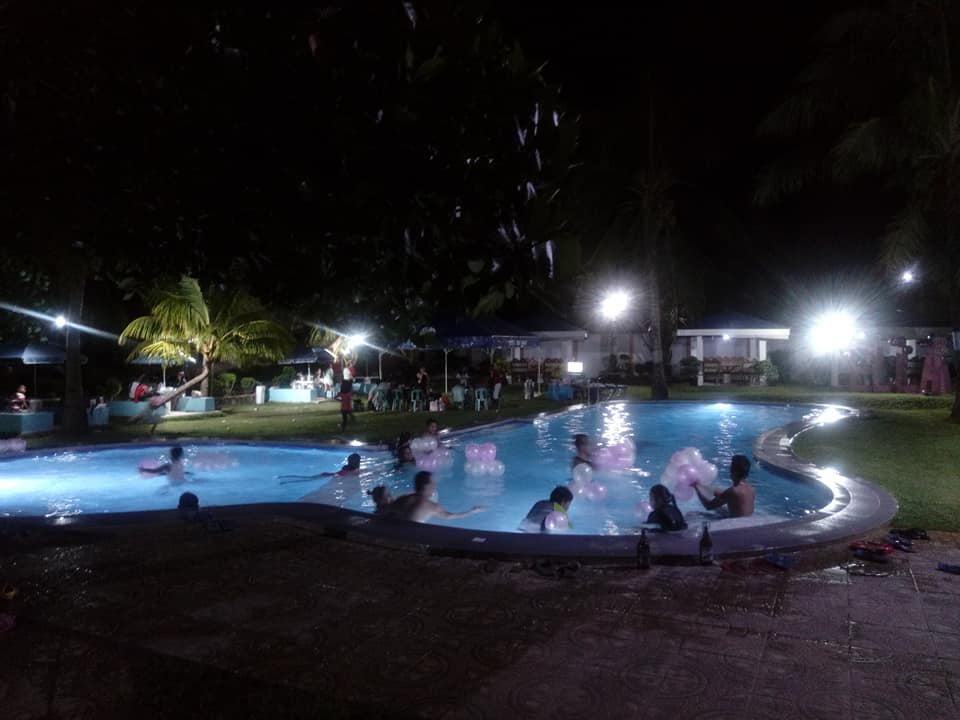 Plus, the resort has a big swimming pool! Adding a man-made pool near the beach is always appreciated because it allows people to enjoy the water even if it is low tide.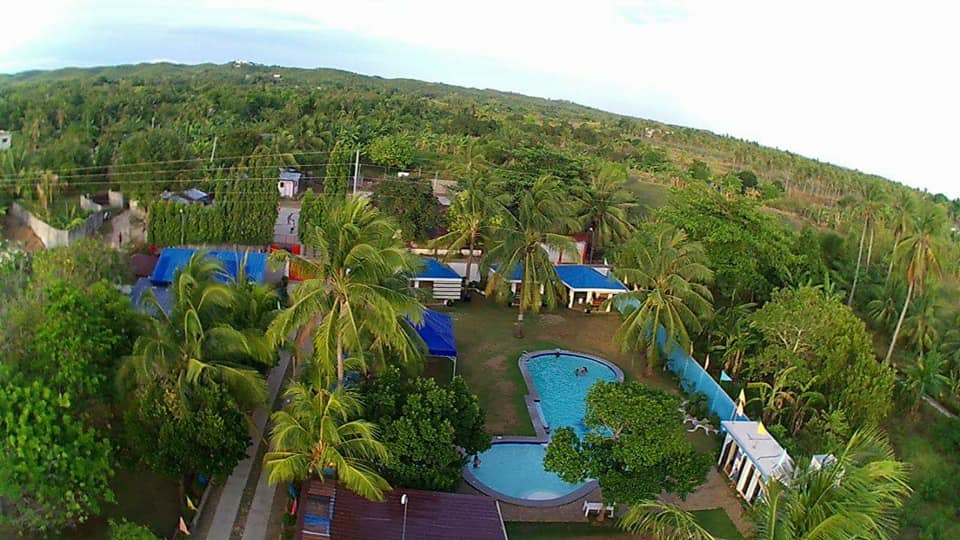 The resort is a little haven for those who are looking for a place to stay for summer outings, reunions, parties, and team building activities. It is spacious. There is a space big enough for your dancing, games and even a wedding!
Rates (as of August 2018)
As mentioned, the rates are very reasonable.
Entrance fee:
100 php (adults), 50 php (kids) from 9 AM to 5 PM.
20 php for night swimming until 9:30 PM
NO CORKAGE FEE but you need to pay for the electricity and use of facilities that you will need to cook your food (the grill is free of charge). No corkage fee for the food but there is for the drinks. It is 100 php per case and 50 for each bottle.
You will not get bored while staying at Woody's because you can rent a Karaoke machine for 100 per hour, play table tennis or simply watch the stars from the garden area.
If you need to use the cottages, the seafront (big) is 800,00, the mushroom type is 300, the poolside cottage (big) is 700, regular is 500, and the regular concrete bench with an umbrella is 250 only.
As for the rooms, you can get a good deal for a barkada-size good for 6 at 4,200 only, for small families, you may enjoy a room with aircon (or fan) for 3,000 or if you are a couple, a room good for 2 is a perfect fit, only for 2,500.
Location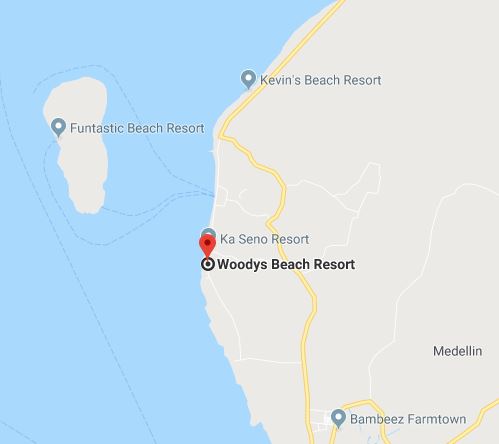 Woody's is located in Antipolo, Medellin, For reservations, please call them at these numbers ( 032) 3245957 mobile # 0977- 8044422/ 0977-6866033 or send them a message here.
Kiwi's Hidden Resort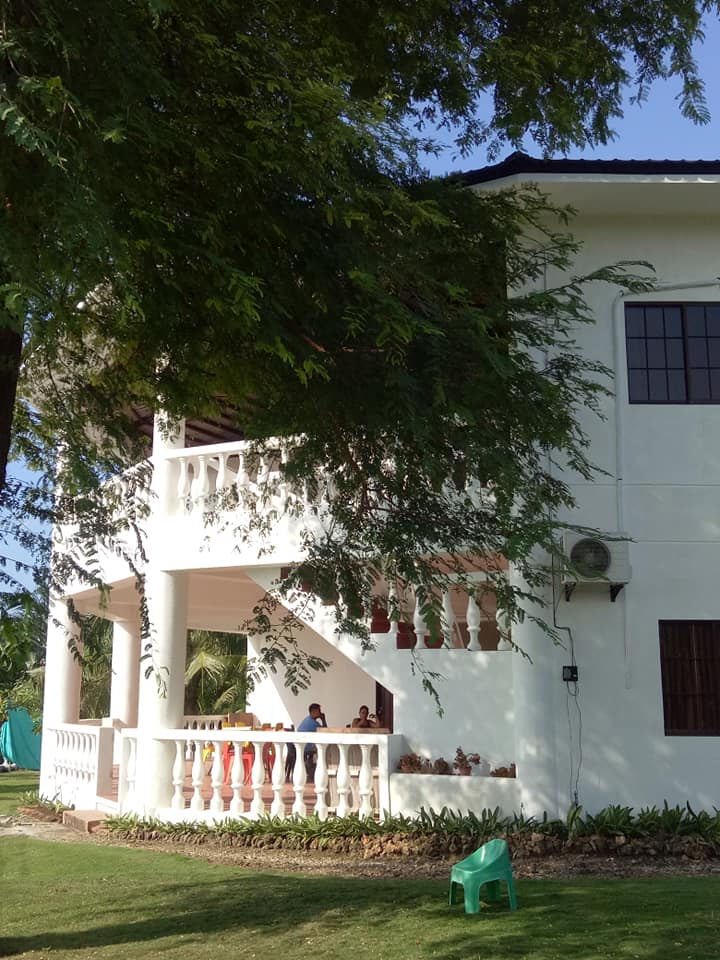 Another nice option is Kiwi's Hidden Resort. It is your home away from home. Similar to Woody's, Kiwi's offers no extravagant hotel luxuries, only homey feels. You won't be missing home.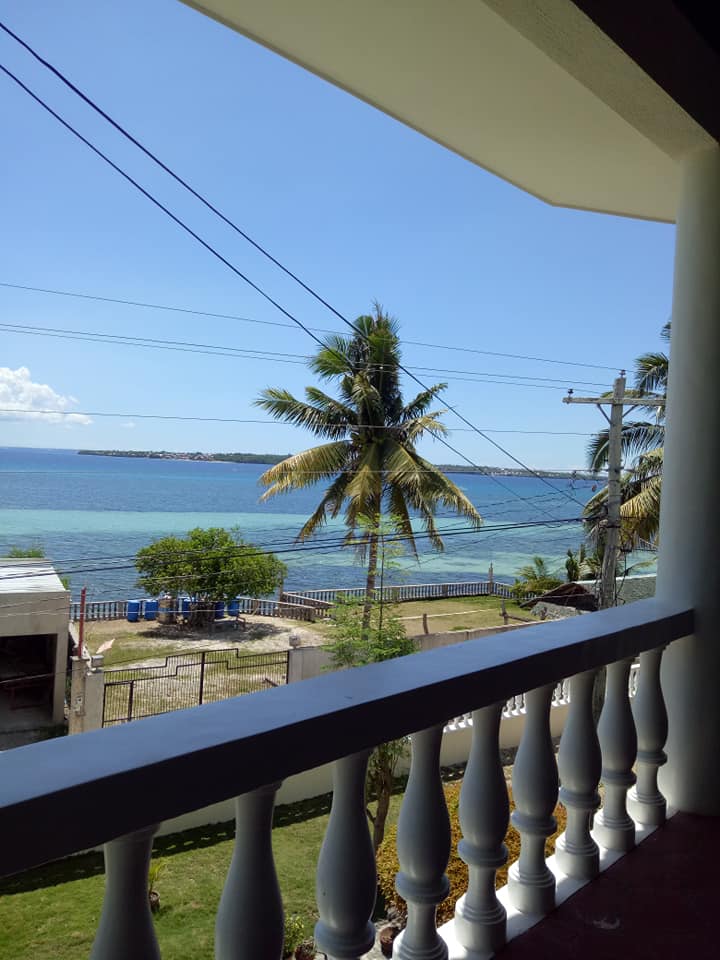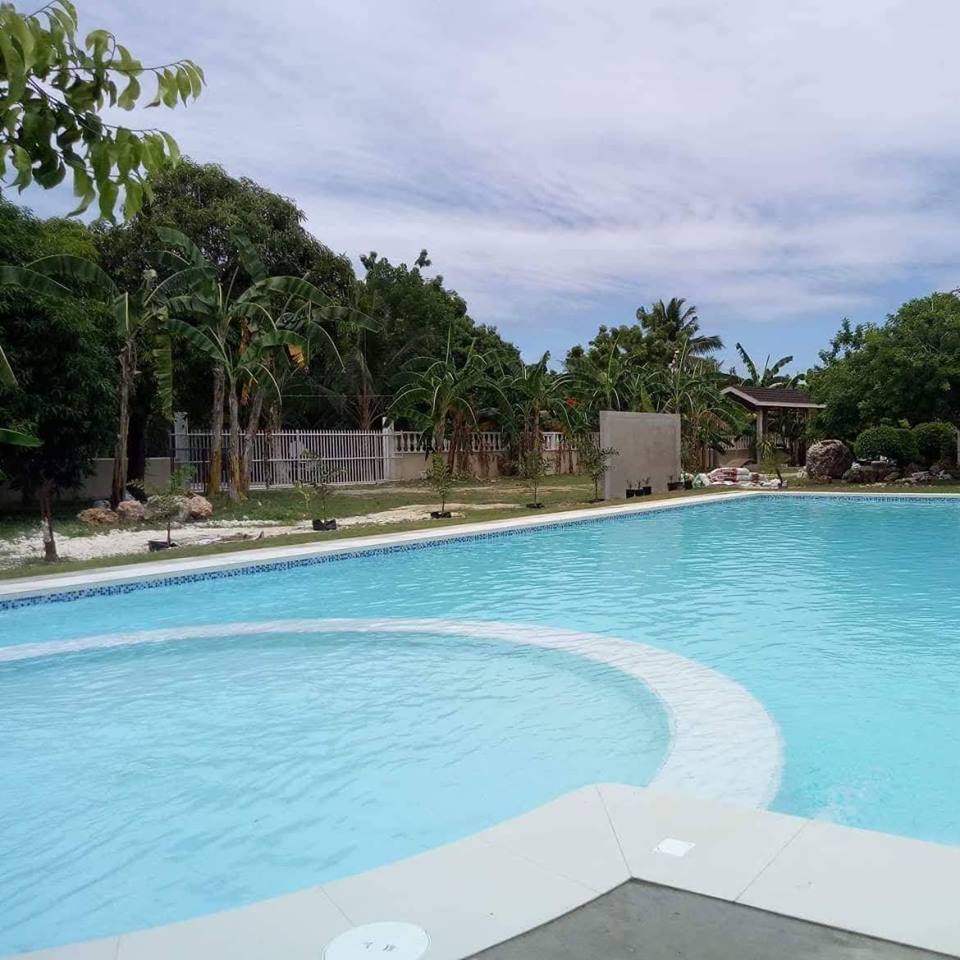 Aside from that, you get a bar for your drinking sessions, billiards that you can play with your friends, a swimming pool that you will surely enjoy, a massive garden (2 acres), and easy access to the beach.
Rooms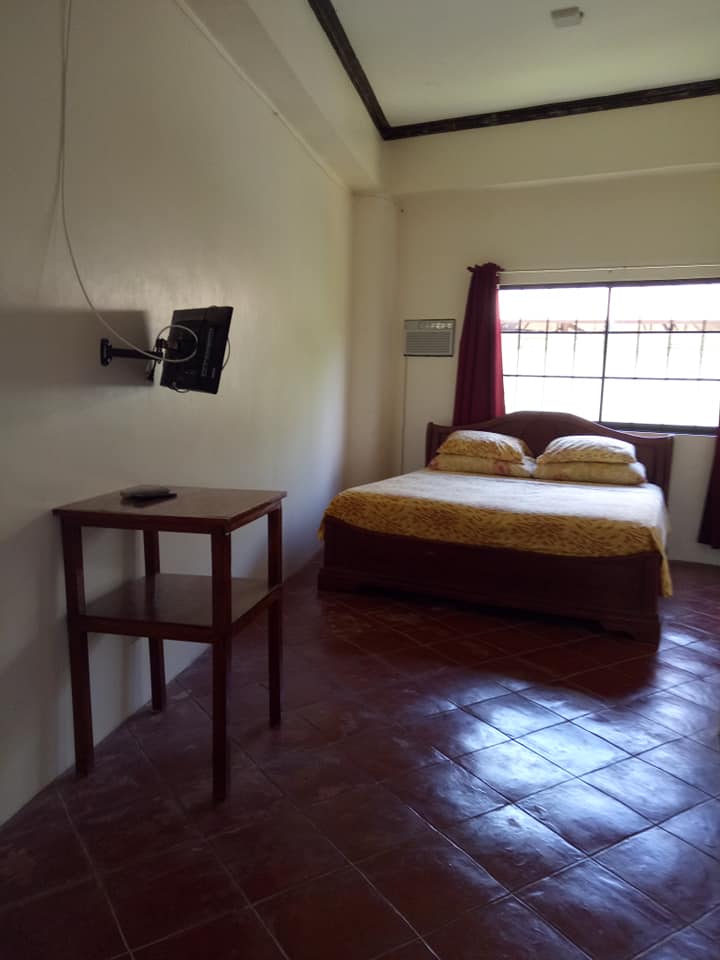 The rooms are decent. Again, nothing extravagant, just basic bedrooms that are comfortable for sleeping when it's time for you to take a rest. I would personally pick a place that has activity facilities (the beach must be accessible) than sleeping in a gold-plated room. Kiwi's Hidden Resort is a comfort zone.
One King-size room is regularly priced at 2,850 but is discounted at 2,565 during low season. The standard room is 1,750 each, good for two.
For day use, the pool fee is 100 (adult) 50 (kids) only, and you can rent cottages for 700, 500, and 300 depending on the size, and umbrella for 150 pesos only. You may book here.
Location
Kiwi's Hidden Resort is found in Baybay Antipolo, Medellin, close to Woody's Beach Resort. For more information, please call them at 0999 832 1256, or view their Facebook page and website to see more.
Palms Seaside Inn Resort
Along the shores is another affordable resort called Palms Seaside Inn and this is the view from where you will be staying: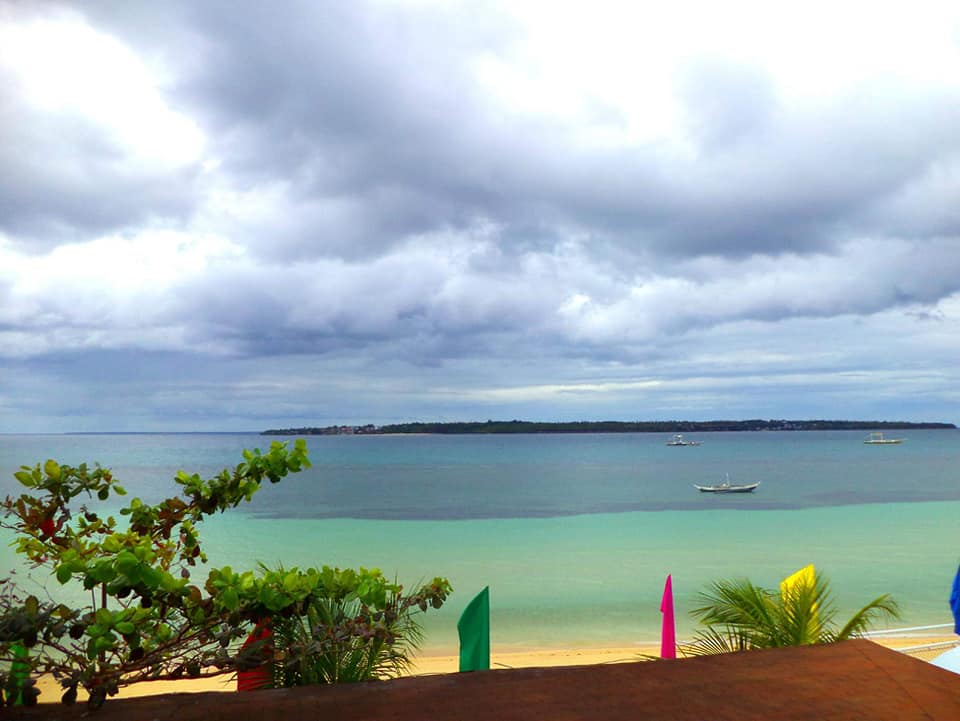 The clear view of the beach is a big reason to stay in this lovely inn. But of course, also a huge factor in choosing your home for the break is the resort itself. Here is a brief sneak peek of the rooms.
Rooms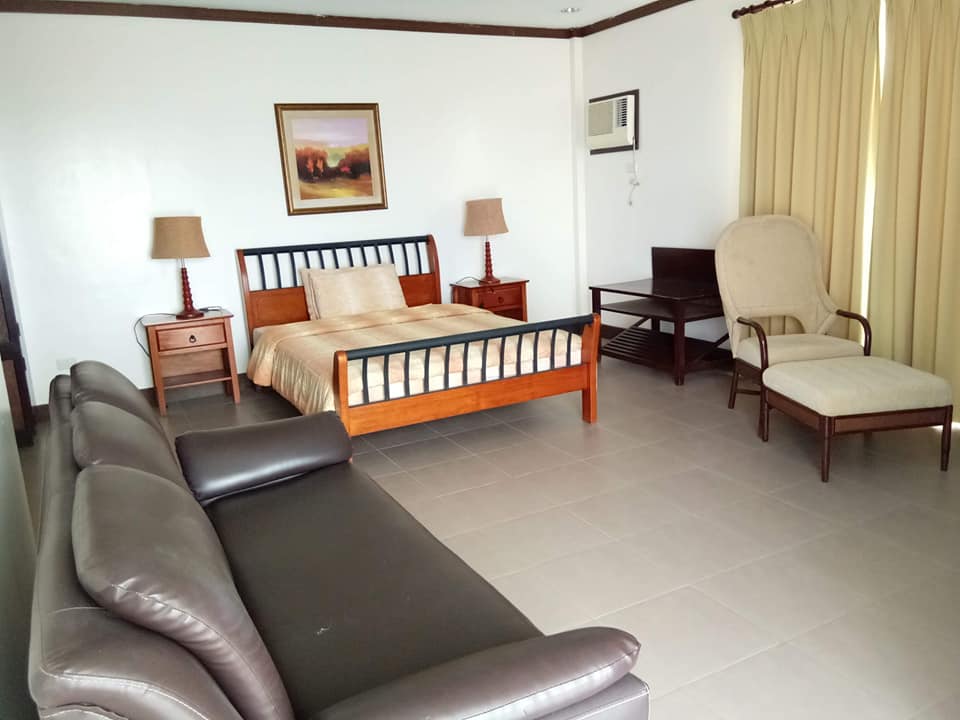 The rooms are spacious, clean and are furnished with sturdy beds, sofa, aircon, tables, and extra chairs– a good option for families with little children.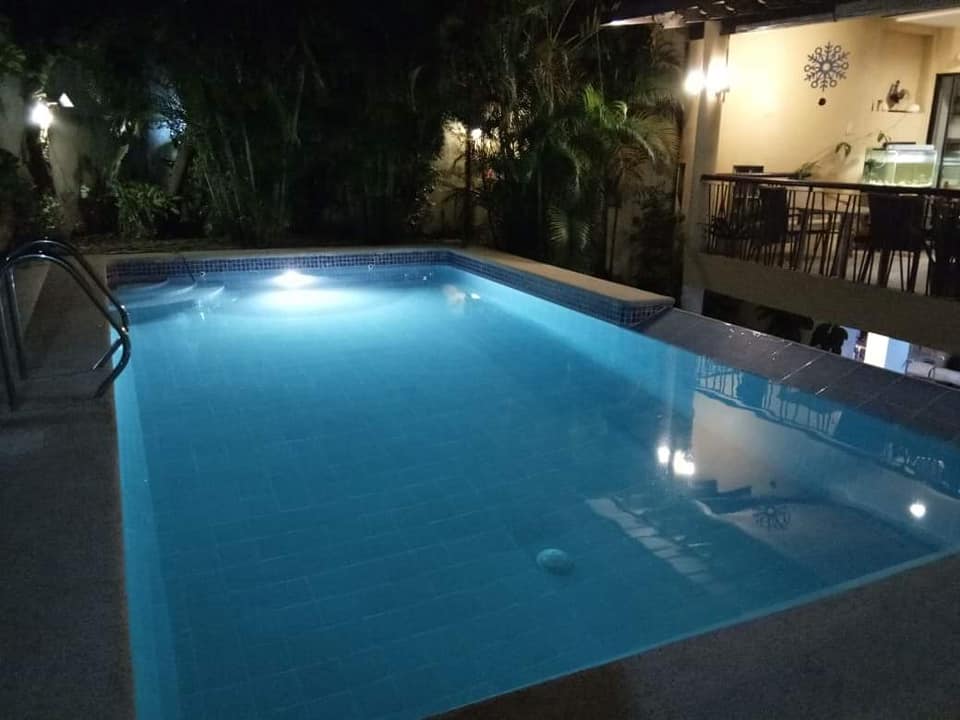 Palms also offer amenities such as a swimming pool, a function hall big enough to fit your guests would you decide to spend your wedding reception or birthday party here, or perhaps an intimate boot camp, too.
Rates
The rooms rates are very affordable, fitting for those who need a little extra cash for travel fare. The deluxe room (good for 3) is only 2,500 pesos while the couple room (good for 2) is only 1,500 pesos. For extra heads, just add 400 pesos. All packages are with free breakfast already so make sure to claim that energy booster before starting the day.
Location
The address is Nipa, Mahawak, Medellin, Cebu. You may check their page for more information, or call them at 436-2275 for reservations.
Medellin Hideaway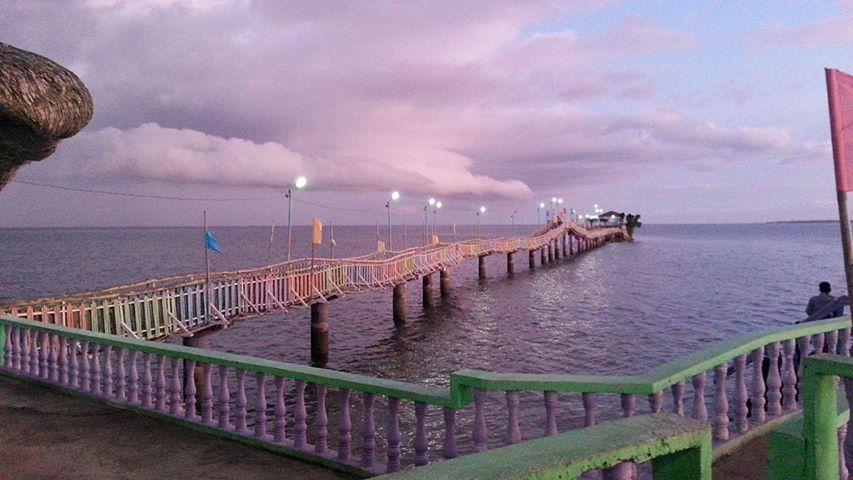 Once you have picked your accommodation, plan out where you will be traveling to. In Medellin, there is a picturesque area called the Medellin Hideaway. It is a colorful bridge connecting to a big block of rock where a hideaway to exciting adventures awaits.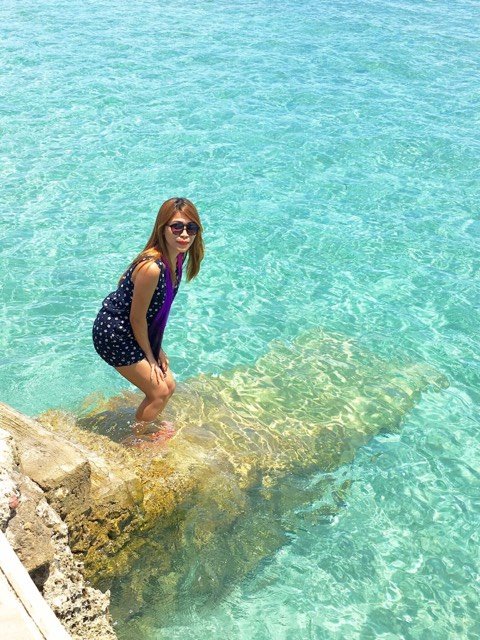 From the hideaway, you can start your swimming and snorkeling activities and even rent a jet ski. If you are not into water activities, you as still welcome to come to witness a beautiful view at night when the sun has set and the artificial lights start twinkling with the stars. It would be nice to bring someone special here for a beach date!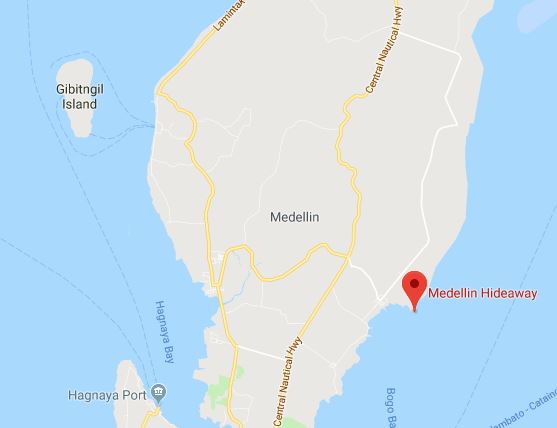 The hideaway is tucked on the other side of Medellin, in Tindog.
Kawit Shoreline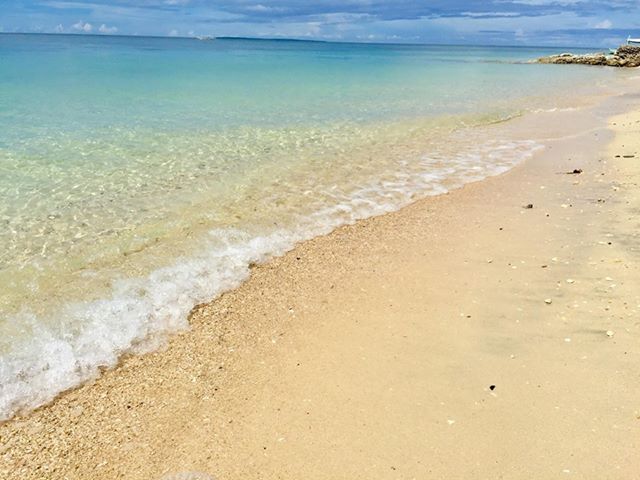 If you are just passing through Medellin and would like to spend a little time in the place, go directly to the Kawit Shoreline, where private resorts exist, but also public beaches that you can enjoy for free.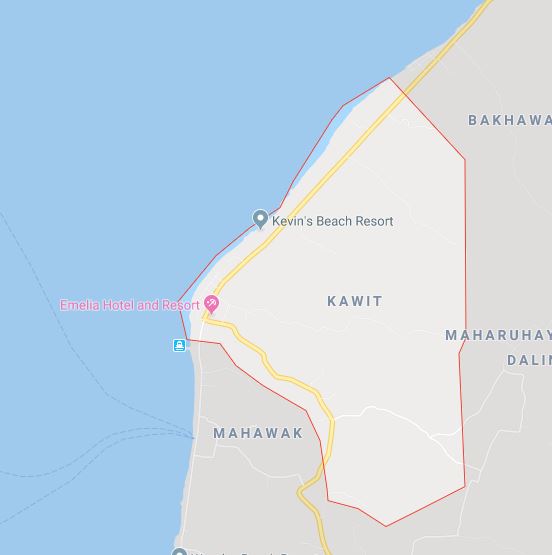 Mahayahay Beach Resort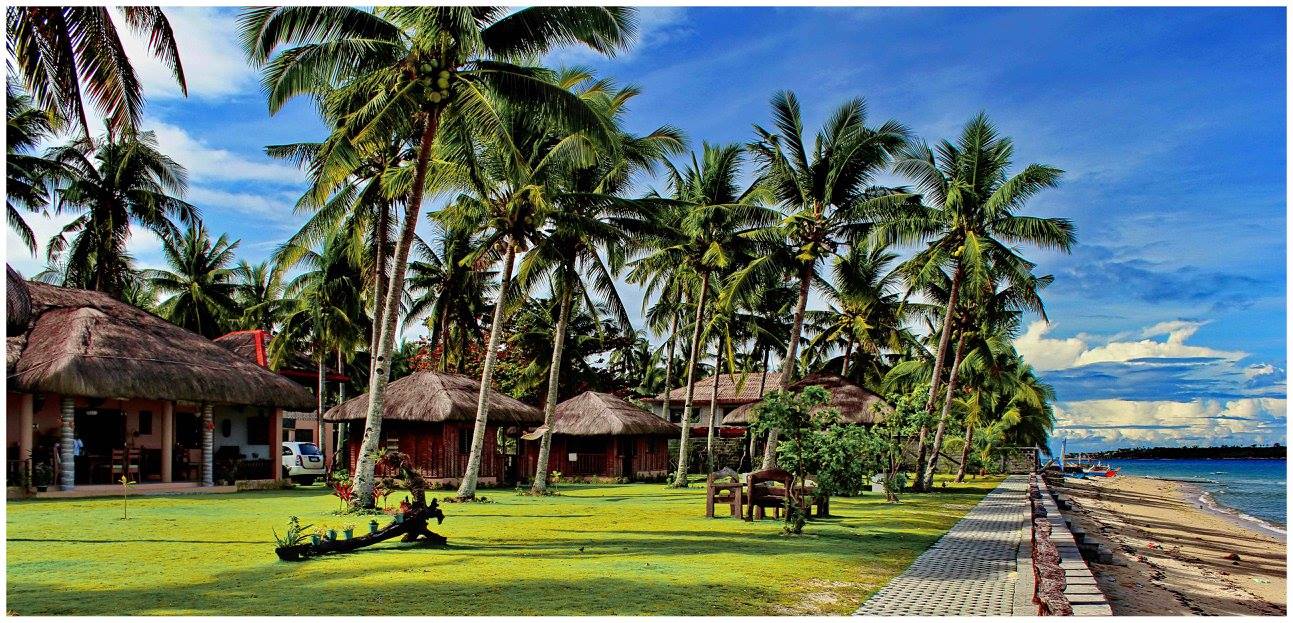 Along the shores of Kawit is this equally beautiful beach resort which boasts of its fun, tropical vibe. It uses the nipa hut design for their rooms and it goes very well with the view.
During sunset, the sight becomes even more magical.
Mahawak Shoreline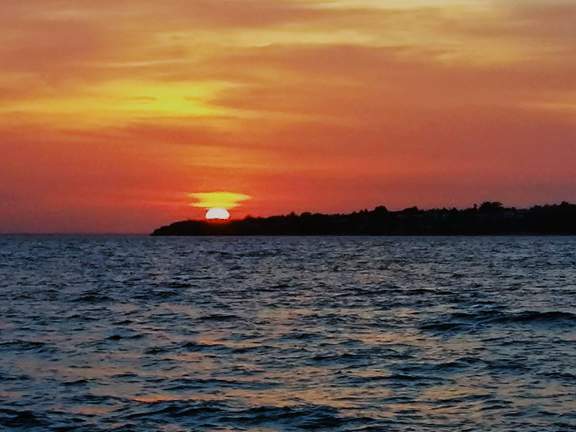 Connected to Kawit is this equally beautiful shoreline in Mahawak, where Palms Seaside Inns is located. It is beautiful. The sunset shines so beautifully on Gibitngil Island and the view is golden. You can stroll around the shore at no cost at all.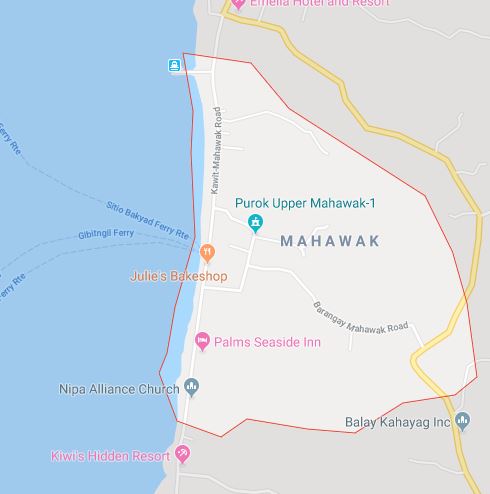 Curva/Kurbada (Endless Road)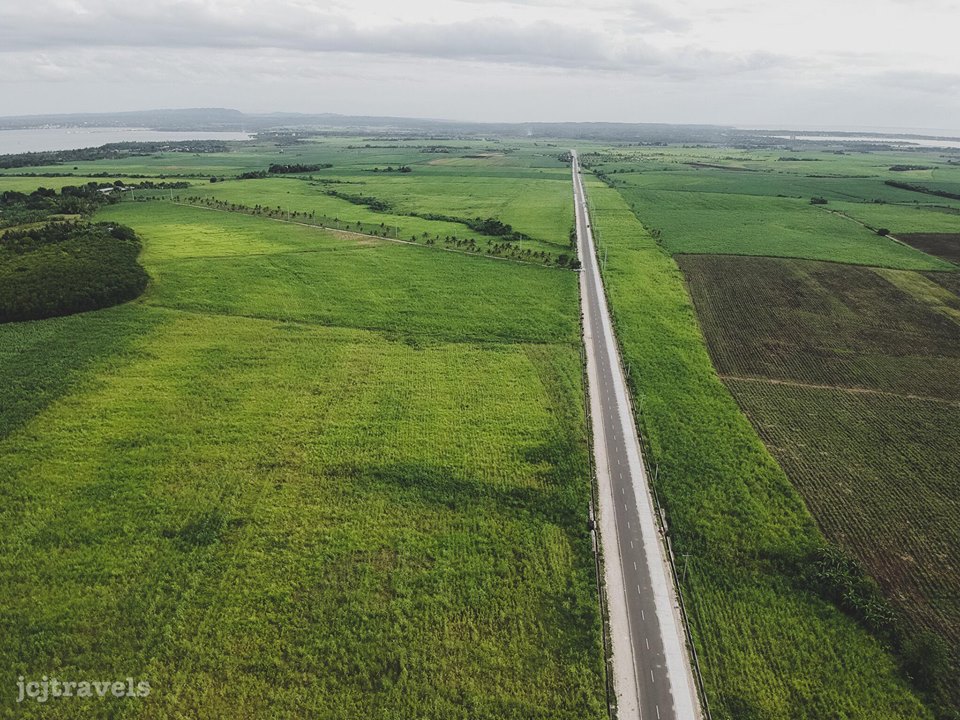 One of our most popular posts from last year was this so-called "endless road" in Kurbada, Medellin. It is a narrow one (2-way), but still a good size for cars to pass through safely. The road is sandwiched between two parts of lustrous greeneries, a perfect representation of a peaceful small town.
I can imagine a relaxed road trip happening here, with car windows down, wind blowing the hair and all that beauty. Ah, Medellin is a beautiful place to spend quiet time alone in, or even with a bunch of energetic people.
Location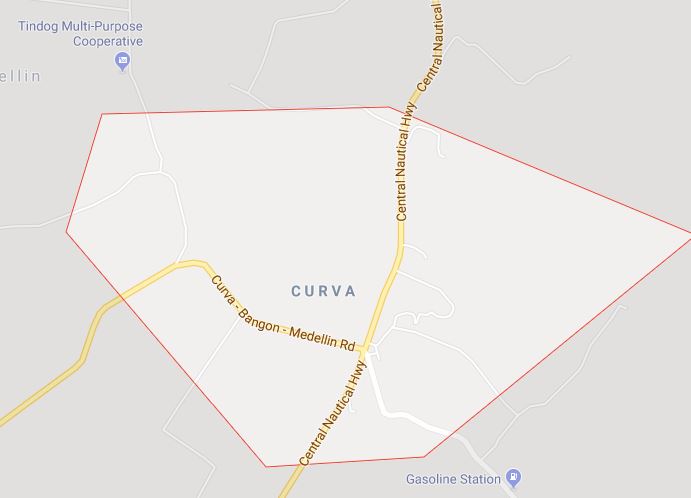 You can find the Curva road in Curva when passing through Central Nautical Highway.
Gibitngil Island (Funtastic Island )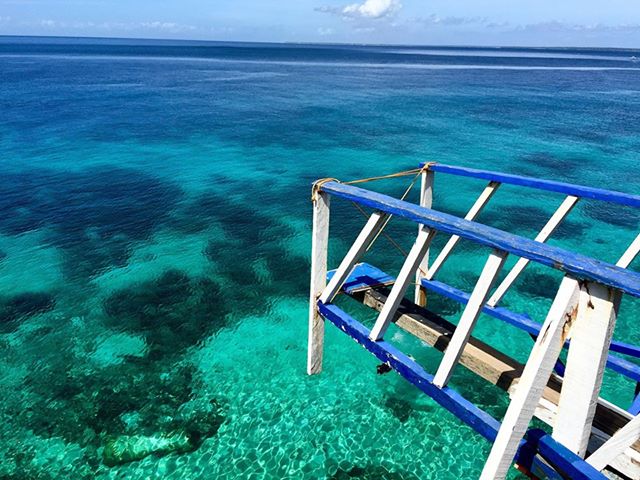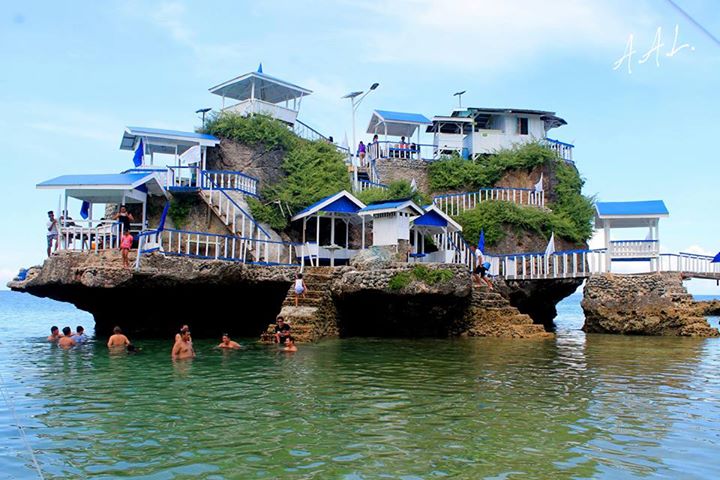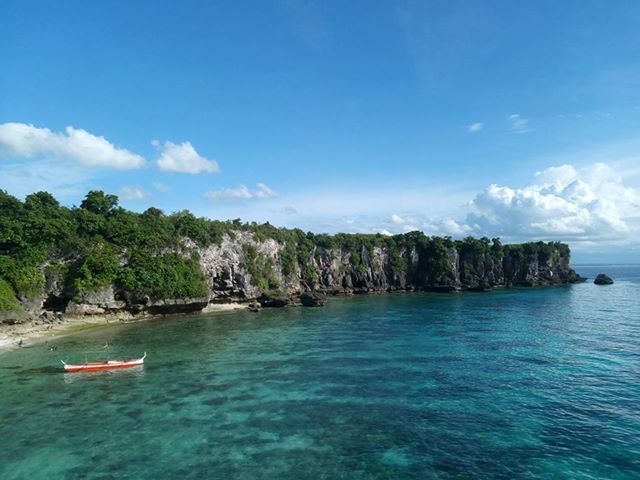 Gibitngil Island is not an entirely new island, rather, an islet sitting close to Mahawak and Kawit. About 20 minutes from the main island, you can travel to Gibitngil by renting a boat.
Why Gibitngil is becoming a popular destination is because of the adventures that you can do on the island. Of course, the clear water and the superb sight are also some of the reasons why you must give this one a try. Here, you can do diving, zip lining, snorkeling, and of course, swimming. Kayaking is also a good idea for those who need a break from too much adrenaline rush.
The fee for the boat rental costs a bit high but be sure to grab a couple more people to join in to minimize the expenses. A small boat for about 10 persons could cost 1,000 pesos or more.
Location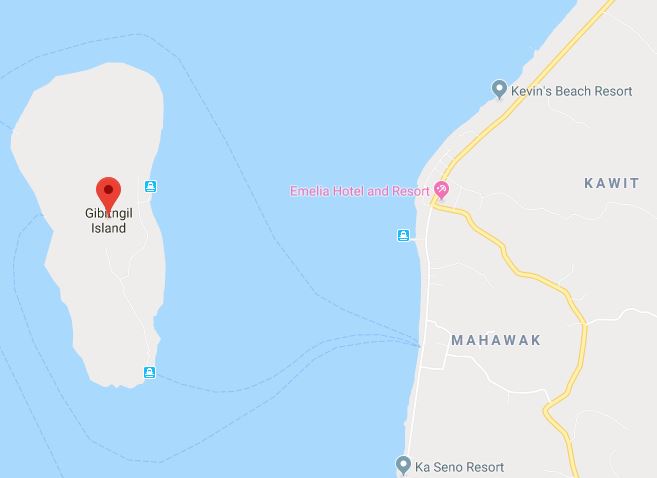 Seahorse Tourist Inn of Medellin
If you enjoy most beach resorts in Medellin with crystal clear and deep blue waters with their white sand shorelines, you'll love it here too! Originally built as a private resort for Col. Stim Muasque's family, Seahorse Tourist Inn will definitely make you feel at home. Later on, Muasque's renovated the resort so they could start welcoming tourists and visitors.
Rooms
Most of Seahorse Tourist Inn's room names are inspired by fish names — simply because it's a beach resort.
Their family room, Lapu Lapu fits four people. It's clean, homey, and you'll never get too hot with their air-conditioned rooms.
Their standard double rooms are named: Danggit, Bangus, Alimango, Revo, Camry, Altis, and Grandia. These rooms are good for two people. Perfect for couples or best friends traveling.
Rates:
Seahorse Tourist Inn's rates are absolutely reasonable! For rooms right in front of the breathtaking beach, you won't bat an eye with their budget-friendly prices.
Their Lapu Lapu family room is priced at Php 2,000.00 per night, and remember, this is good for four people. You could all split the bill!
Their Danggit, Bangus, Alimango, Revo, Camry, Altis, and Grandia double standard rooms are priced at Php 1,700.00 per night.
For additional charges, it's Php 200.00 for adults and Php 100.00 for kids! Their rates can fit almost anyone's budget.
Villa Edar Beach Resort
When people head to the North of Cebu, most of the time their choices are Bantayan Island or Malapascua. These places are beautiful, there's no doubt about that. But we often overlook the beautiful beaches in Kawit, Medellin. Much like Villa Edar Beach Resort. This resort is close to all well-known tourist spots in Medellin. Fantastic Island is pretty close here too. It's perfect for families, couples, or a large group of friends.
For people looking for a venue to hold their beach themed celebrations, Villa Edar Beach Resort is the place to be! They have a function hall perfect for birthdays, weddings and any event.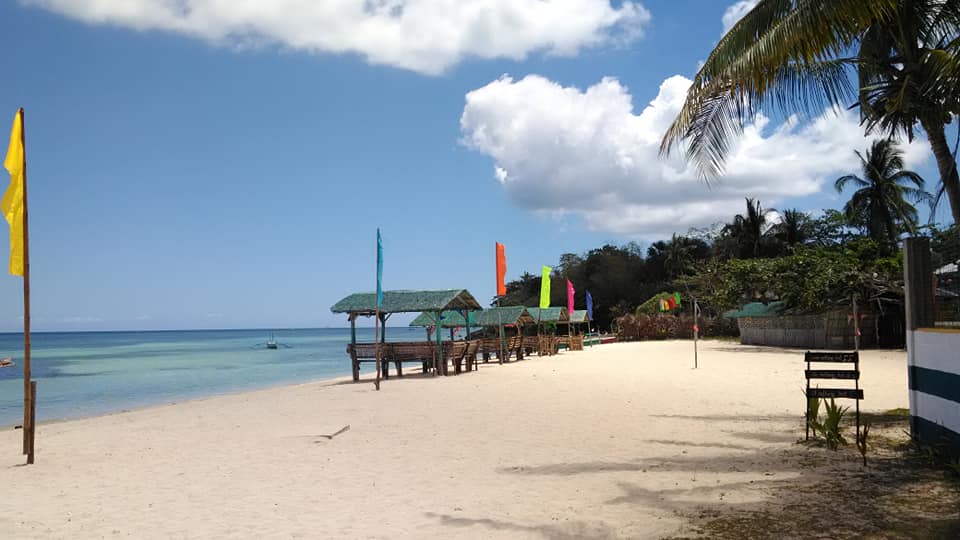 For inquiries regarding booking, room rates, and function hall rates, you can contact them through their Facebook.
Emelia Hotel and Beach Resort
If you're traveling with family, especially a family with kids, Emelia Hotel and Beach Resort is your perfect getaway. For a family that wants to relax, this resort is perfect for a staycation. With the hotel's park themed landscape, your kids will surely have a blast.
Emelia Hotel and Beach Resort has superhero and animal statues that'll be perfect for those family albums. Their pool is huge too! You can take a dip after a long nap at your room — you can also have fun water activities with your kids.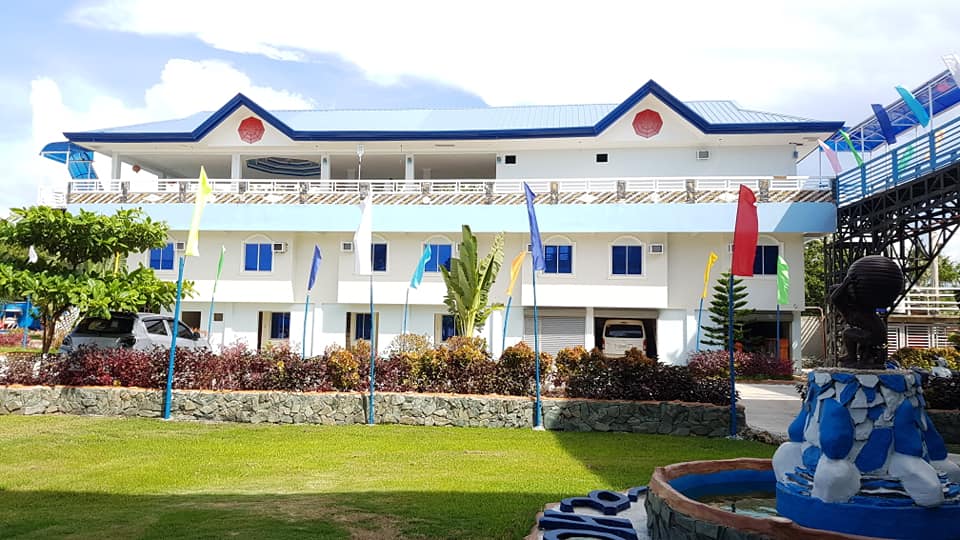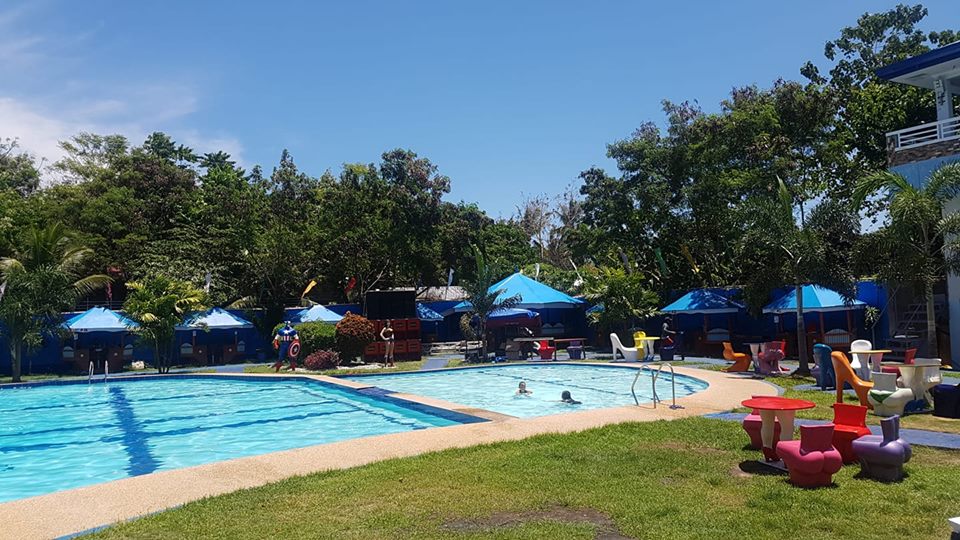 To know their rates and for inquiries, contact them through Facebook.
How to get to Medellin from Cebu City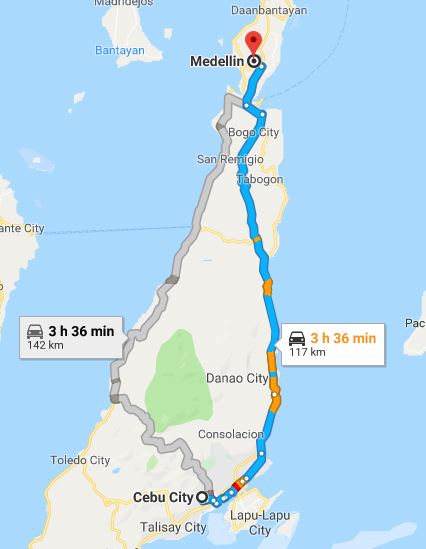 Navigating to Medellin from Cebu City is not tough because buses are available at the North Bus Terminal. So from the NBT, take a bus heading to the north passing by Medellin. If you are driving a private vehicle, take the route via Central Nautical Highway or Cebu Transcentral Highway. Whichever route you choose, you will end up arriving at Medellin in about 3-4 hours.
You can get off the at the Poblacion Public Market, hail a habal-habal to wherever you want to go to. It is easier to get off at the busiest places to make sure that you have a ride going to your destination.