Beautiful sunset view from here // Photo from Sermon on the Mount Retreat Resort's Facebook Page
Just being surrounded by bountiful nature, rejuvenates and inspires us. ~ E.O. Wilson
You know, ever since I've become a mother, I've realized one of the best ways to de-stress is to connect with nature. It's also helped me a lot in my healing process. Like most people, I've been so stressed out with lots of things piling up — responsibilities and duties as a mom and as an employee. There were times when I would lose balance and I'd take a break and remember about finding joy, again. 

And, want to know how I did that? I just went outside, didn't take my slippers with me.. and just went and walked on the soil and then on the grass. Then, I'd look up and marvel at the sky and the trees, and observe the birds passing by. That right there is happiness, my pure little source of happiness. 

Want to know something else? You can also do that! Whenever you feel yourself feeling lost and getting overwhelmed by all the tasks waiting to be done, just take a breath, put down whatever it is you're doing and go outside. Sit under a tree, visit your garden, or walk on the earth, feel nature, be one with nature. Trust me, you'll feel lighter and feel your soul smile. 🙂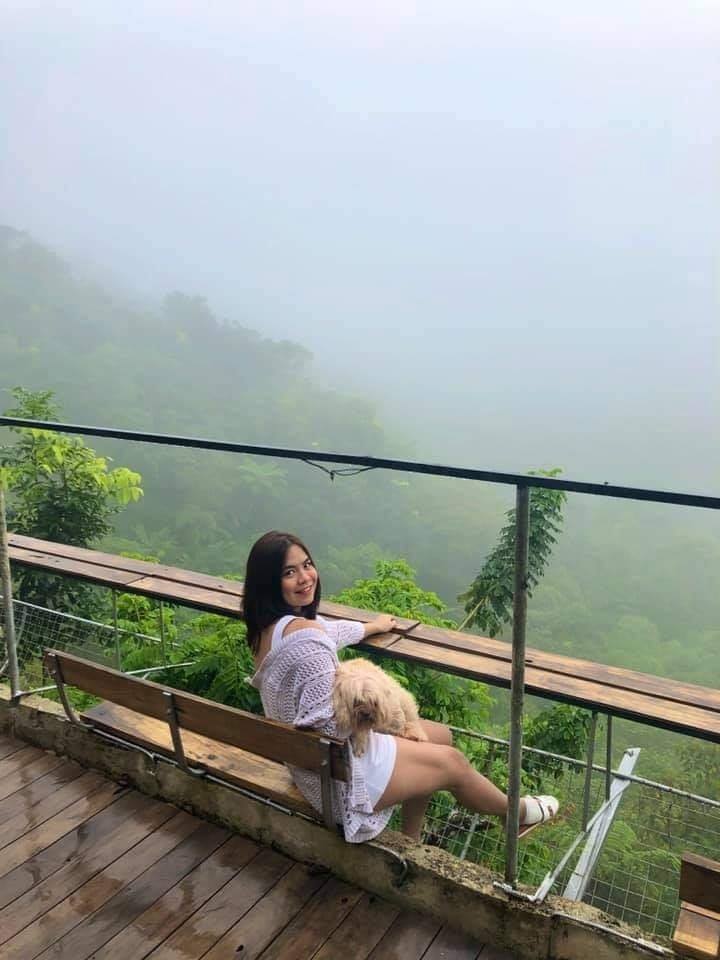 That's Forest Bathing, and one of the best places to practice forest bathing is, yup, in the forest.. hah! Now, you might be wondering if Forest bathing is taking a long walk in the woods or taking a dip in natural waters – no, no. It is actually the simple practice of connecting with the natural world with the intention of harvesting good energy from it. In other words, you're bathing in the energy of the trees, leaves, the sky, and the earth. 
And here we're featuring a gorgeous and cozy mountain resort in Balamban – Sermon on the Mount. It is only an hour away from the city, yet, once you get there you would feel so far away from the city buzz. Here you will have fresh cold air, green trees, blue sky, and you will be staying in this clean and nice cozy home away from home. You will definitely enjoy forest bathing here, the place emanates good energy all over. 

READ: Take a Mini-Holiday at the West 35 Eco-mountain Resort
The mount resort is located in Gaas, Balamban – just an hour's drive away from the city and with an elevation of 1,993 feet above sea level. You will feel totally disconnected from the busy life and be able to connect deeply with your loved ones and with nature. Coming here would be totally refreshing for one's mind, body, and soul.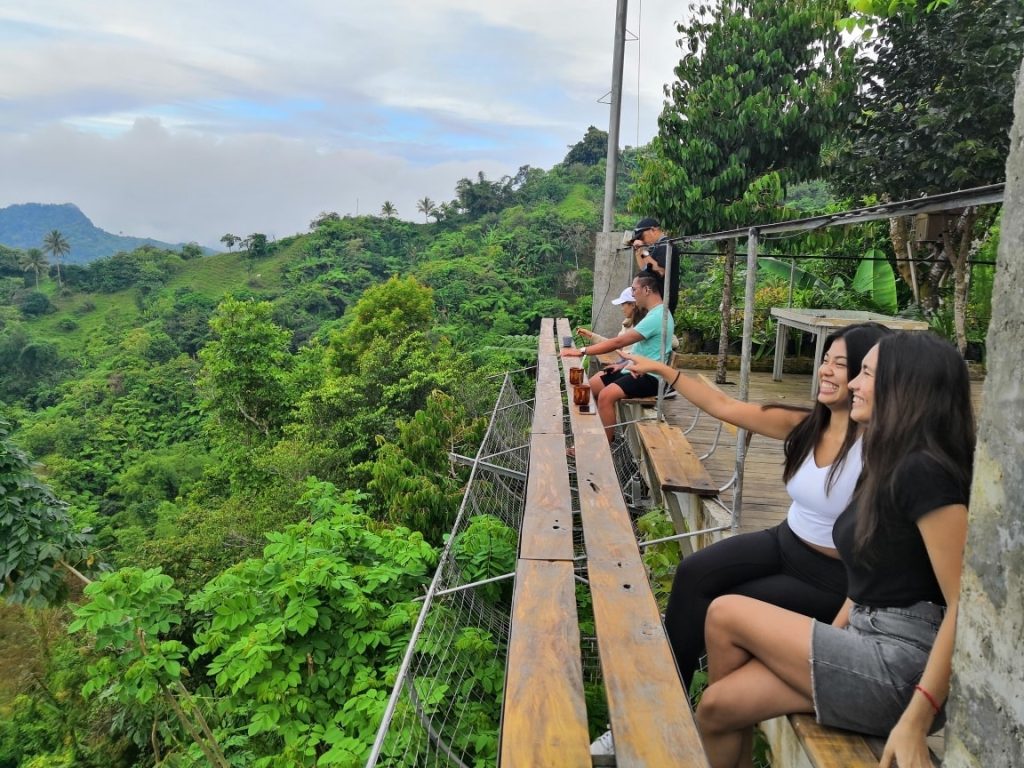 Bond with your family, friends, and loved ones minus the distractions brought about by the internet and social media. Because here there is less to zero mobile signal and also no Wi-Fi. This will enable you to share every moment with the people you're with and find activities for you to enjoy together. You can read books, play board games, card games, and anything else you can possibly do to have fun – without needing a Wi-Fi connection. 😉

Guests can also practice yoga and meditation right in the balcony – it looks so beautiful here. You will be doing your poses and breathing in fresh cool air and the view is just spectacular. Ahhh! I can just imagine how amazing your practice will be here. Invite your friends and family to join you, I'm sure it will be such a memorable experience. 🙂 

Sermon on the Mount Resort has shared, wooden cabins with comfortable thick beds, hot and cold showers, with a touch of rustic-inspired interiors. The kitchen and dining area are so nice and clean – great for cooking meals for everyone. There is also a sauna and a swimming pool with a nice mountain view. 
I believe the highlight of this mount resort is their wide, wooden deck or patio which overlooks Mount Manunggal – it's perfect for hanging out with your family and friends. You guys can also take on adventures by going down the mountain and trek within the vicinity of the resort. There are also 4 to 5 restaurants nearby, lots of other places around – to visit and activities to try like the flower garden park, ziplines, sky cycling, and other tourist attractions.
Rooms
There are 4 queen beds and 4 bunk beds in the shared cabin. There is a kitchen, dining area, sauna, swimming pool, and a nice wooden deck area.

– Php 9,000 per night/ room
– good for 10 to 12 guests
– extra guest charges Php 500 per head
– hot and cold shower
– with fans (it gets really chilly at night)
– one safety deposit box
– has complete cooking and kitchen utensils

DAY USE
– Php 500 per head
– minimum of 7 guests
– maximum of 10 guests
– from 10 am until 6 pm
– Sundays to Fridays

Amenities
– laptop-friendly workspace
– essentials like towels, bedsheets, soap, and toilet paper
– room darkening shades
– high chair
– children's books and toys
– free parking on premises
– free street parking
– indoor pool
– a kitchen where guests can cook their meals
– breakfast is provided by the hosts
– stove
– bread maker
– cooking basics like pots, pans, oil, salt, and pepper
– refrigerator
– barbeque utensils
– dishes and silverware
– luggage dropoff are allowed
– long term stays are allowed (for 28 days or more)
– garden
– backyard
– patio
– fire extinguisher
– smoke alarm
– first aid kit
– sauna
– karaoke
– trekking within the vicinity
READ: Experience Country-Living At Sandra's Lush Garden in Sudlon
How to get there
The Sermon on the Mount Retreat Resort is located in Cebu Transcentral Highway, Balamban, Cebu. It is approximately 3.7 KM and about 59 minutes from the city proper.
SHUTTLE: Guests can also arrange pick-up and drop-off to and from the airport to Sermon on the Mount – for a full package service. Do contact them for more details and the prices.

PUV/ JEEPNEY: You can take a jeepney bound for Gass, Balamban from the Ayala Bus Terminal. Let the driver or conductor know you'd like to be dropped off on the way going to Sermon on the Mount Retreat Resort.

HABAL HABAL: You can also take a habal habal ride going to the mountain resort. The habal habal riders can be found around JY Square Mall. They already know where the place is, just be sure to have a proper agreement on the fare which is about Php 150 only.

CAR: The fastest and most convenient way to get there is through a private or rental car. Just search "Sermon on the Mount Retreat Resort" on Google Maps or Waze and follow the instructions. There is enough and free parking space at the resort.
Information
For more information and inquiries, you may check their Facebook Page – Sermon on the Mount Retreat Resort or check out their Airbnb – click here. 
You may also send them an email at [email protected] or give them a call at 0920 920 1726.