Have you heard of Taginis Falls yet? It's a beautiful waterfall located in Moalboal, south of Cebu. The town of Moalboal is known for its long shoreline of white sand, clear beaches, and mesmerizing sunsets, but did you know that Moalboal has waterfalls, too?
If you have not been to Moalboal at all, please do check out our Moalboal Adventure Guide so you can explore the rest of this small town while you're at it!
READ: Moalboal Adventure Guide
Taginis Falls is not a new attraction that magically appeared over time, but thanks to a contributor, the falls has gained quite a number of interested tourists overnight. Not many know about this particular beauty (sometimes, it's better that way) but we would like to explore it more so now, we'll take you to an exciting journey as we unfold the mysteries behind Taginis Falls.
Taginis Falls
The picture above looks like I've seen it before in calendar covers and paintings. It looks like a hand-painted canvass carefully drawn to assemble a magnificent masterpiece! Believe it or not, this sight exists in real life, and it's here in our own motherland. There are still thousands of undeveloped and undiscovered wonders we have yet to see and this is just the beginning to uncovering them one by one.
As you can see, the waterfall does not embody a high and mighty type of cascade, but it is not gentle as well.
The short rock formations supporting the water source lead the strong force to fall into a shallow pool of water where you can safely stand on your feet and enjoy the current. It's just the right balance between strong and sweet because it is friendly to beginners. As you can see in the photo, there is still other water falling from behind the main falls.
Since not many are familiar with Taginis Falls, the attraction is still very available for us to visit for free. It is also a very serene place to relax without being bothered by hundreds of others waiting for their turn for a picture-perfect selfie.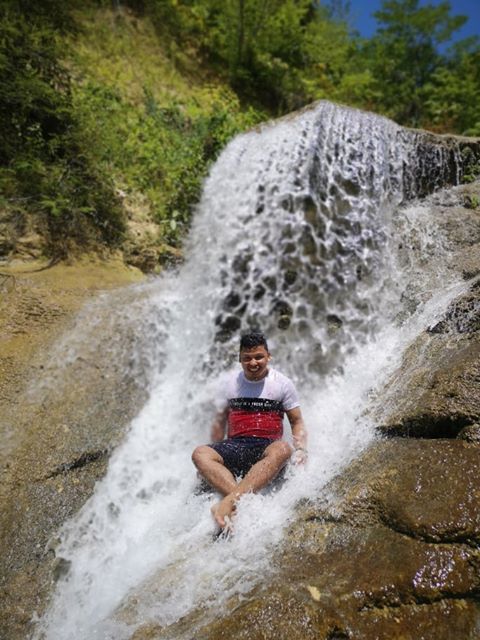 Just simple reminders, please leave no traces when traveling. As many of our followers have reported, beautiful places, once viral, become a massive mess after people flock to visit the trending attraction. Don't do that. Learn how to appreciate and value what we have if you want to keep them beautiful for a longer time.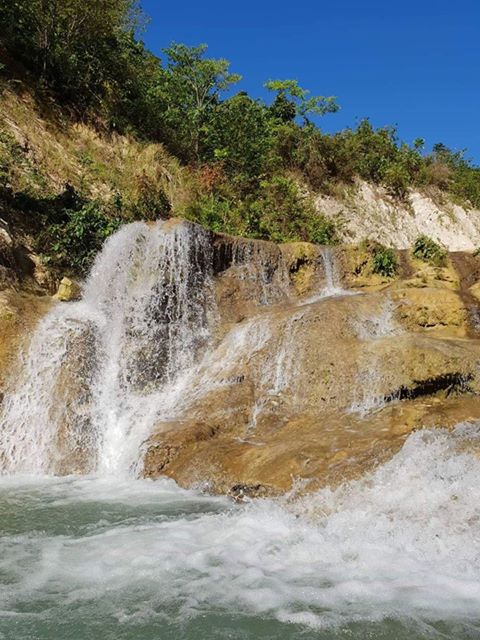 How to get there
Take a bus from the South Bus Terminal with a sign Bato-Barili on it. Asked to be dropped at Gaisano Grand Mall Moalboal. Search for a habal-habal that will take you to Sitio Budlot in Bala, then direct the driver to drop you off Taginis Falls. Fare usually costs around P50 or more. So negotiate politely and early on most especially if you want a ride back to the mainland.
Have you been to Taginis Falls? Share with us your experience and send us some photos as well so we can feature your contributions on our Facebook and Instagram pages!