Guests' favorite spot, by the Payags – this was during a high tide // Photo source: Triponia's Seaside Homestay's Facebook Page
Smell the sea and feel the sky, let your soul and spirits fly. ~ Van Morrison
Did you guys know that when we say Olanggo Island, it's actually not just a single island? It's actually referring to a group of 7 small islands – Olanggo, Sulpa, Nalusuan, Guilotongan, Caohagan, Camungi, and Pangan-an.
Located about 5 KM from the island of Mactan, the entire Olanggo island group is just 1,030 hectares big. The place is a major tourist destination among the locals as well as foreign visitors. There are so many fun things you can do on Olanggo.
And you might be wondering where you can spend the night while on the Island. Triponia's Seaside Homestay and Grill just might be the right place for you and your group – it is your home in Olanggo, by the sea.
Slow down and unwind on this cozy beach house that offers simple living experience, and an abundance of fresh air and a relaxing sea view. Originally the place was built as a vacation home but the owners decided to welcome people who are looking for a place to spend the night in while on the island.
They have built cottages above the sea with an endless view of the ocean. Some of the rooms here are built above the water so when the tide gets high, guests can be lulled to sleep by the sea waves. And in my opinion, that's the best lullaby in the world.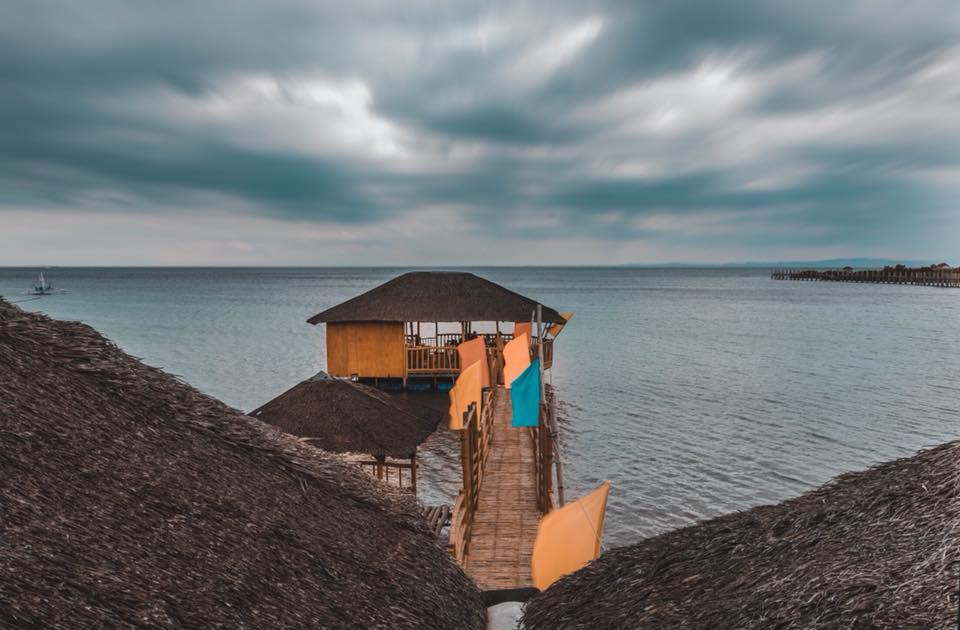 Triponia's Seaside Homestay and Grill's management claims that every happy guest is their happiness. And according to some guests', the place is clean and well-maintained. Directly situated by the beach and the staff is accommodating, flexible and very friendly.
Even the locals on the island are warm and friendly too. The place is peaceful and the sunrise is stunning especially from the floating deck.
Guests' favorite part of the house is the "payag" – it's where they just chill and enjoy each other's company over good food and drinks. Guests are allowed to rent out the "payags" for small gatherings or just for chilling out with family and friends.
At Triponia's, guests can also enjoy a relaxing massage after a long fun-filled day at the beach. Now, that sounds absolutely inviting. I love a good massage, for sure you guys will have a good night's sleep after that. 😉
Some other fun things you can do while in Olango:
bike and explore around the island
snorkeling, kayaking, scuba diving, camping
island-hopping – visit the other islands that makeup Olango
check out the Tungasan Boardwalk
have some fresh Buko Juice at Andong's Coconut House
visit the Olango Island Wildlife Sanctuary

A flock of migrating birds is seen from September to April along this wide wetland. The island is their stopover to seek for food and nesting locations.

San Vicente Marine Sanctuary

A protected field of waters that includes underwater habitats such as coral reefs, fishes, and many other marine creatures
READ: Cebu's Best Scuba Diving and Snorkeling Tours
Rates
Triponia's Seaside Homestay and Grill's Rates are the following:
Payag (non-aircon) – Php 1,200 per night 
Aircon Rooms – Php 1,500 per night 
Note: All rooms are good for 2 persons, inclusive of silog breakfast. There is an additional charge for an extra person – Php 200 per person for Payag, and Php 300 per person for Aircon. 
Whole House – Php 10,000 per night

Good for 12 to 15 persons for the whole house 
No breakfast included 

Floating Payag (function area) – Php 1,500 and good for 15 guests 
For the food menu – it depends on the fisherman's catch for the day. This is to ensure the freshness of the seafood that they prepare for their guests. Seafood choices include saang, crabs, and shrimps – also preferably pre-ordered the previous day. 
READ: Guide to Mactan Island Hopping Tours
Amenities
Wi-fi Connection 
Towels, bedsheets, soap, and toilet paper
Air-conditioning 
Free Parking on the premises 
Breakfast is available 
Host greets you 
Private Entrance 
Private Living Room 
Long Term stays allowed (28 days or more) 
How to get there
The Triponia's Seaside Homestay and Grill are located in Brgy. Tungasan, Olango Island, Lapu-Lapu City 6015.
To get there, you'd need to head on to Angasil Port in Mactan. The Angasil Port is right beside the Mactan Newtown (previously known as Portofino). When you get to the port, you then will take a boat that's bound to Tungasan in Olango. Let the boatmen know you're headed to Triponia's Seaside Homestay and Grill. To get around the island, you can rent a bike or hail a tricycle.
Information
For more information and inquiries, you may reach them through their mobile number – 0935 253 6151. You may also send your inquiries through their Facebook Page – Triponia's Seaside Homestay.
You can also find them and book directly through their Air Bnb – click here.