Ever since Shangri-la Mactan opened its doors in 1993, its reputation amongst locals has always been the pinnacle of luxury, and of course cost, when it comes to the somewhat new "star" rated resort experience back then. In fact, this is one of the 2 resorts that the masses know as "only for OFWs" or them foreigners or the "foreign funded" can afford in the 90s. For short, this is just a dream for most of us locals including myself and my family.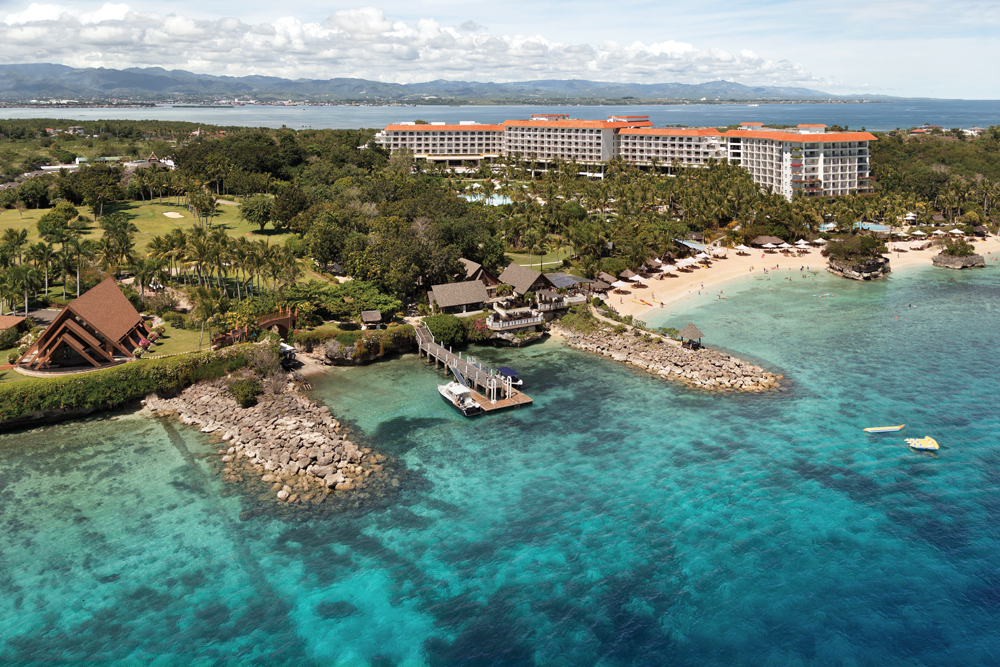 That said, I actually didn't get to stay in this resort up until I had my own family already. Thankfully, with the advent of the internet and given my experience with various resorts across the country already, I was able to get past the "too expensive" reputation of Shangri-la enough to research about it more seriously, make an inquiry, and ultimately book our first overnight stay more than 20 years after they opened.
Did I make the right decision? Read on to find out.
Our experiences
I have to admit, one of the things I hate about this place is the fact that the rooms are in 10 story buildings. Just basing from my previous visit (not stay), I feel it takes a lot of walking to actually get somewhere (like the beach or the pools). My family, we just like to frolic so easy access to the outdoors is definitely a plus for us and this has been something we've always had with our resort stays. Add the fact that we survived a 6.9 and a 7.2 earthquake, being on a building just doesn't feel comfortable for me at all. All this changed however after we finally took the plunge to stay here.
From the time you make the turn going to this place, it will make you feel like you are going somewhere special. From the guardhouse, everything just seems out of Cebu, and even out of place. You'll be greeted with manicured gardens all the way to the parking lot, and anywhere you look in this vast resort just seemed like someone wakes up before sunrise to make sure everything is in order. It almost feels unreal, given this place is 15 hectares in total.

Shangri-la Mactan Front Desk & Lobby by BlogThatCake
Upon checking in, I doubt I've experienced any other place that made you feel your time is of value better than this place. If staff will see people lining up, more staff will join the party to assist you in any way they can – may it be by opening another desk for check in purpose or simply giving you a welcome drink or a little help with your things. There's just nothing like it really.
In short, I doubt you will be left wanting for more from the moment you check in to the moment you are taken to your room.
In all our stays, we've always been satisfied with their deluxe sea view room as it gets you that bird's eye view of what the resort has to offer. From the 7th floor or higher, this room will let you enjoy the balcony's view of Olango Island (the island just in front of Mactan), the beach, the pools, the golf course and activity areas, and then some.
PRO TIP: The oceanfront wing will give you a better, more expansive view of the sea no doubt. However, if you value silence in your sleep the way I do, be warned that if there is a fiesta or a celebration that requires massive boom boxes to play on till the early mornings, you will feel the bass from here the way I felt it when we stayed at Abaca Resort.
Our beach and snorkeling experience
After settling in, we naturally went to the beach and started snorkeling – the main reason we keep coming back here. On the beach, you can order food and there's plenty of complimentary bottled water to replenish you when you need it – take note a 500ml bottled water for many resorts will cost you at least PHP 80.00 and that will no doubt add up especially for heavy drinkers like myself and my family.
One of our favorite things about their beach here is that huge rock near the shore. I have to say this because we hate the sun! (Quite contradictory to our love for snorkeling I know but it is what it is.) That's why we normally don't book our stays ahead as we wait for a storm to come as we'll know the weather will be gloomy then we go to the beach! Or at least, that's how our best beach days are meant to be. lol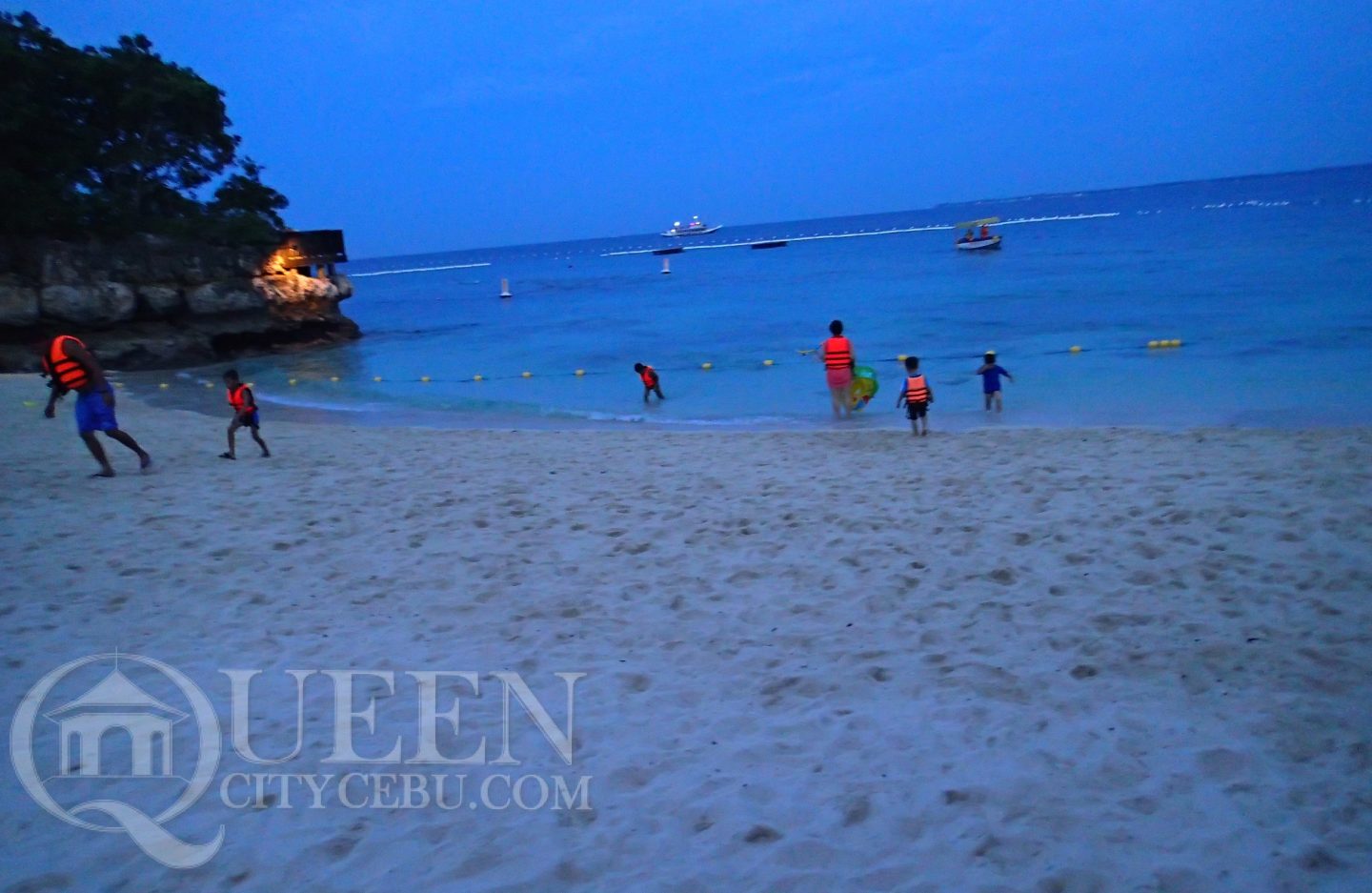 Given Shangril-la's beach is home to the biggest marine sanctuary in Mactan (if not the entire Cebu), snorkeling here was no doubt a great experience even if we just did it at about 4 feet deep since we had our toddler in tow.
If you have no kids and are into snorkeling, you best take note of their guided snorkeling tour schedules. This happens once a day and is definitely something we are still planning to do when the time is right. Can't wait to see what else can be seen at the deeper parts of the sanctuary and that's to say the least!
Helmet diving at Scotty's
In one visit, we also tried their helmet diving and glass bottom boat courtesy of Scotty's Dive center. I have to say that the staff at this establishment is no doubt at par with that of Shangri-la itself. The folks weren't just accommodating, they put safety above everything else too – something that normally leaves me wanting in many similar businesses in the country.
Although the rate might sound expensive if taken at face value, the fact that you have to be taken to the glass bottom boat via a speed boat (something you normally have to pay for a lot as well), and you get to stay aboard a glass bottom boat (yet another paid activity), and the extremely accommodating and safety concerned staff left us thinking what we paid for this experience is actually quite a bargain.
Although there were only 2 of us that went helmet diving initially, we ended up paying only for my wife since I had to back out. I have this heart condition that makes me somewhat prone to hyperventilation and helmet diving somewhat amplifies this given you are placed in a glass that's being constantly pumped up with oxygen. My little fear of closed spaces didn't help as well. The staff did ask us beforehand if we have existing health conditions they should know of (again a testament to their high regard for safety) and I told them about mine but I told them that I would like to try anyway and they happily obliged.
That said, imagine only paying for 1 person and there were 4 of us who had to ride the speed boat and the glass bottom boat that time? I had to naturally give the staff a generous tip for being such wonderful people! Needless to say, I highly recommend dealing with these guys no doubt!
Please do take note the helmet in helmet diving is about 20 kilos above the water! This is not something kids and even most teens can take.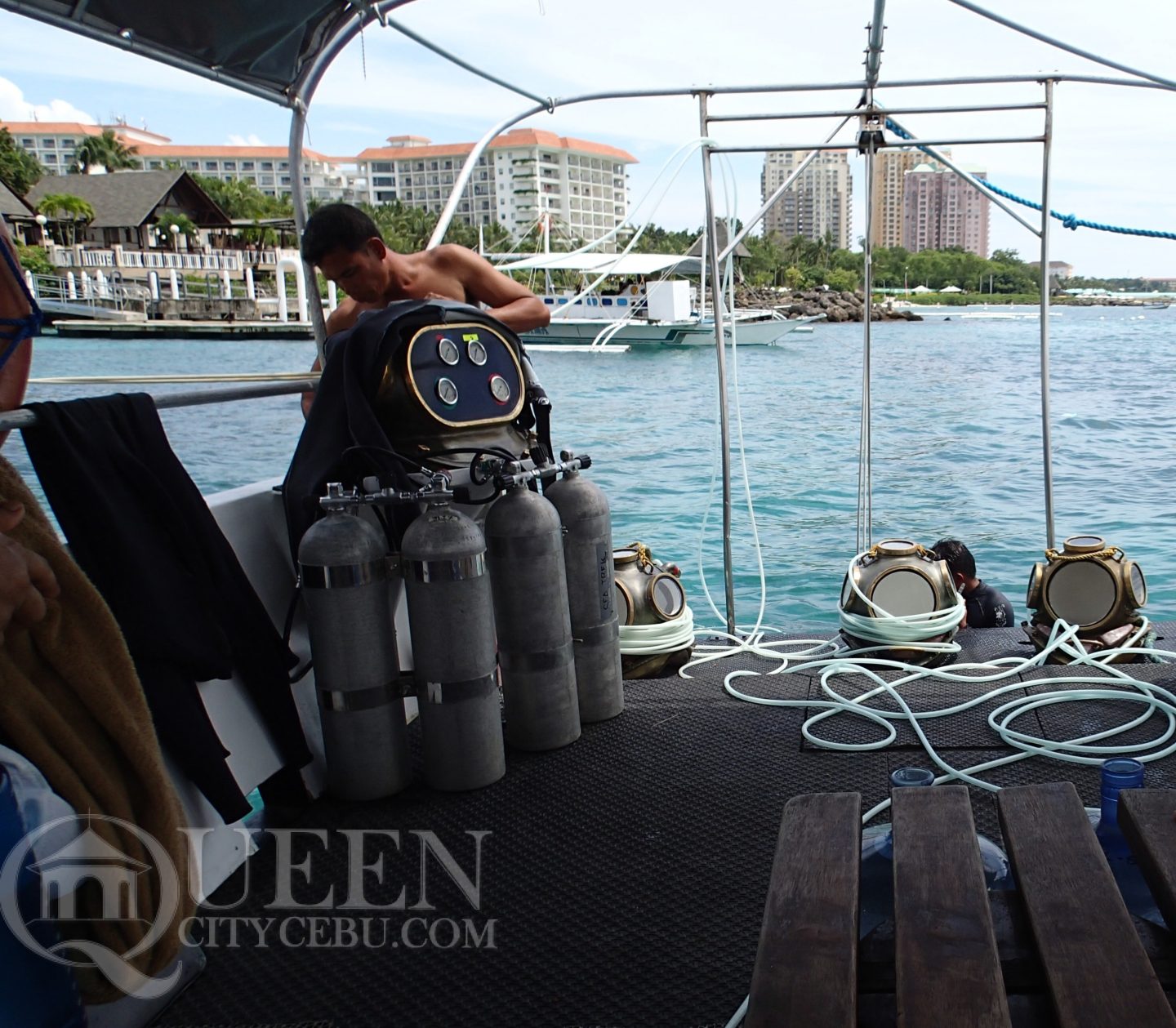 Once on the water however, the helmet becomes much lighter to the point that it allows an adult – in our case, my wife – to do some walking at about 15-20 feet underwater. The area where you get to do this is no doubt part of the marine sanctuary as you get to enjoy seeing a lot of marine life. They also have hand rails underneath and this heart-shaped rock (probably artificial though) which you can have a picture with.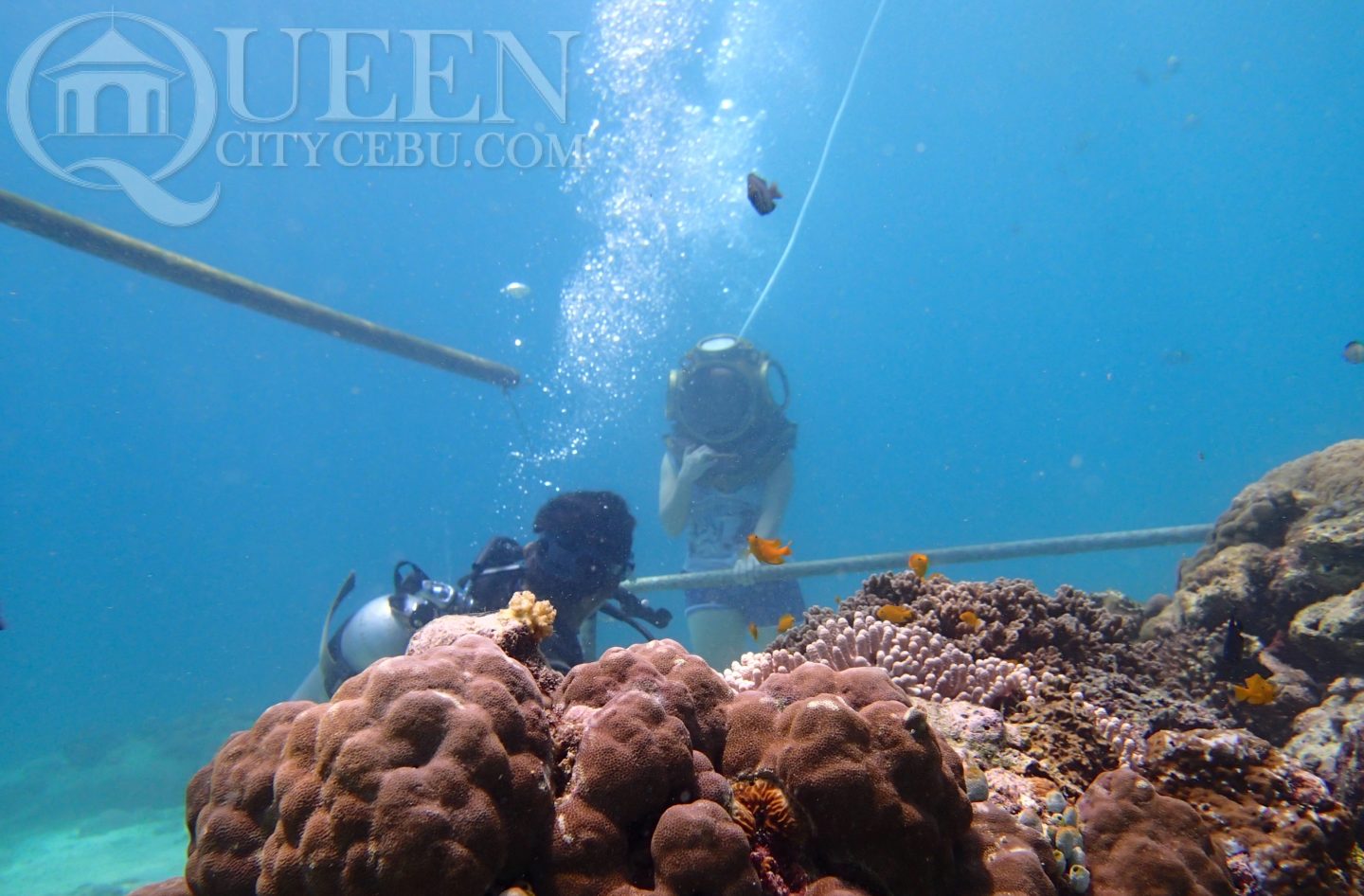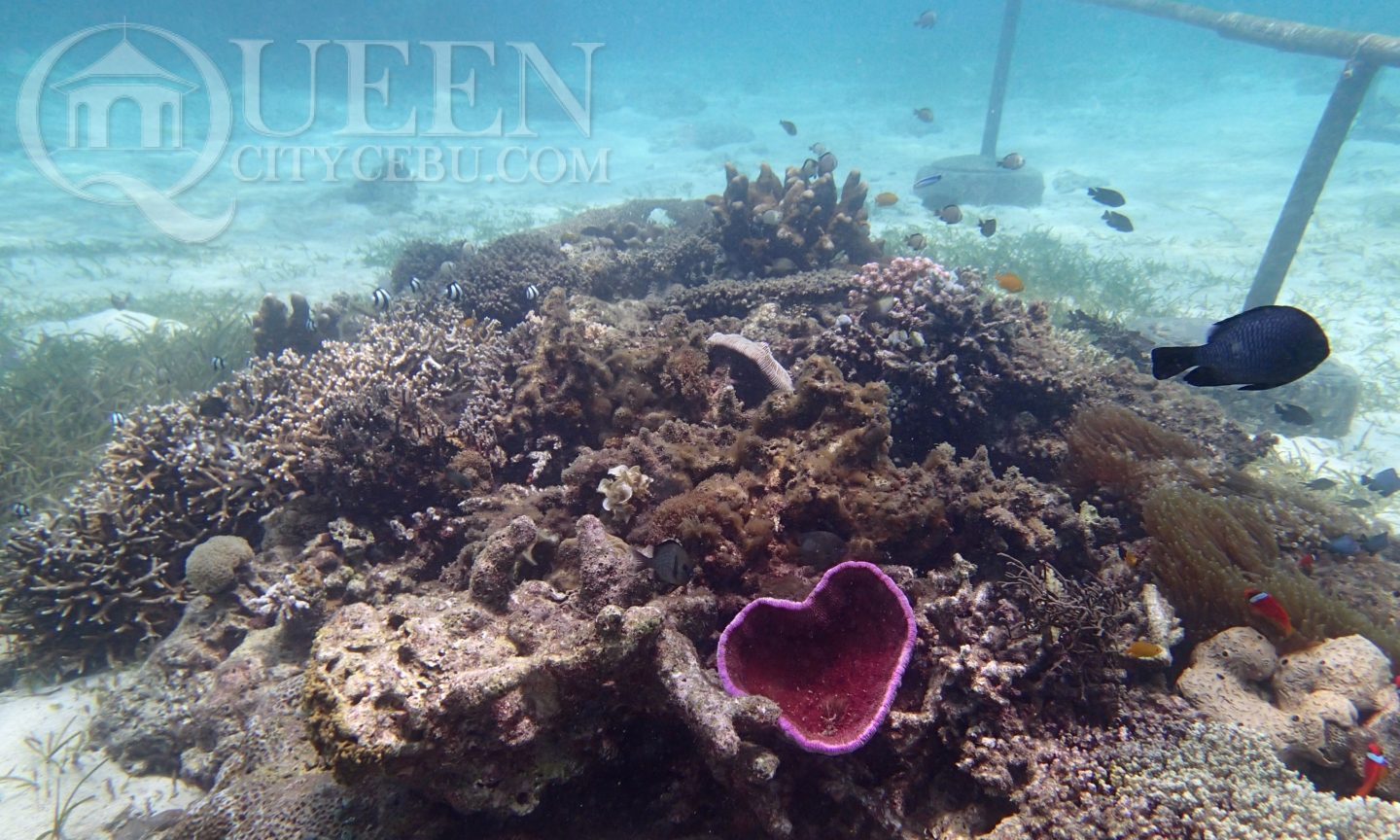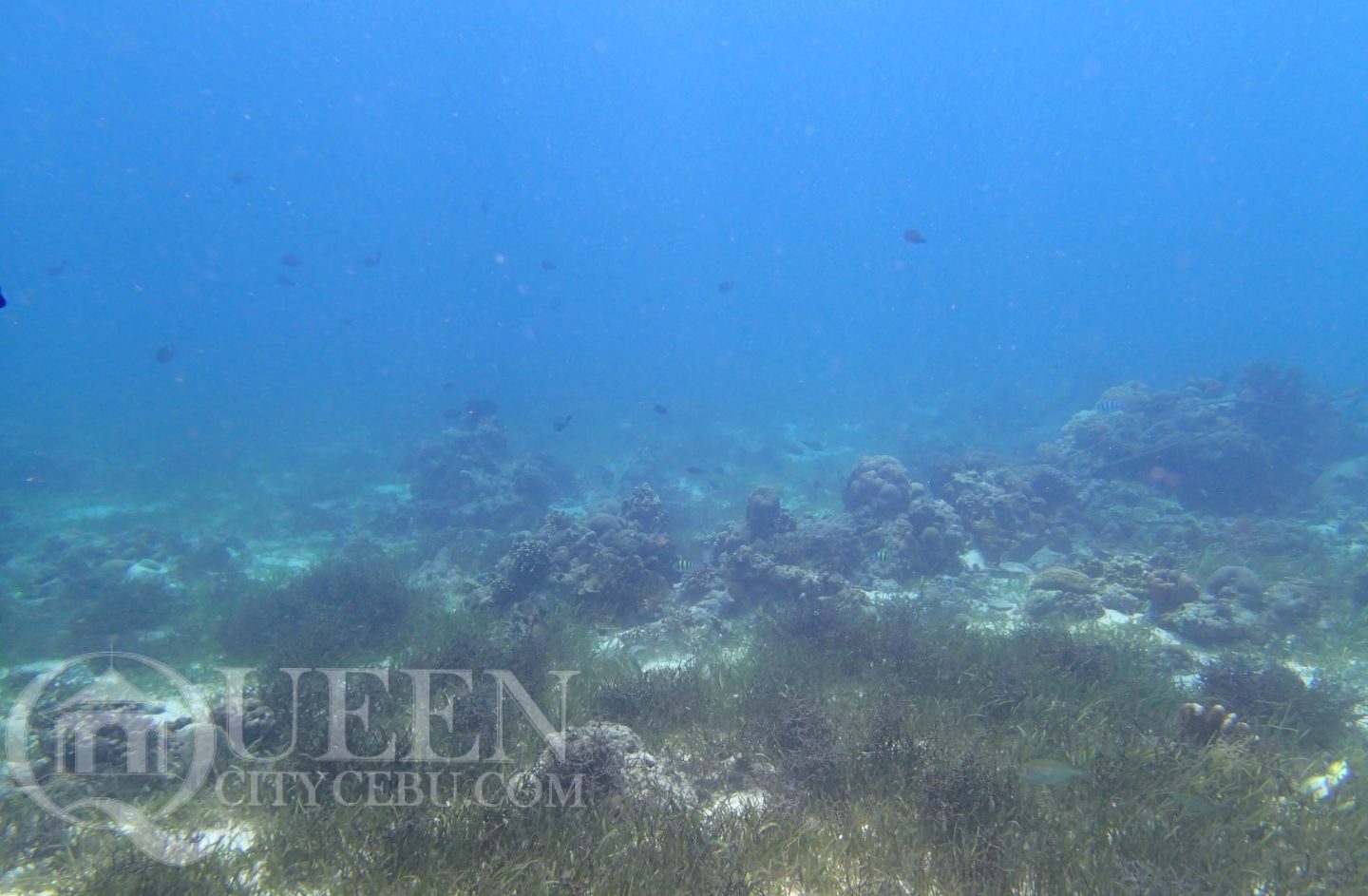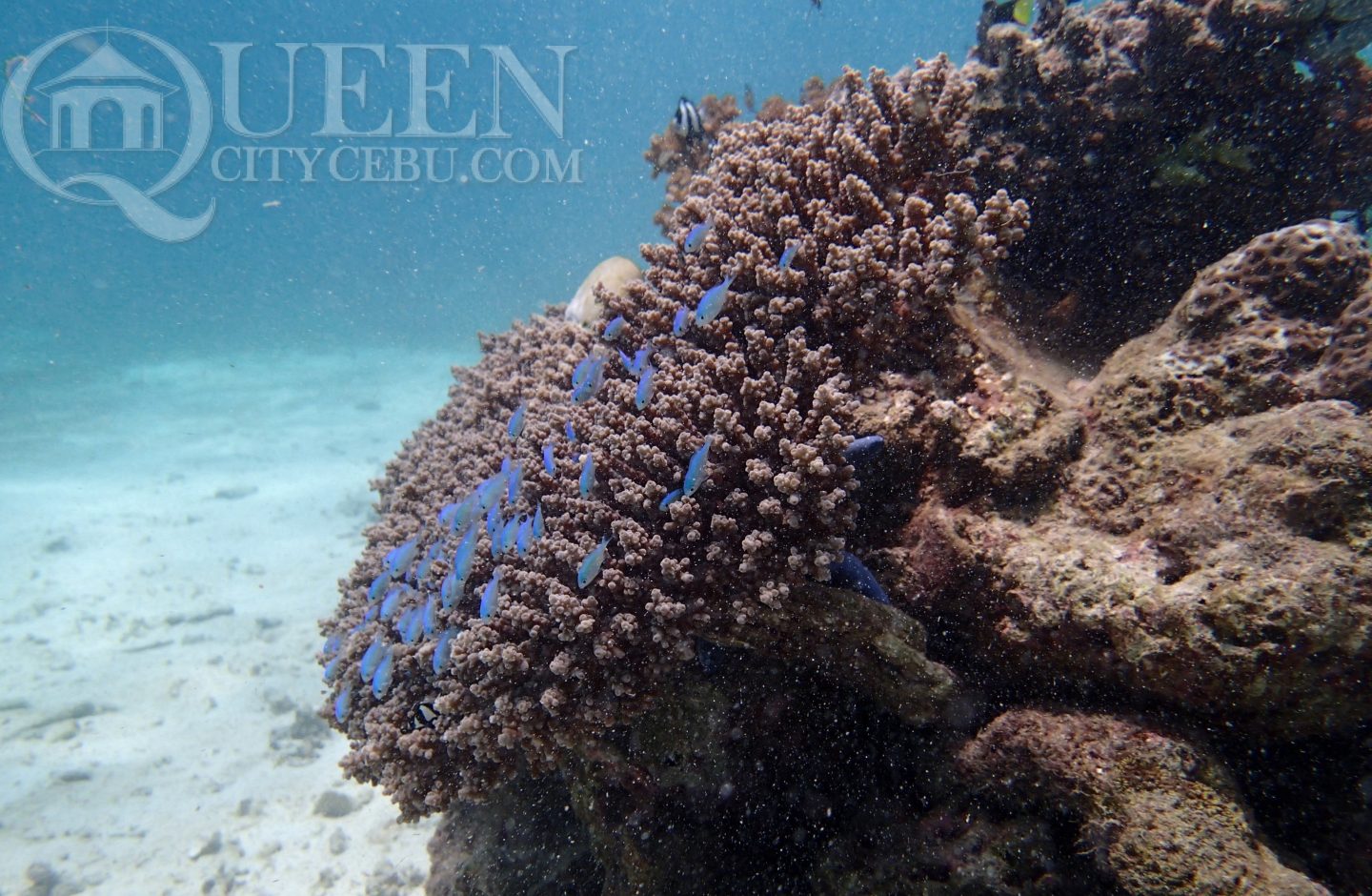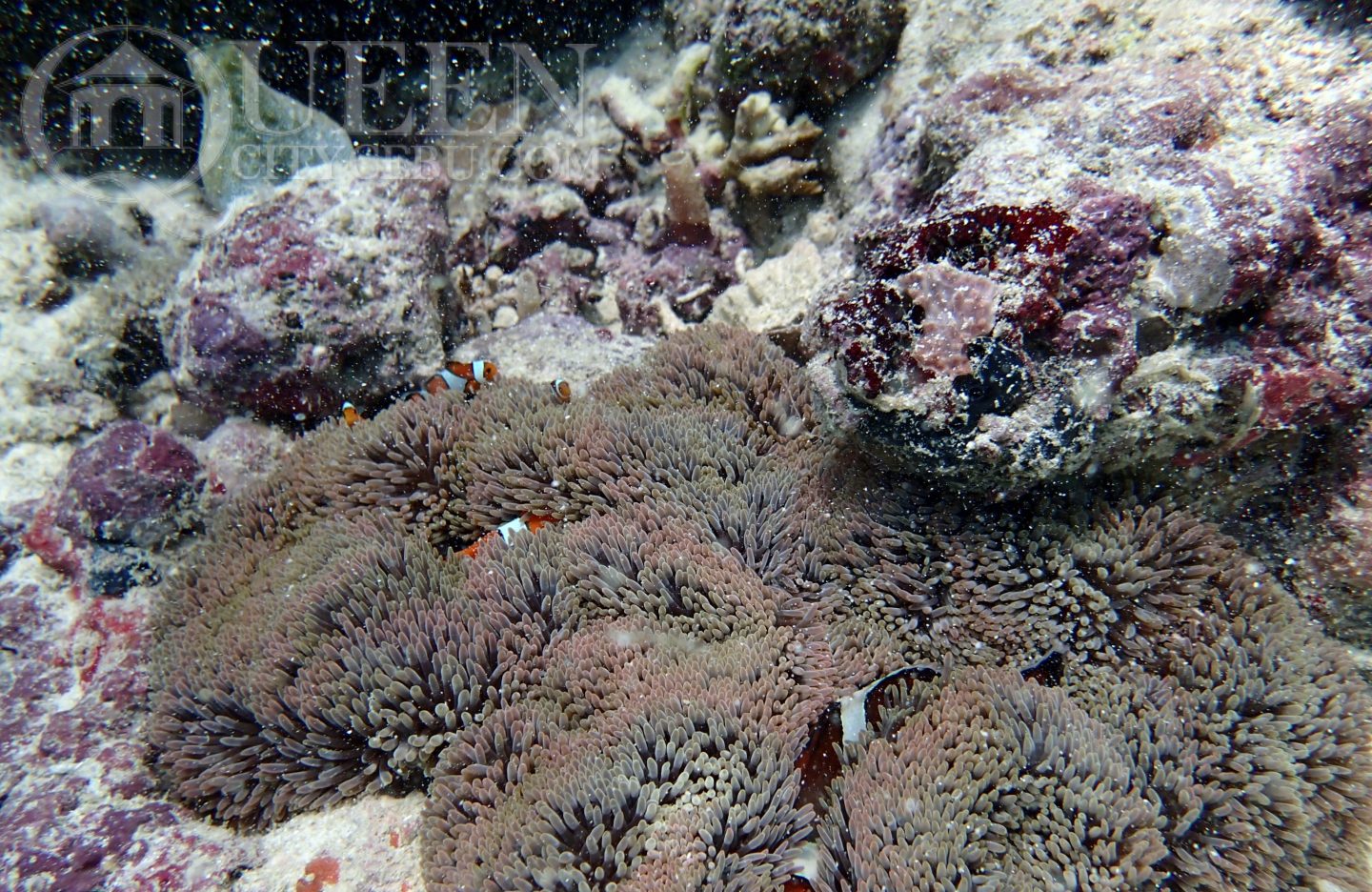 Please also take note that at this depth, and given the sea in front of Shangri-la is a canal, the current is quite noticeable that you have to fight it to actually move! This alone made it scarier and more exciting altogether.
Throughout the experience though, especially underwater, the staff will continually ask you if you are doing "ok" through the standard gestures like so:

You will be taught the basic hand gestures before going underwater so don't worry too much about it. The other gesture that is quite basic is this:

These are basically the signs you need to know for this activity. We were quite astonished to find out that our "land" signal for OK actually meant something else underwater.
Our pool experience
Another option for us after deciding we've got more than enough sun already is to go to their pools where our son can continue to enjoy swimming.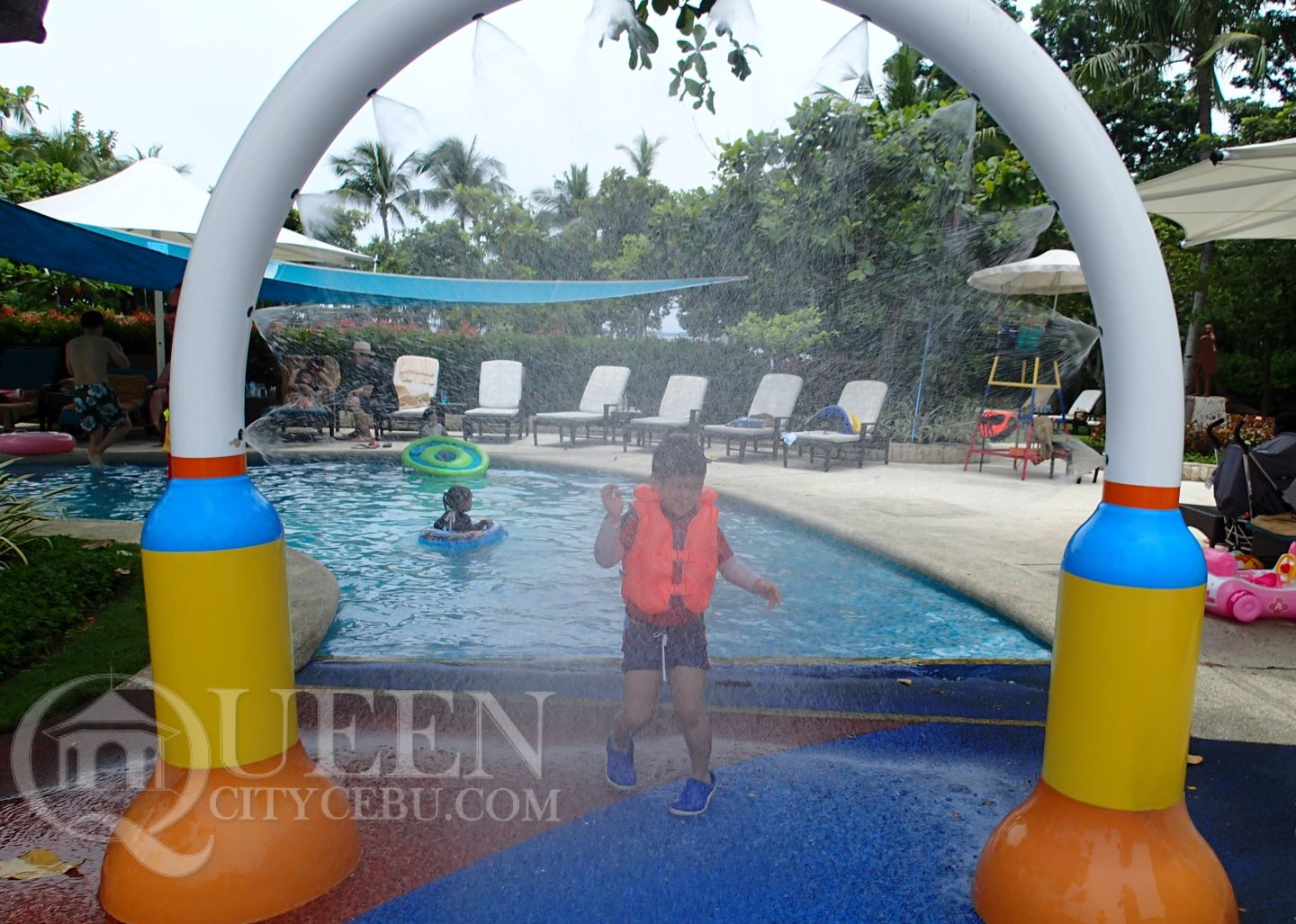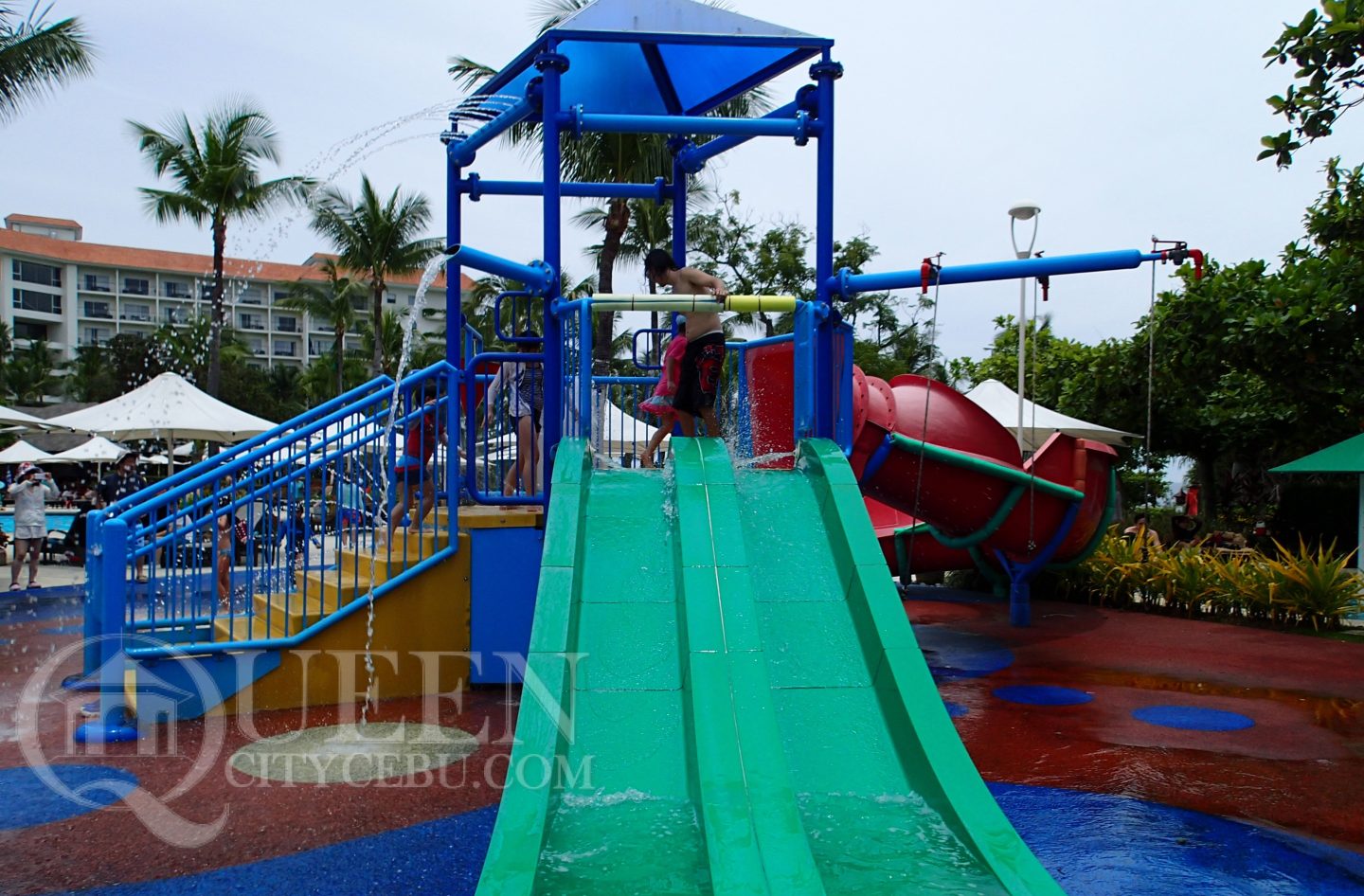 There are 3 pools throughought the resort, including one that's only accessible to those who are staying at the Ocean Wing rooms. Given our son, we normally stay at the children's pool or Aquaplay area where the pool depth is child friendly and there's a 20 foot high slide that's meticulously manned for safety reasons.
There are also lifeguards on duty all the time and they will call out anybody who needs help. We mostly stayed on their pool chairs enjoying some food and drinks while keeping an eye on our son as well.
The pingpong area and mini golf
This is yet another activity we enjoyed during our stay. We played pingpong, threw some punches on their punching bag, and of course played a round of mini golf. The mini golf was paid while everything else under the pingpong area roof was complimentary.
Night activities
I highly recommend you take the time to recharge in the afternoon and get up at about 7-8PM. There will be a show near the bar area around the main pool every night. I only remember being able to enjoy one show and it had fire dancers and was quite a sight.
Unfortunately, I have to say that the fire dancing show we experienced at Crimson during our Sinulog stay was a lot more memorable as it was more personal and I believe the moves have naturally evolved.
The food
The in-house food is at par with expectations. For à la carte orders, they start at about PHP 400 net a dish and given the quality and portions of what you get out of this, I can even say this is of good value relative to many other restaurants in the city centers. Their bibimbap is something I definitely find memorable.
As for the breakfast buffet at Tides, this certainly has the most variety in the entire Mactan. If we compare it with the entire Cebu province though, I think Buffet 101 COULD have a bit more or I could have been misled by the way they arranged their dishes where it emphasizes the sheer size of the entire restaurant itself compared to how relatively cramped up Tides' buffet is. What do you think?
On Shangri-la's 5 star rating
Shangri-la is a 5 star hotel and resort. However, if you check the handful of other 5 star rated hotel/resorts in Cebu, a list that includes Radisson Blu Cebu (listed as having "5 star accommodations"), I can't help but feel 5 stars is too much of an understatement for what the former has to offer. I mean, check this out this comparison of amenities to start with:
| | |
| --- | --- |
| Shangri-la (5 star hotel/resort) | Radisson Blu (5 star accommodations) |
| Full service and fully equipped business center complete with meeting rooms, and secretarial support. | An outdoor pool that's probably about 40 sq m in size. |
| 10,000 square meter spa "village" | Business center. |
| 2-3 Story indoor playground for kids 4 year old and above. | Spa with 6 rooms. |
| An indoor play area for children below 3. | |
| An electronic playground area with all the video games you can think of and karaoke to boot. | |
| Longest beach line in Mactan (about 350m) | |
|  Fully equipped gym with sauna, massage rooms and steam bath option. | |
| About 3 massive pools complete with children's pools, slides and other water recreation areas. | |
| All the water sports and activities available in Mactan courtesy of Scotty's | |
| Mini golf | |
| Ping-pong, football table, punching bag area | |
| Tennis court | |
| A par 3 golf course | |
| 60,000 square meter marine sanctuary | |
Do take note that some of the amenities on Shangri-la's side of the table above have been grouped together as there's no need to make it longer in this comparison of supposedly "5 star" hotels. I'm sure by now you get what I mean when I said Shang's rating is no doubt an overwhelming understatement in comparison with the other hotels that carry such a rating.
Needless to say, Shangri-la is HUUUGE. With about 530 rooms and suites spread across 2 wings (about 5-6 10 story or so buildings in total), and all the amenities listed above in its total area of 130,000 square meters, it is the biggest resort in Cebu hands down and one of the biggest if not the biggest in the Philippines in terms of land area occupied.
Funny thing though, despite its size, I actually feel like it's no bigger than Plantation Bay. This is probably because of how well thought the resort is planned that it makes you feel like everything is just a stone's throw away unlike that of the latter. Not to mention in all parts of the resort, you have someone that has access to a radio if you ever will need anything – something we joke about when in Plantation Bay, where some parts of it barely have staff, that if you ever will need medical attention, you probably won't make it (although this is something I'm sure lovers would love more than guests with kids like us).
The Shangri-la experience (in summary – or at least I hope so)…
In all the times we've stayed here, I can only say one thing consistently… YOU CAN'T GET ENOUGH! Here are the reasons why, according to the factors that our family considers important:
Safety. Almost all areas of the 13 hectare resort has staff ready and willing to assist you. This is especially important to us with kids and at the beach and at the pool. In all the resorts we've been to, I've never encountered lifeguards as proactive as the ones that are here. When I say proactive, that means they don't just sit around checking their cellphones or sleeping like in some resorts. They are actually looking at everyone on the water and will readily call your attention if you are doing something inappropriate or dangerous for yourself or for others.Although we still don't leave our kids alone on the water, you can see many (especially foreigners) who just throw their kids on the pool and I believe this is the reason why.
Lastly, this is the only resort I've seen that has its own fire truck and ambulance on standby.
TRUE STORY: A relative of my wife was bitten by a snake while walking along one of their footpaths (most if not all have trees and plants surrounding them). It wasn't a poisonous snake thankfully but unfortunately they didn't have the best reaction from the staff regarding the matter. They said the staff weren't able to help them right away, they were being passed around instead of bringing them to the hospital immediately. It wasn't until they started to release threats of going to the media about it that a manager assisted them appropriately by bringing them to the nearest hospital for the proper care they needed. They also ended up with a free stay on top of this but to them, the experience was naturally extremely traumatic that they are unsure if they will ever go back.
I'm sure this is a one in a million scenario but I just had to share it with you so you'll keep an eye of them snakes as well. If you ever get there and saw how vast the place is and how the landscape is kept, I'm sure you'll also understand that snakes, could be around so best keep an eye on them as well (although this is no doubt easier said than done as of course we go to this place to unwind and let go of worries).
Still not sure why the resort didn't use the standby ambulance immediately to take care of this matter. At the back of my head, it could be that they weren't prepared/trained for such an offhand scenario? This experience though didn't really stop us from going back to be honest. Again, it's just an FYI for you although I know this seems a bit contradictory to this aspect.
The beach. The BEST BEACH Mactan has to offer! There, I said it! It has the longest and cleanest beach line, and of course the variety of marine life you can see even if you snorkel with your children at 2 feet deep thanks to their well kept sanctuary. This reason alone is what keeps us coming back as we're a snorkeling family.

Shangri-la's beach is the best in Metro Cebu. It's even better than Panglao's thanks to its huge marine sanctuary. Photo from Flickr

If I want to improve something on their beach, I reckon it would only be more beach chairs as there are definitely more people than the former unlike that of Crimson Resort's.
The staff. Besides that relative experience with the snake, I'd say there's only Abaca Resort that tops the service we keep getting here. It has to be noted though that Abaca is merely a boutique resort of less than a dozen suites so keeping the level of service to the top would be much easier compared to the hundreds that have to be kept in line here.
I should also note that even if we're locals, we didn't really feel like we were treated differently in a bad way. In fact, I dare say we were treated differently in a good way with them knowing how Filipinos usually are with their stays and souvenirs and whatnot.
The food. Apart from the renowned breakfast buffet at Tides restaurant, I'd say most of the food that we tasted here are commendable with their bibimbap among the top of its kind I've tasted. Be wary though as I've encountered at least a couple of friends who have had bad experience with their food here so I'd say although they have great standards, they are not immune to service variance. It should also be noted that their dishes (I would assume) change according to the produce available except maybe for the regular staples (pork and chicken dishes).
Amenities. The seemingly endless array of amenities and things to do in this resort is no doubt a plus for us especially if the sun gets a little too much to handle. Come to think of it, this is probably one of the reasons why we just can't help going back to the place as we naturally have not done everything we want to do here (except for the para sailing which is something we decided not to do after seeing the suit just dumped in a corner and the texture of the material looked like something you'd use in everyday umbrellas – pardon my ignorance please on the subject). From things to do indoors, outdoors, on the sea and even on air, a day alone here will definitely not suffice especially if you have kids in tow.
Excellent sound proofing on rooms. I can't remember any other room in a building type accommodation that had better sound proofing than what they have here. Still, I don't dare stay on the ocean wing as this faces Olango Island and from our experience in Abaca Resort where there was a fiesta of sorts there, the bass/beat took away my rest back then.
These things are no doubt found in other resorts we've stayed in as well. However, the ones present in Shangri-la are just far more superior compared to most although there are also others that come close, like that of Crimson Resort Mactan thanks to their newly opened Crimzone (kids area).
Again, please always take my opinion with a grain of salt as our mileage and particular needs will naturally vary.
How much does a night for 2 in Shangri-la cost?
No doubt about it, all the goodness that comes with your Shangri-la experience comes at a price. The good news is, believe me not, the rates here are what I would consider VERY REASONABLE relative to what you are getting in return and that of its competition. Let me explain further.

Let's start with the rather obvious, the rates. An overnight stay here would now set you back about at least PHP 16,000.00 inclusive of taxes and service charge already. This is for their garden view deluxe rooms. The presidential suite should be about PHP 90,000.00 – 100,000.00 all in. Of course, there's a reason why there's only 1 suite of its kind in the entire resort but let's not dwell on something most of us will probably never have (not because we can't afford it, but we won't find it worth the money given the fact that we'll be mostly out of the room anyhow when we're here).
Comparing this to other 5 star resorts we've recently stayed in, Crimson Resort's room rates starts at only about PHP 5,000.00 net per night while Plantation Bay will start at PHP 10,000.00 net per night (without breakfast buffet or otherwise). Although we haven't stayed at Movenpick Mactan Resort yet, I feel I should put it here as well to compare the 5 star resorts in Mactan altogether. Prices here starts at PHP 8,500.00 net with buffet breakfast if you ask for the local rate. Abaca Resort on the other hand is only rated 4 stars but it is of course Trip Advisor's #1 resort in Mactan since the time it opened (or around that time), will cost you about PHP 20,000.00 net per night. Another 4 star resort in Mactan, Costabella, will cost you about PHP 6,500.00 – 7,500.00 a night.
With these prices laid out like that, it does appear that Shangri-la is rather expensive especially with Crimson's rather aggressive pricing and what you can get out of it. And given a Cebuano will always look for the best value, why do I still want to go here rather than say Crimson?
So why do we still want to come back here? Well, apart from of course the reasons I've already outlined earlier, there's a "secret" of sorts to getting better rates here. Read on to find out…
How to get the best rates possible for your Shangri-la stay
No doubt about it, there are now a lot of ways to book accommodations in most resorts thanks to the advent of the internet and all these supposedly helpful websites that claim to offer the best rates for whatever establishment you're trying to book. Do you really get the best rates from these sites? Most of the time, NO.
But they show prices well below Shangri-la's website! Sure they do. Have you ever gone through the entire booking process with them and saw the actual total including whatever charges they can come up with? Aha! The initial rates of these sites are NOT THE FINAL figures you have to pay and when you do get to them final figures, most often they are higher compared to booking directly with the establishment. In fact, many official websites now have something like "for the best prices, book direct" on their websites and that's for a reason (a reason I will have to discuss on another blog).
Anyhow, so there are about 4 other ways I know, besides booking sites, that can get you lower rates for Shangri-la. I'll discuss each below starting from the easiest to the hardest:
Local rate. Unlike most resorts in Mactan, Shangri-la has this "password phrase" that can get you instant savings of about 20% the net price. This means a deluxe sea view that's supposedly PHP 19,000.00 net can be had for about PHP 15,000. The garden view rooms can be had for about PHP 13,500.00 instead of about PHP 16,000.00. You have to ask this though as this will not be offered to you unless you ask. The lowest we got, at local rates, was about PHP 9,500 for a sea view room about 3 years or so ago. If you have 2 kids below 6, that would mean a total of 4 persons can eat at Tide's breakfast buffet and this alone is already worth PHP 6,000.00 (about PHP 1,500 each – although kids these age naturally don't eat much but I still like thinking of it this way).
Weekday stay. Again, without much effort you can get about PHP 1,000.00 to 1,500.00 off your stay if you do it on a weekday. That's on top of asking for the local rate too. You're welcome!
Gift Voucher. This, along with the other tips from here on, is going to be trickier to avail of compared to the first 2 on this list. About a couple of times a year, Shangri-la will hold these travel oriented events usually partnered with Ayala Mall or SM. It is on these events that you can buy their GCs and this will mean instant savings already. A weekday GC last October 2017 was about PHP 10,000.00 only and that's about PHP 6,000 in savings.
Your best chance is to follow Shangri-la's Facebook page and wait for announcements about their Paradise Rush event like so:

Following Ayala Malls, SM and maybe even Robinson's Galleria will also help.
Credit card offers. Check your credit card for offers related to Shangri-la or any accommodations related offers in general. My Citibank Premier Miles Platinum card for example will sometimes offer 8% less and even a 4th day stay FREE.
Unofficial online markets. This is the trickiest part on my recommendations and I do not recommend this to inexperienced online shoppers as there are no doubt scammers out there. When the official GCs are no longer sold by Shangri-la, then your only other chance to get a hold of them would be through unofficial sellers. And of course, most of these sellers will post their GCs on online shopping sites like OLX.ph, istorya.net and of course, Facebook.A quick search for the keyword "voucher" on Olx for example got me these results:

On istorya.net you can also do a search for the same keyword. I also found a thread where I successfully got GCs before and you can go there directly by clicking here: https://www.istorya.net/forums/travel-and-hospitality-98/
On Facebook, you only need to type the keyword "shangri-la mactan gift check" on the search bar located on the middle top and you should be able to see results like so:

Please take note we won't have the same search results as we don't have the same friends. Results will come from people who have posted "publicly" as well as from people that only posted for their friends to see.
This is one way to actually get the most savings in your stay as you can negotiate with the people who sell their GCs.
FRIENDLY REMINDER: Again, going this route has its risks so make sure you know it beforehand. If you are not a savvy online shopper, I recommend only buying GCs from people who you personally know and if not, people who you have common friends with.
Who is Shangri-la best for?
Apart from Abaca Resort's published rate, there's no other resort that has a starting price higher than Shangri-la at the moment. Except maybe if you factor in the fact that Plantation Bay's rate doesn't have buffet breakfast, then you could justify the latter to be more expensive than Shang. So who will have the best bang for their hard earned money here? The quick answer is, families with 2 (maybe even 3) kids below 10 that prefer snorkeling on the beach above anything else in their resort stay.
This is what I always tell myself when we get here, this place is so much cheaper not to mention a world apart when it comes to convenience in getting to compared to the beaches of Panglao. Not to mention the beaches in Panglao do not have the vast marine sanctuary that Shangri-la has, making Shangri-la, again, on top of our family's list in the entire region 7.
If you don't snorkel, then I highly recommend you check out Crimson Resort as I believe they have the best value for you at the time of this writing. If you prefer more seclusion and privacy, I'd say Plantation Bay would be best for you if the rate's not an issue.