Summertime is right around the corner but if you are not ready for your summer getaway just yet, you might want to check these waterparks in Cebu out! Kids and the kids at heart will surely enjoy spending time at these fun adventure destinations which are not too far from your home.
Similarly, if you haven't read our article on the swimming pools in Cebu, you can get all the info here.
Skywater Park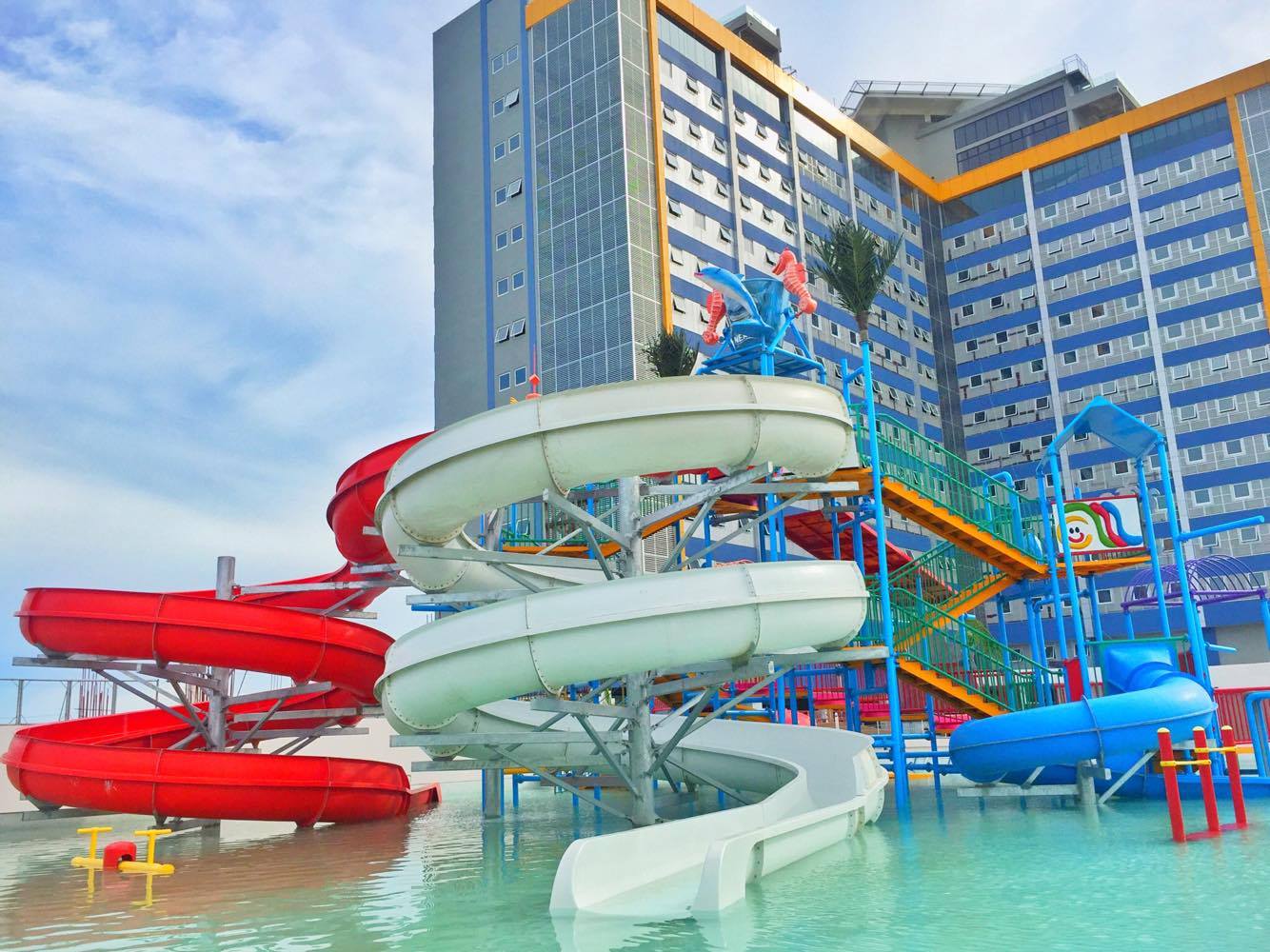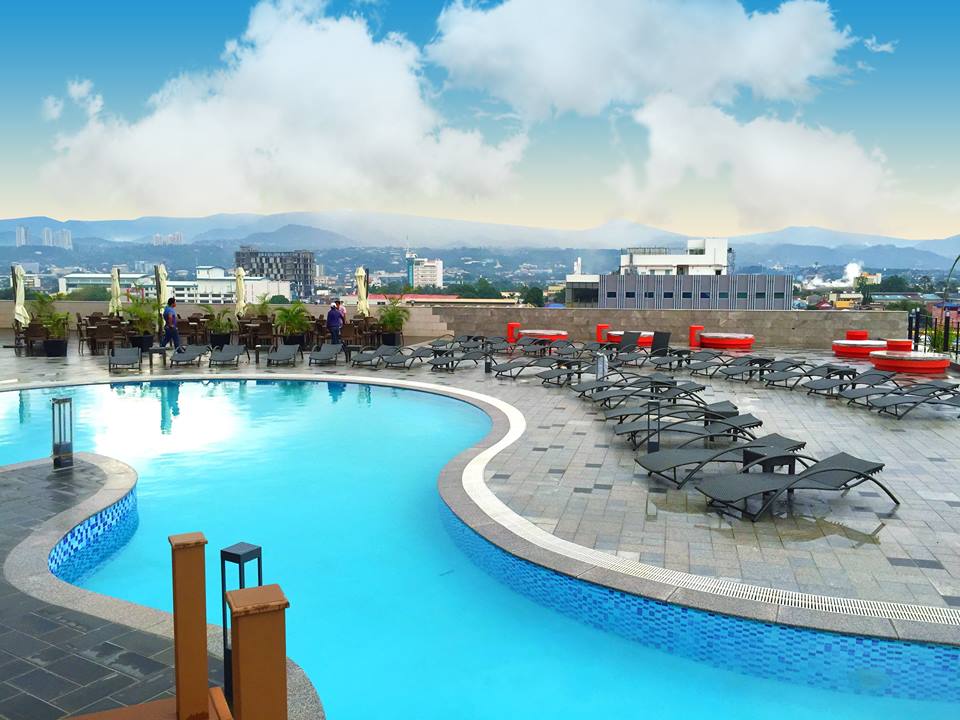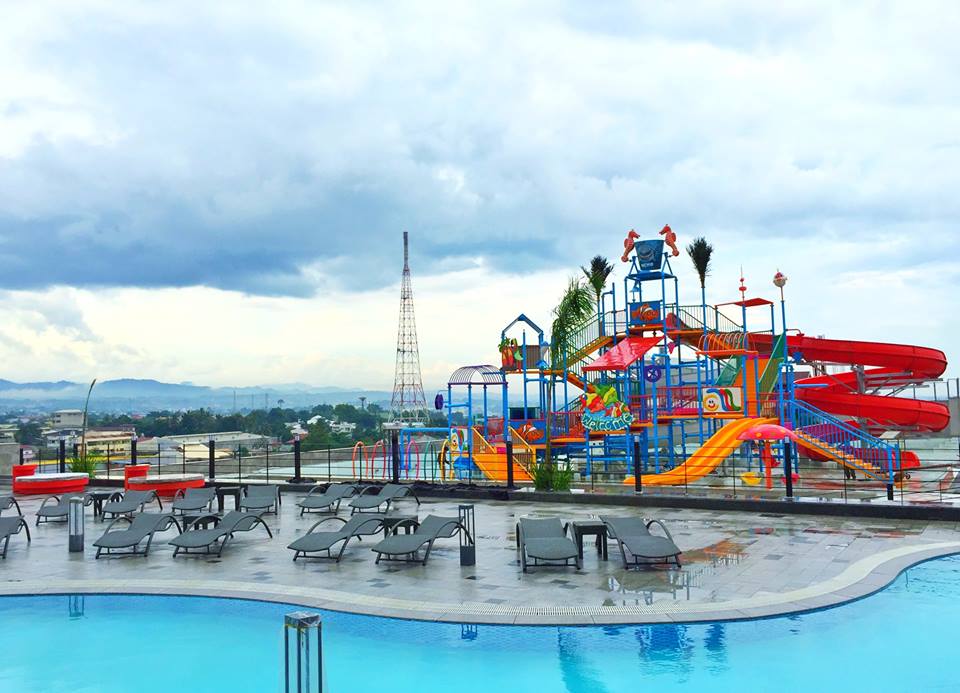 If you are not familiar with the waterpark on the rooftop of a mall, here's your chance to get the details that you need. Skywater Park is probably the most conveniently situated pool resort because as mentioned, it is right on top of a mall! And not just that, it is not far away from home because it sits in one of the biggest cities in Cebu.
We all need a quick, fun adventure that won't require us to skip a day at work because Skywater Park is just located in J Centre Mall, Mandaue City. If you forgot your bathing suit, you can just get one at the mall. Hungry? Get dressed and head to the food court.
If you ever feel the need to rest for a night, you can also do that because the pool is right beside a hotel! Convenient, right?
Rates
Get their promo rates by booking now. The entrance fee is 1,000 pesos per adult and 900 per kid (foreign).

How to get there
Are you familiar with the place? If not, you can hail a ride from SM City Cebu by taking a 22D/25 jeepney to J Centre Mall. The park is open from 9 AM to 6 PM only. For inquiries, please contact them at 344 1738.
Cebu Westown Lagoon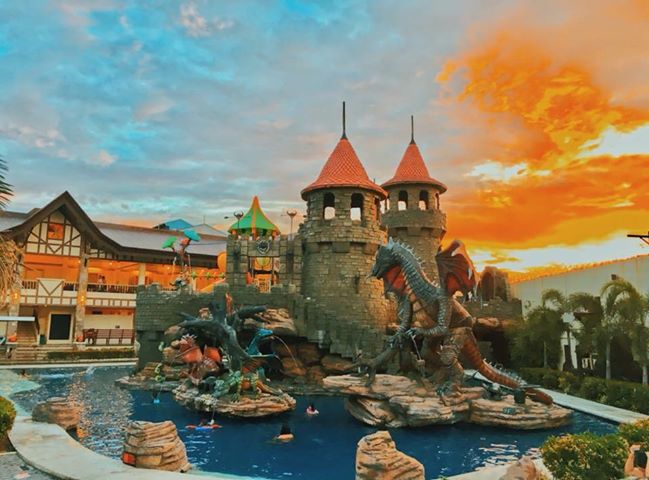 Another pool resort that you can conveniently go to whenever you are feeling hot is Cebu Westown Lagoon. It is surprisingly huge inside so there is a lot of room for the kids to roam around, swim and explore the place. The attractions are very interesting and picture-worthy as well.
Rates
Night swimming is 350 pesos per head (day use) while it is 250 pesos per person for night swimming. Cebu Westown Lagoon is open every single day from 9 AM to 11 PM. For night swimming, it's 6 PM to 11 PM.
How to get there
You can find this gem near Parkmall (MO2), in Mandaue City. From Colon/SM City Cebu/CDU, take 01K to Westown. Visit their Facebook page for more updates. You may also call them at 0977 215 8529 for reservations.
Aqua Quattro in Papa Kit's Marina and Fishing Lagoon
Dubbed as "The Biggest Sports Adventure Park In Cebu", Aqua Quattro (Papa Kit's) is right here in Liloan, Cebu. If you are feeling a little more adventurous than usual, you should go straight to Papa Kit's to try their fun inflatables!
Rates
The regular rates for the inflatables are as follows:
500 php – 1 hour
900 php- 2 hours
1,500 php-half day
2,300- for the whole day
The entrance fee for the lagoon is free of charge.
How to get there
From SM City Cebu, ride a 25 jeepney to Papa Kit's. The travel time is about 45 minutes to an hour or so, depending on the traffic. For more information, please contact them at 0922 402 2828 or through Facebook.
If you plan on exploring Liloan, read here.
Happy Beach (CLOSE NOW)
Speaking of inflatables, Happy Beach (formerly Tambuli Beach Resort) is proud to present their adorable inflatables together with their pink and very Instagrammable resort.  We have featured this fabulous resort and we will do it again!
To know more details, please check out our article.
Rates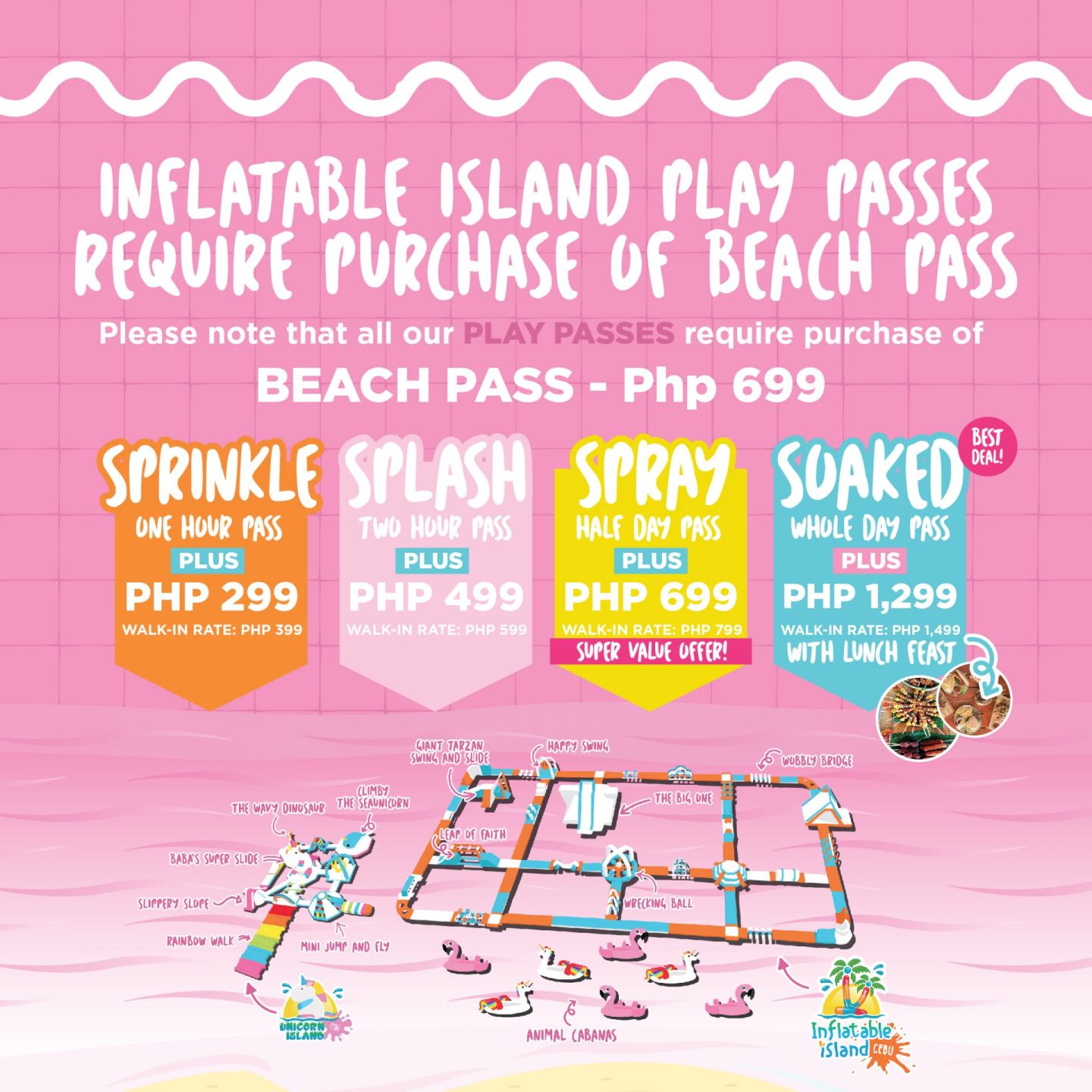 To experience an entire day of playing on the floating zoo, purchase the whole day beach access for 699 only. For the inflatables, buy a beach pass plus any of the above:
Sprinkle (add 299)- access to the inflatable and unicorn island for 1 hour
Splash (add 499)- 2-hour access to the inflatable and unicorn island
Spray (add 699)- half-day access to the inflatable and unicorn island
Soaked (1,299)- whole day access to the mentioned above, plus lunch feast and free towel rental.
How to get there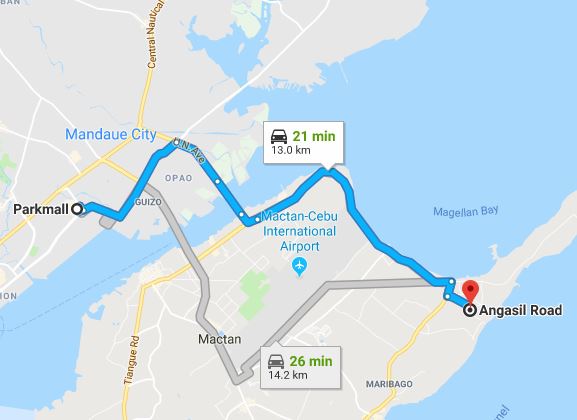 Go to Parkmall take a jeep to Angasil Port, Lapu-Lapu (get off at Macan Newtown, take a habal-habal to the port) then from the port, wait for a boat designated to pick you up.
For updates, please follow their Facebook or contact them at 0917 174 2878.
JPark Island Resort & Waterpark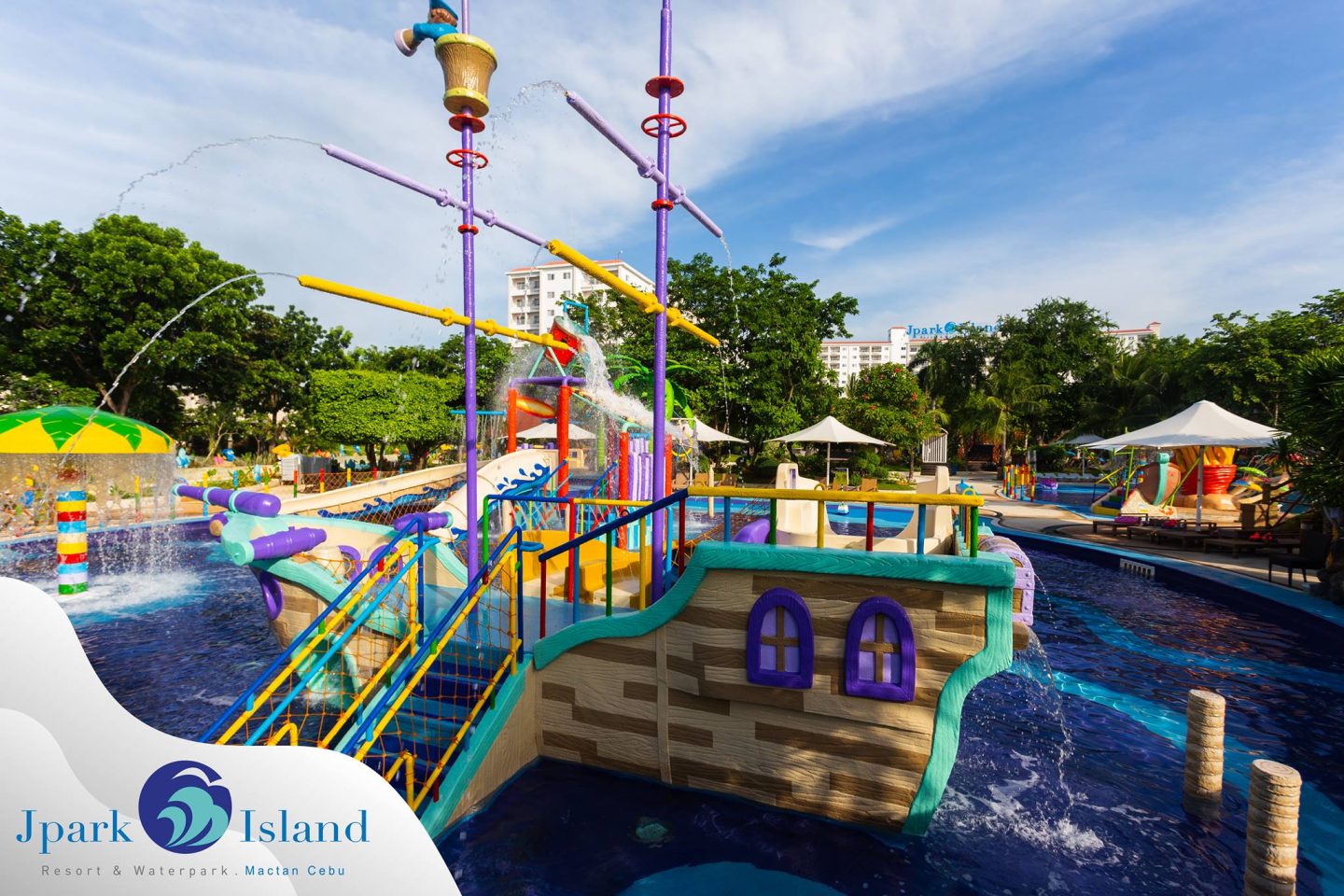 This colorful water park, famously (and previously) known as Imperial Palace, is one of the most fun places where you can take your family to during summer breaks or even just on the weekends. It is almost a mini Disneyland so it is certified that kids would love this resort.
Rates
For locals, it is 3,000 pesos per adult while it is 1,500 pesos per child. For non-locals, the rate is 4,000 pesos per adult and 2,000 pesos per kid. Rates include a free lunch buffet and use of facilities.
How to get there
From Parkmall, take a little walk to St. James Amusement Park then take MI-02B Maribago jeep. Travel time is about an hour or so. Tell the driver that you are getting off at JPark Island Resort so that he can guide you.
For more details, please contact JPark at 494 5000 and visit their Facebook page.
Hidden Valley Wave Pool
Yes, we do have a wave pool here in Cebu and it is huge! The Hidden Valley Wave Pool has several smaller pools in the resort, but one that stands out is the most fun of them all– the wave pool.
It mimics the natural waves of the beach and into the man-made swimming pool– thus, increasing the fun for people who are afraid of saltwater and the deep.
Rates
The good news is, the entrance fee and use of the wave pool is only 150 pesos! You can take everybody you know with you to enjoy the pool under the sun! Rates vary depending on which other facilities you would like to explore.
How to get there
From the South Bus Terminal, take a bus to Lutupan Landingnan. Get off at the bus stop then hire a habal-habal to Hidden Valley. The resort is located in Pinamungajan, Cebu.
Please message them through their Facebook page or give them a call at 0921 326 6054 to inquire.
Plantation Bay Resort & Spa
It is not a surprise as to why the Cebuanos love suggesting this place to others when seeking recommendations for luxury and fun combined. Plantation Bay Resort & Spa is a pro at providing high-class services to every individual and it sure is worth it every time.
More than a luxurious stay, the resort offers tremendously large-sized pools of clean water, water slides, kayaking and gondola rides, water volleyball, and even a water volcano.
READ: Plantation Bay Resort & Spa Review – Is it the Best in Mactan?
Rates
The most affordable room on their website is priced at 160++ USD, poolside. The price goes up as the location gets nearer to the attractions at 220++ USD per night. For day use, you will only have to pay 2,000 pesos during weekday trips and 2,000 during the weekends. For more info about the rates and inclusions, please visit their website at plantationbay.com.
How to get there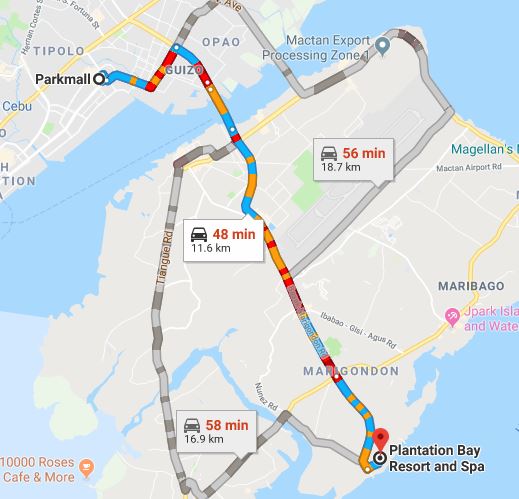 I am not exactly sure how else you can get to Plantation without hailing a cab or driving a private car because the resort is secluded. Plantation Bay is located in Marigondon Beach, Road, Lapu-Lapu City. If I were to go there via commute to lessen the expenses, I would go to Parkmall, hail a jeepney to Lapu-Lapu and then take a cab from there. Someone recommended hailing a jeepney from Parkmall, Soong, Maribago, to Maribago then take a tricycle to Plantation Bay. Just take a cab, please.
For reservations, please contact them at 505 9800 and visit their Facebook for more information.
Shangri-La's Mactan Resort and Spa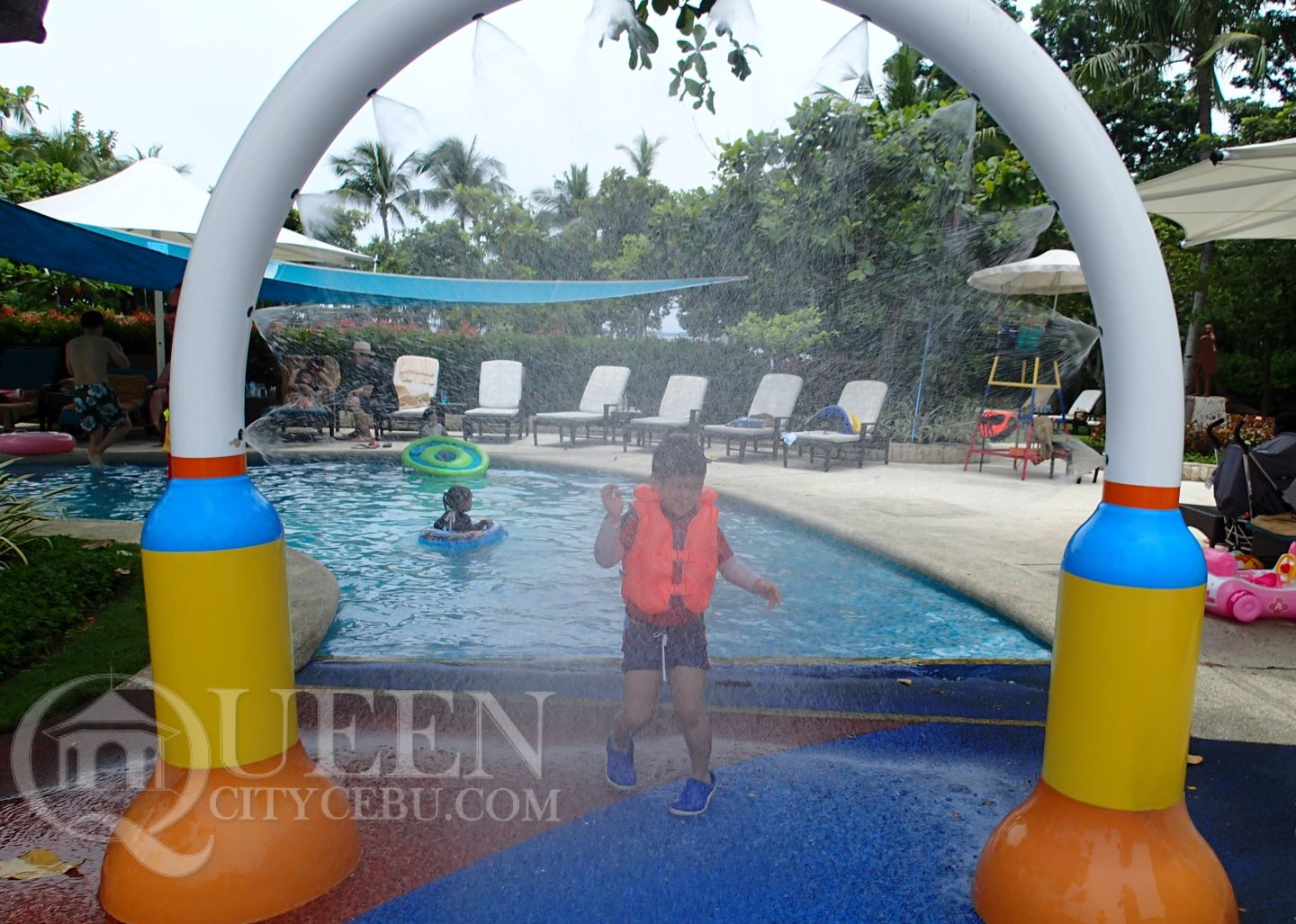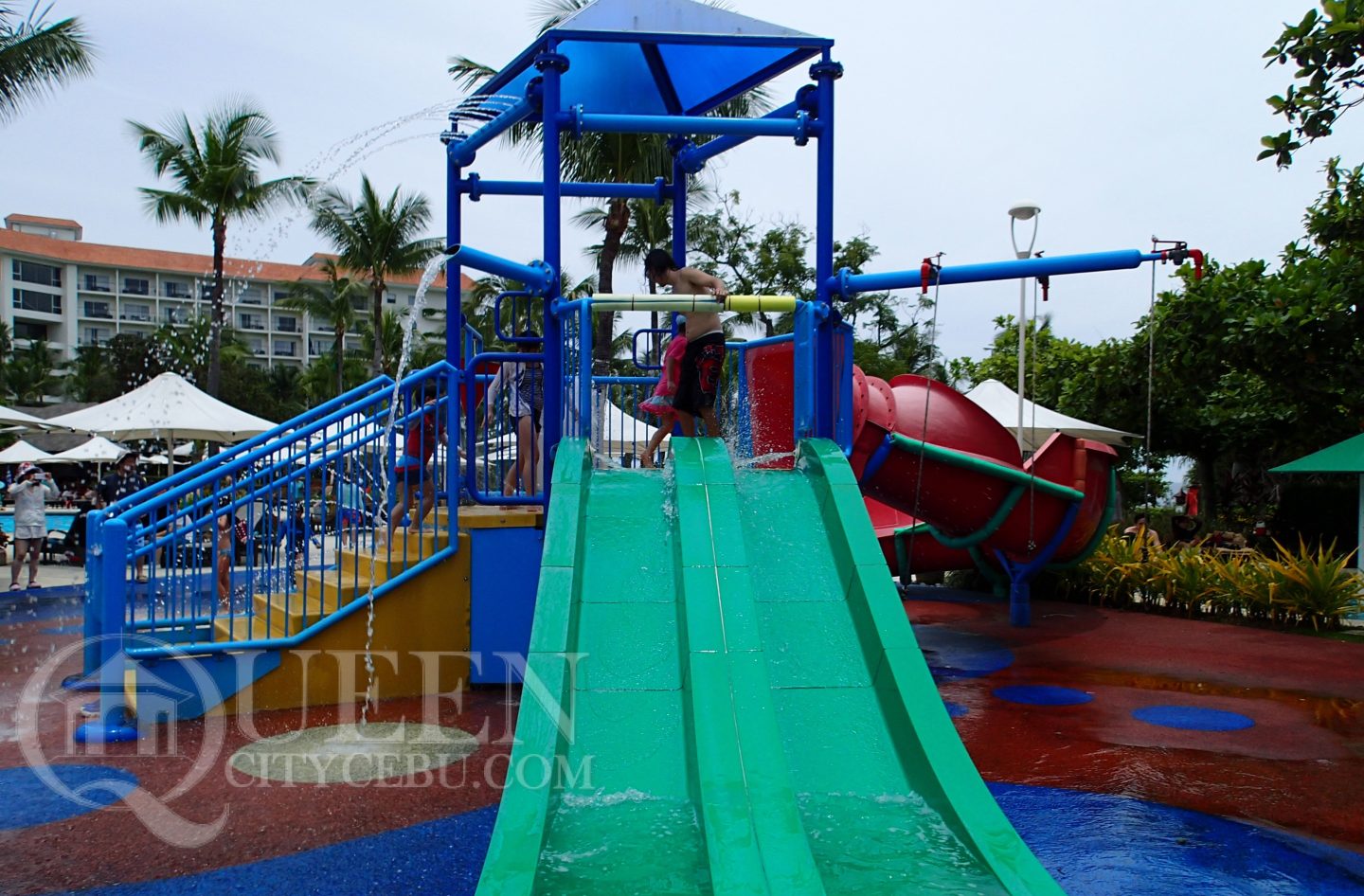 Another default destination when it comes to superior quality resorts is Shangri-La. You can't get your expectations high on the beach part of the resort because, for me, it's a basic Mactan beach. But if you include the marine adventures, it's one great playground under the sea.
But we won't be tackling that because the resort is also known for its 5-star reputation and the fun water park– for kids. Taking a vacation away from home means taking your children along with you  (if you have kids, of course), so this also means that whatever makes them happy makes you happy, right? In Shagri-La, not only will you experience expensive accommodation and service, but you will also get to enjoy seeing your kids play in the colorful water playground in the kiddie pool area.
READ: Shangri-La Mactan Resort Ultimate Review by a Local Family – Is it Still the Best Mactan Has to Offer?
Rates
The day use fee is expensive. Their Main Wing Deluxe Room is 14,000 pesos for an overnight stay. I heard that the day use is at 3,600 pesos but I have yet to verify.
How to get there
From St. James Amusement Park (a little walk from Parkmall), take a 23 jeepney to Mactan Shrine (Punta Engano) then a little walk again to Shangri-La's entrance.
UPDATE: The newest water park to open in Cebu is the Waterworld! Check all details of it here: https://queencitycebu.com/wet-and-wild-at-waterworld-cebu/